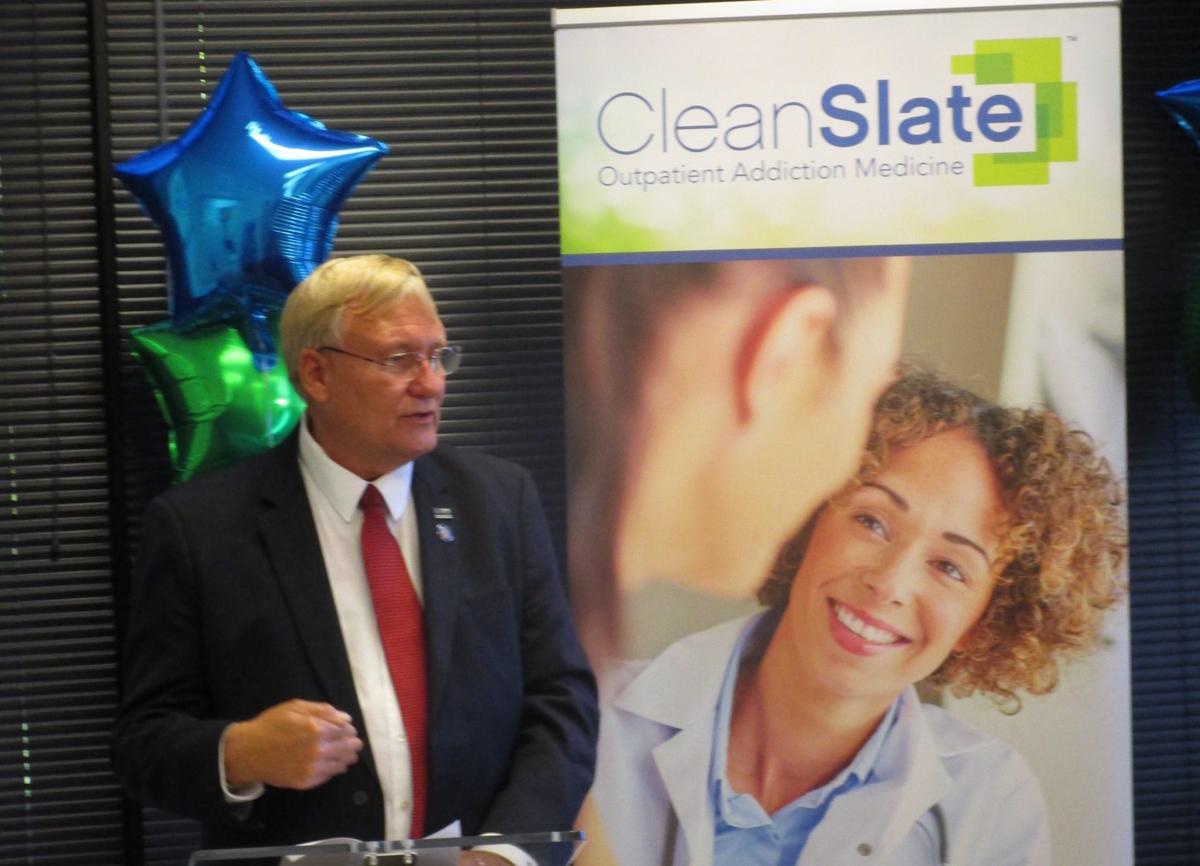 MOUNT PLEASANT — Quietly tucked away in an office building across the street from Regency Mall, it seems unobtrusive.
But organizers of the new Racine-based branch of CleanSlate Centers say they are hoping their arrival in the community sends a loud message — one of hope, renewal and optimism in the face of an ever-escalating war against heroin, opioids and other addictive drugs.
Nashville-based CleanSlate, founded in 2009, has been opening outpatient treatment facilities at a rapid pace across the U.S.
The local location, located within an office suite at 5439 Durand Ave., had a soft opening two months ago. Its entry into the community was formalized Thursday during a ribbon-cutting and grand-opening ceremony.
Several local dignitaries, including state Sen. Van Wanggaard, R-Racine, spoke at the event and of the importance in bringing tools into the hands of providers and patients as the number of deaths linked to addictive drugs remains large.
"It's really important that we have clinics like this, with ethics and empathy," Wanggaard said. "There are so many holes in the fabric that we still need to fill in, but this is an awesome start."
According to statistics shared at Thursday's event, 140 people struggling with addiction have entered into the Racine branch of CleanSlate since its opening mid-summer.
Path toward recovery
CleanSlate Centers are designed to meet patients where they are at in the path toward recovery. The center's clients, some arriving through referrals, will make visits twice weekly.
"We're like a family," said Dana Thomson, a center manager with CleanSlate who played a role in launching the Racine office. "We make it personal and very comfortable."
You have free articles remaining.
Michael Peterson, who plays a leadership role within CleanSlate, was on hand at the ceremony.
The centers have a high success rate in helping people overcome addictions, Peterson said. Over the years, CleanSlate has forged collaborative relationships with a range of medical providers and insurance companies.
The public received a rare glimpse into the behind-the-scenes areas of the facility, where doctors' offices are housed alongside small meeting areas for therapy sessions, a large group area and an in-house laboratory.
Inspirational sayings are posted throughout the facility. The lobby, for instance, includes a quote from Theodore Roosevelt: "Believe you can, and you're halfway there."
More clinics opening
There also is a bulletin board, dubbed the CleanSlate Brag Board. It is adorned with positive first-person testimonials of people forging ahead with their battles.
In Wisconsin, the clinic also operates offices in Brookfield and Glendale. A branch on Milwaukee's south side also was officially unveiled Thursday.
At Thursday's events, Thomson and other company representatives announced CleanSlate plans to open locations in the near future in other Wisconsin communities perceived as lacking the resources to help people overcome addiction.
CleanSlate reportedly has plans for Kenosha, Beloit, Eau Claire, Janesville, La Crosse and Madison.
Wanggaard said he was pleased CleanSlate decided to set up in Racine.
"I really believe in this," he said. "This is a great place to plug into."