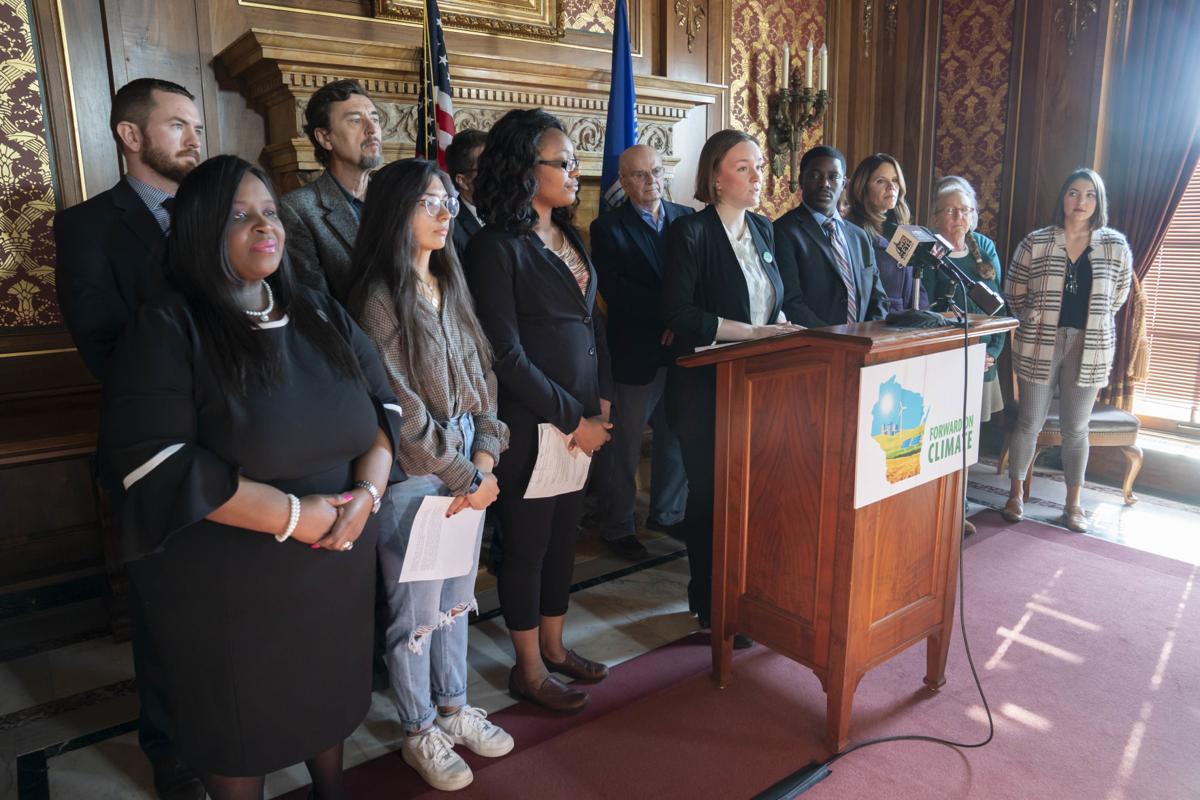 MADISON — Before getting into state politics, state Rep. Greta Neubauer, D-Racine, was very active in the environmental movement around climate change and she is putting her knowledge of that area to push for a package of legislative bills on climate.
Called "Forward on Climate," the group of bills aims to provide funds to support renewable and sustainable environmental initiatives.
"Right now, Wisconsinites are picking up the bill for every ton of carbon we burn, while the fossil fuel industry continues to profit," Neubauer said in a email statement about the bills. "Wisconsinites send over $14 billion each year out of our state to pay for the fossil fuels that power our communities. That's money that could be kept right here in Wisconsin."
The bills are currently in the committee process. Following is their bill number and a summary of their intent:
Create a $1.5 million annual appropriation for a grant program supporting weatherization and energy efficiency updates in public school buildings and providing funds to support student education surrounding the importance of energy efficiency.
Create a study on Green Banks in Wisconsin, including how the state can partner with private entities to invest in emerging technologies and infrastructure supporting clean energy, sustainability, and energy efficiency, with a focus on supporting under-resourced communities across the state.
Create a $1.5 million annual appropriation for a grant program supporting farmers who use certain sustainable practices, including sustainable farming, growing carbon-sequestering crops, and reducing fossil fuel usage.
You have free articles remaining.
Require the Wisconsin Public Service Commission to consider the social cost of carbon emissions in determining the siting of new utility-scale power infrastructure in Wisconsin.
"These bills were designed with input from people across Wisconsin to meet our priorities and invest in our shared future," Neubauer said. "From supporting our farmers, to building the clean-energy manufacturing sector, to investing in our kids and our schools, these bills build up our communities and bring new opportunities to Wisconsin. We have a lot of work to do, but I'm so honored to be able to do it alongside all of these incredible advocates."
Long road ahead
The bills are in the infant stages of consideration, and still have to go through a lot before they could be voted on in the Assembly.
Assembly Speaker Robin Vos, R-Rochester, is not fond of the legislation.
"Unfortunately, the bills are simply Democrats' way to try to spend millions in taxpayer dollars in feel-good legislation that will hardly make an impact on their unrealistic goals," Vos said in an email.
Neubauer said the proposed legislation on clean energy "isn't a partisan issue."
"The public overwhelmingly supports action on climate change and legislators on both sides of the aisle should see how taking action would create good jobs and reduce inequality in our communities," Neubauer said. "I hope to see bipartisan support on this legislation this session and I am looking forward to discussing it with colleagues in committee."
Neubauer is a member of the Assembly's Committee on Environment.
"The public overwhelmingly supports action on climate change and legislators on both sides of the aisle should see how taking action would create good jobs and reduce inequality in our communities." State Rep. Greta Neubauer, D-Racine
"The public overwhelmingly supports action on climate change and legislators on both sides of the aisle should see how taking action would create good jobs and reduce inequality in our communities."

State Rep. Greta Neubauer, D-Racine