DOVER — Anyone who wanted to wish Don Hermes a happy 90th birthday on Saturday was in luck: He was telling stories and cracking jokes like always, catching up with old friends and making new ones.
But his guests also had to fight for his attention, because more than 100 people showed up to Michael's on the Lake, 3101 Eagle Road, to celebrate the life — so far — of Hermes, who holds the honorary title of "Mr. Eagle Lake." No matter who came up to him, Hermes gave them a warm embrace and spoke with them like they were an old friend, whether he'd known them for years or just a few seconds.
"It's an amazing thing. I didn't know there was that many people around," Hermes joked as he looked out on his party guests, which included family, neighbors, Racine County Board supervisors and state Sen. Van Wanggaard, R-Racine, who is Hermes' son-in-law.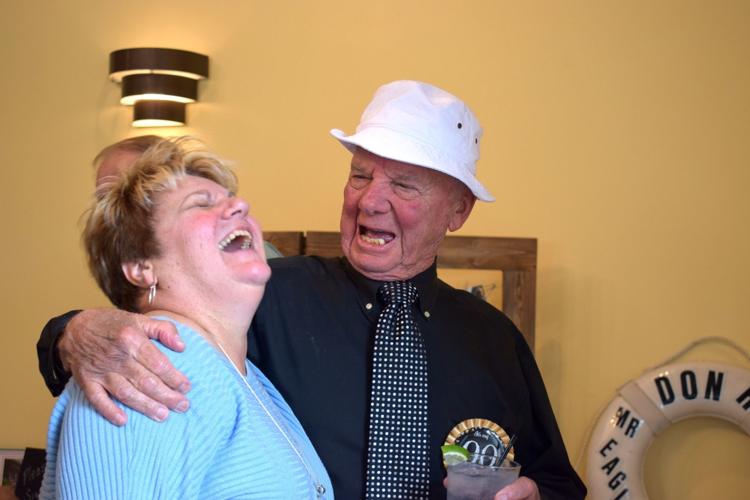 Despite his age, Hermes has stayed young. His voice is strong, he moves around without a cane or walker and does not wear glasses. He is not slowing down.
"I can't wait to get my boat back on the water," he said.
Hermes is known as Mr. Eagle Lake because of his decades of service to Eagle Lake. He moved to the lake to live there year-round in 1985 but had been coming all his life to visit his grandfather's cottage on the lake's east side. Before he moved to the lake, he was one of the founders of the first Eagle Lake property owners association in 1954.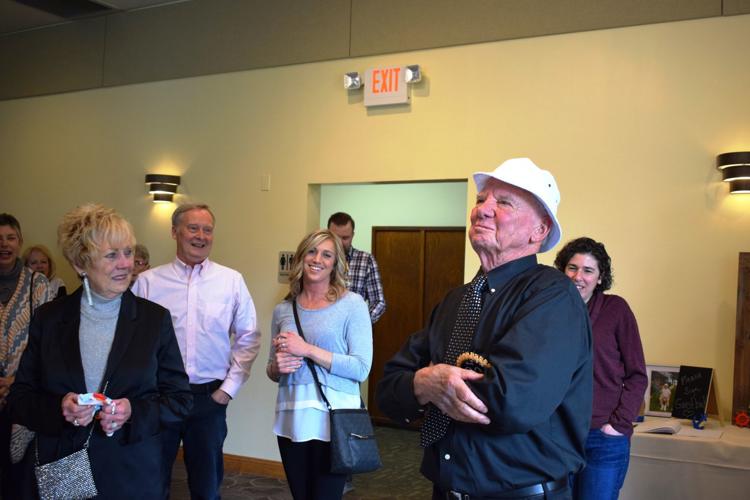 He went on to organize events on the lake, secure funding for weed harvesters to keep the water clean and even rewrite the lyrics of "God Bless America" to create "God Bless Eagle Lake," which he performed Saturday. Before retiring, he ran his longtime family business, Hermes Hardware and Marine on Douglas Avenue in Racine.
Hermes Landing
In February, the County Board voted to rename a portion of Eagle Lake Park Hermes Landing in honor of his dedication to the lake.
"He's the nicest guy God put on Earth," County Supervisor Tom Roanhouse of Waterford said Saturday at the party.
Even people who have only known Hermes for a few of his 90 years have grown close to him and become good friends in a short amount of time.
"He's one of a very rare breed," said Floyd Pochowski of the Lauderdale Lakes area of the Town of La Grange in Walworth County, who met Hermes four years ago. "Dedicating so much time and staying with it, a lot of people do it for a certain amount of time and you walk away — they've had it. Working with politicians and homeowners, I mean, it wears on you, and you've got to have some kind of inner strength. It's very rare."
Dan Leunig, Hermes' neighbor of three years, said his introduction to Mr. Eagle Lake was when he tried to sell Leunig's wife flares the first day they moved in. At the time, he did not know it was for the annual Ring of Fire display that Hermes was instrumental in coordinating.
"He is definitely a problem-solver, and you wouldn't believe he's 90," Wanggaard said.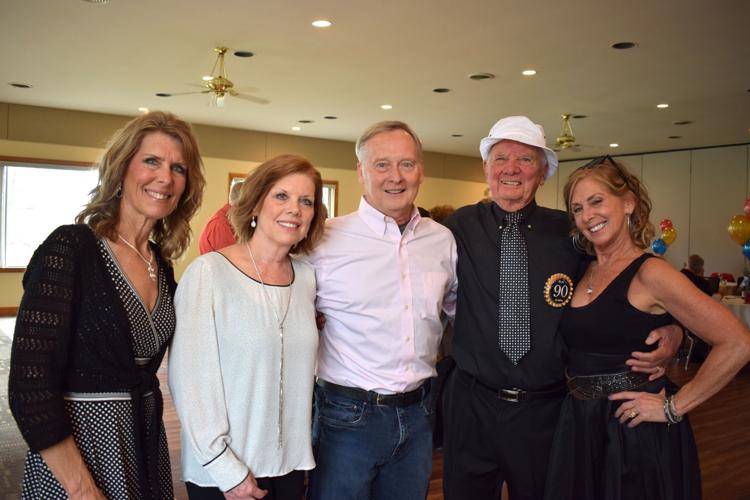 Hidden treasure
Before Hermes sang "God Bless Eagle Lake," he addressed the crowd — specifically the young people present — and encouraged them to cherish the lake.
"Your hidden treasure is right out that door: Eagle Lake," he said.
Then, he brought up Bennett Roszkowski, a young boy who lives next door, to hold the microphone so he could sing.
"God bless our Eagle Lake, our home sweet home," Hermes sang during his performance.
By the end of the song, the crowd sang as Hermes conducted, waving his arms to the beat and beaming with joy.