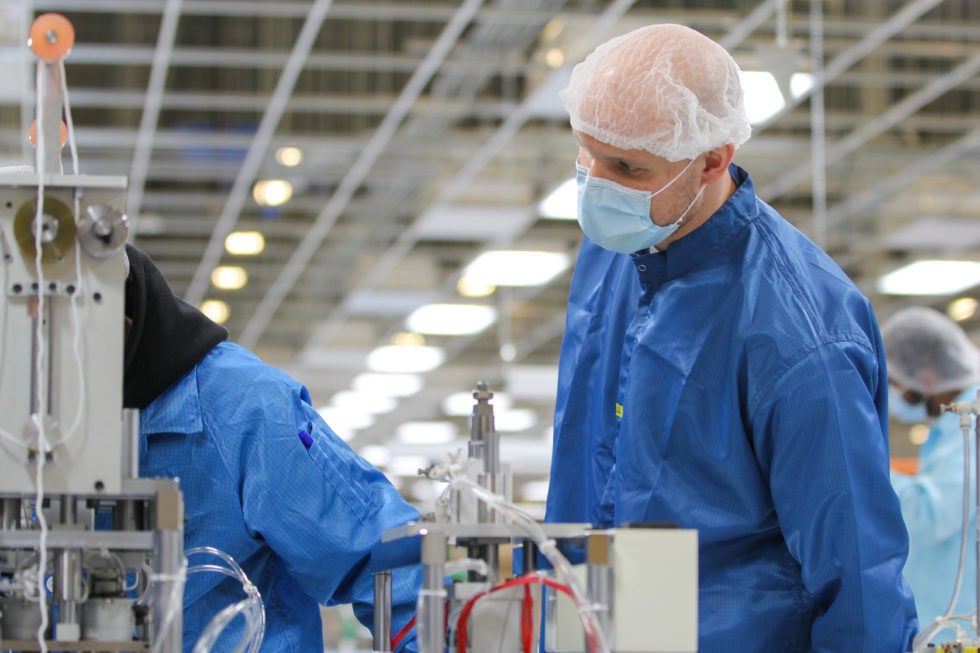 MOUNT PLEASANT — A lot of promises were made in 2017 when Taiwanese multinational electronics manufacturer selected Wisconsin and the Village of Mount Pleasant as the high tech hub of its proposed "Wisconn Valley" North American manufacturing operations.
Founded in 1974, Foxconn Technology Group is a leading worldwide technological solution provider with more than 83,500 patents registered worldwide and a network of international research centers and testing laboratories. In 2018, Foxconn had $175 billion in revenues, ranking 23rd in the Fortune 500 Rankings, moving up to 21st in 2019.
To date, Foxconn has invested approximately $750 million across Wisconsin, inclusive of capital expenditures, salaries, and other expenses since operations began.
Foxconn officials were not available for comment as of press time.
"I think they've done their job"
Interviewed Wednesday, Mount Pleasant Village President Dave DeGroot and Project Director Claude Lois said they were pleased with Foxconn's development progress to date in the 27,082-resident community, established as a town in 1842 and incorporated as a village in 2013.
"Overall, they have done a really good job," Lois said of Foxconn, noting 97% of company contractors and Foxconn's workforce statewide are drawn from Wisconsin. 
Lois said Foxconn already met its contractual obligations with the village for employing 10% minority- and women-owned project contractors.
"I think they've done a good job to hire local – contractors as well as workers," Lois said. "Their focus is here, Racine County. I think they've done their job, their part, to date."
Foxconn is already the largest property taxpayer in Mount Pleasant after paying $1.1 million in property taxes and $7.3 million in special assessments in the 2019 tax year. The special assessment payments in support of Tax Incremental District No. 5 land acquisitions for current and future Foxconn developments are being spread out over 20 years.
Lois said promises made to the village have been kept thus far.
"According to our agreement they've kept their obligations – they've made the assessment payments, they said what they were going to do," Lois said. "Sure, now it's Gen 6 [liquid crystal display screens] instead of Gen 10, but … what can we say that they have not done? They're building out there fast as they can, we know that there are other things in the works. This stuff takes time. And who could have predicted this, the world we're living in today?"
With the advent of the global COVID-19 novel coronavirus pandemic, Lois said Foxconn's local manufacturing operations will benefit from the company's diversified manufacturing capabilities as a "global technology leader."
"Fortunately, they're not just into phones and TV's," he said. "They're into every market. It's unbelievable … the different things that Foxconn makes. I think we're extremely fortunate … they're so big and so diversified in what they do. Overall, I think they've been pretty fluid as far as reacting to different things and trying to do what they can based upon the market today because … they know the market better than anybody does."
Major developments completed, underway
Lois reported a variety of development projects by Foxconn have either been completed or are underway in the Wisconn Valley Science and Technology Park (WVSTP) in Mount Pleasant.
Already completed is Foxconn's pioneering 120,000-square-foot Multi-Purpose Building, which broke ground in 2017 and was completed for occupancy in 2018. The manufacturing facility, assessed by the village at $20 million, was transitioned in April to the production of much-needed ventilators and Sharp-branded procedural masks to help meet the medical response needs of the national and global COVID-19 health crisis. The Sharp trade name is owned by Foxconn.
Foxconn partnered with Minnesota-based medical technology provider Medtronic PLC on the initiative to produce medical ventilators at Foxconn's Mount Pleasant manufacturing facility.
"Everyone's world kind of got turned upside down with COVID," Lois said.
Currently under construction and most recently in the news is Foxconn's High-Performance Computing Data Center (HPCDC). Started earlier this year, the HPCDC is scheduled for completion in early 2021. With the recent structural completion of the HPCDC's visually-dramatic 100-foot-high Globe, work is underway to begin installing the structure's 642 pieces of glass. Once completed, the state-of-the-art HPCDC Globe will be home to WVSTP's Network Operations Center, where Foxconn employees will control the computing power that will support various Foxconn technologies including industrial 5G networks, cloud computing and industrial artificial intelligence.
Also under construction is Foxconn's fast-tracked 260,000-square-foot Smart Manufacturing Center, with Lois noting the company is "on schedule" to take occupancy of the server board manufacturing facility later this year on schedule. E
In process for occupancy permitting, Lois said, is Foxconn's completed power substation.
Lois reported Foxconn's three-phase one million square foot Gen 6 facility is still under construction. The 300,000-square-foot Phase Zero section of the manufacturing facility has temporary occupancy permitting for office space, an entrance lobby and some manufacturing space. Lois said Phase One occupancy is expected in 2021, while completion of Phase Two is anticipated in 2022.
Out of a total 2,600 acres acquired by Mount Pleasant for development in the southwestern corner of the village in Areas 1, 2 and 3 of TID No. 5, Lois said Mount Pleasant at present has turned over 861 acres to Foxconn, which are currently being prepped for development with earthwork, stormwater retention ponds, utilities, internal roads, perimeter landscaping and building pads for future development.
The Area 1 Foxconn site, targeted for $10.4 billion in investment by 2023, is bounded by I-94, Braun Road and County Highways H and KR. Adjacent Areas 2 and 3 are sites being held in reserve for future Foxconn expansion.
Contractual obligations
Foxconn's contract with the Wisconsin Economic Development Corporation (WEDC) calls for the creation of 13,000 jobs in Wisconsin by 2032, with employment targets ramping up annually toward the goal.
In regards to Foxconn's contract with the village, by 2023 Foxconn facilities are required to have an assessed value of $1.4 billion according to Lois. If valuation falls short, Foxconn is contractually required to financially make up shortfall in property tax revenues to the village.
"It continues to roll along at its own pace," Mount Pleasant Village President David DeGroot said of the Foxconn development. "It's been an interesting ride. Their focus changed somewhat along the way, but I'm thrilled and filled with anticipation at the breadth and depth of the product that they're going to be producing in Mount Pleasant. We've come a long ways from the initial focus on just large screen video monitors. They've got their fingers in every market segment that's out there and we'll see the fruits of that as time goes on."
Catalyst for growth
While Foxconn is the focal anchor economic development project in the village, Lois predicts Foxconn will have a spillover development effect in Mount Pleasant and beyond in industrial, commercial and residential development.
"I think it (Foxconn) will be a catalyst," he said, citing construction of Aurora Medical Center, development of Wangard Partner's 278-unit Tivoli Green apartment home development and fast-tracked move-up of the Wisconsin Department of Transportation's largely-completed I-94 reconstruction project, originally planned for 2032, as several examples of the Foxconn effect. "I think it (Foxconn) has benefitted the community, and will continue to benefit the community in the future, in ways people haven't really focused on."
"It (Foxconn) will continue to have a ripple effect, not only in Mount Pleasant, but really throughout southeastern Wisconsin," he said. "We are going to become known as a technology hub."
Lois said the village has also benefitted from the worldwide press that Foxconn's Wisconn Valley development project has generated.
"It's definitely put Mount Pleasant on the map, there's no doubt about that," he noted. "We've had news outlets here from all over the world."
"Perspective" needed
While the Foxconn development has proven controversial on both a state and local level, both Lois and DeGroot are optimistic that Foxconn will meet its performance obligations given their up-close view of the company's ongoing Wisconn Valley development project.
"I think you've got to really put it in perspective," Lois said, calling it "very disappointing" that discussions around the Foxconn development project have "gotten political" in tone, particularly on the state level. "The jobs were 13,000 by 2032. Who thought you were going to hire 13,000 people in a year, seriously? And take construction. These guys are moving as fast as they can out here … We've had really good constant construction. Unless you drive by it you don't see it, you don't realize it. Since we started this project, there hasn't been a day that goes by that there isn't something going out there in some way, shape or form in the last three years. Show me a site that's done that. Nobody's done that. When you live it, hear it and see it every day, you see the progress."
"When the actual activity started everybody's like, 'Where is everything?'" he said. "It takes awhile to build everything – in this case decades."
Said DeGroot of Foxconn project detractors, "The naysayers have been wrong every step of the way."
Get local news delivered to your inbox!
Subscribe to our Daily Headlines newsletter.