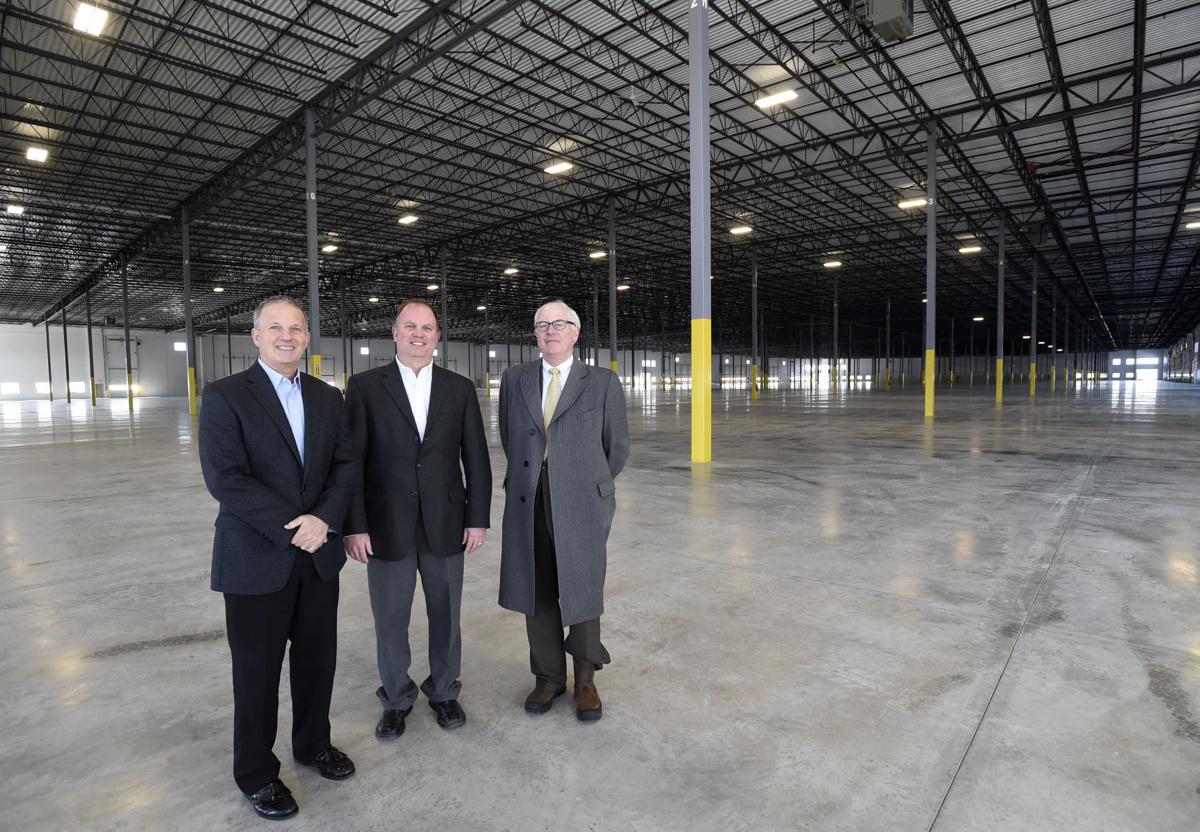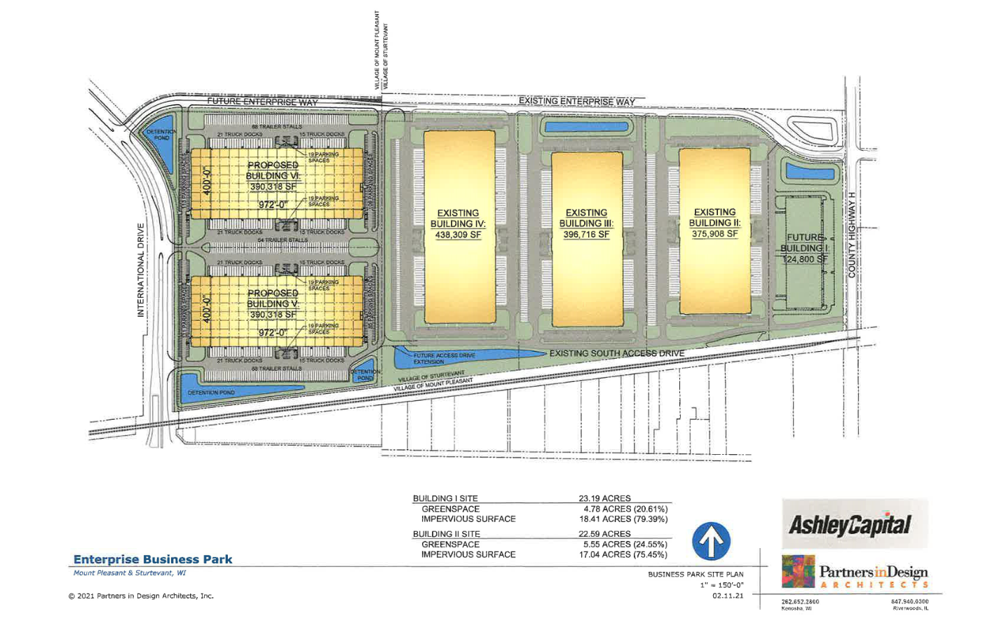 Proposed buildings
This rendering shows, at left, the location of two industrial buildings to be built in the same tax increment district as Foxconn in Mount Ple…
MOUNT PLEASANT — Where Foxconn has not been filling up space in the tax district created on its behalf within the Village of Mount Pleasant, other developers are claiming territory that had been farmland.
It was announced in May that two new warehouse buildings would be built near Foxconn, just north of Highway 11 and east of International Drive. It was revealed this week that they are going to be an expansion of Enterprise Business Park in Sturtevant.
According to a Tuesday press release from developers Ashley Capital, the expanded business park in Mount Pleasant will be called Enterprise West.
Enterprise West is being developed under TID No. 5, a tax incremental district created by the Mount Pleasant Village Board in 2017 specifically to facilitate Foxconn.
"We're excited to see project development in the north area," said Sam Schultz, community development director for the village. "It's not surprising to see Ashley Capital fill up (the buildings) in Sturtevant," referring to the developers looking to expand the Enterprise Business Park outside of the Village of Sturtevant itself.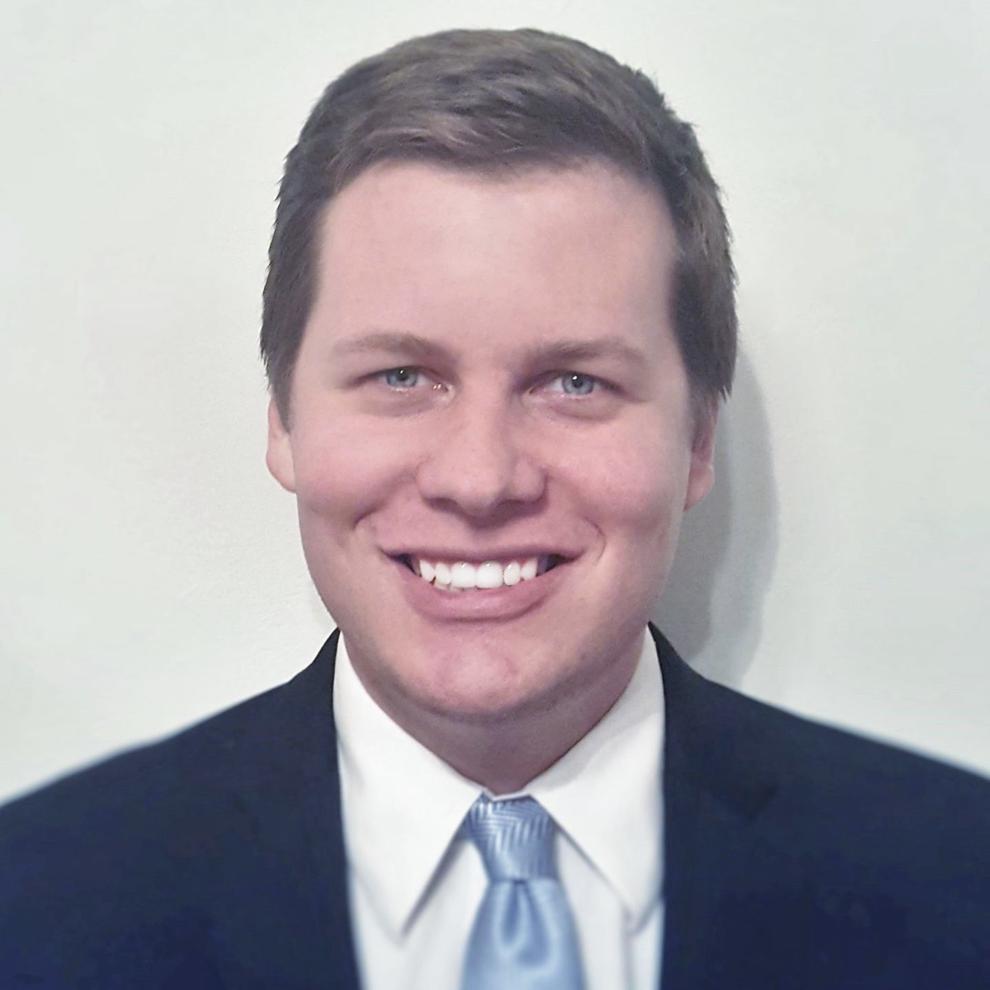 "We view the development as a great example of cooperation between Ashley, Mount Pleasant and the Village of Sturtevant," Schultz continued. "We look forward to the development benefiting both communities."
"We have been pleased to work with both the Village of Sturtevant and Mount Pleasant on Enterprise Business Park," said Gary Rosecrans, vice president of Ashley Capital. "Expanding the park to the west will provide improved access to/from I-94 for companies in the existing Enterprise Business Park."
Enterprise West will accommodate two industrial buildings, each about 390,000 square feet. Construction of the first building is scheduled for April 2022, with construction of both buildings to possibly be completed by September 2027, according to the developers' proposed schedule.

When completed, Enterprise West will consist of six buildings, totaling over 2.1 million square feet, a press release said.
Tiffany Garza, a marketing associate from Cushman & Wakefield/The Boerke Company — which is handling marketing for Enterprise Business Park — said in an email there are no tenants of the new buildings yet, but they would likely be occupied by light manufacturing or distribution companies.
Ashley Capital acquired 90 acres of farmland for its new buildings. The first building constructed was 376,000 square feet, now leased to four tenants. The second building in the park was 438,000 square feet and is currently leased to Amazon.
Ashley Capital most recently finished a 397,000 square foot speculative industrial building currently available for lease in Enterprise Business Park. John Sharpe and Tom Boyle of Lee and Associates, a second marketing associate for the park, and Terry McMahon and Cody Ziegler from the Boerke Company are co-listing space for lease.
"Industrial real estate vacancies have remained at historic lows," said Terry McMahon, principal at the Boerke Company who has been in commercial real estate for over 30 years. "The market should continue to absorb new construction, especially along the I-94 corridor where Enterprise Business Park is located."