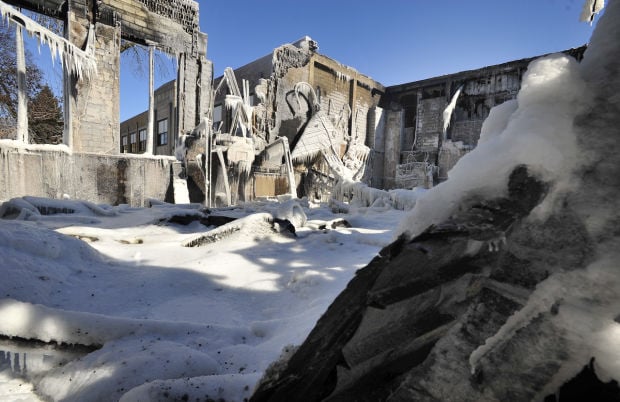 RACINE — The massive fire that badly damaged Mitchell Elementary School in February has been deemed an accidental blaze, the Racine Fire Department announced Friday.
The fire originated in the space between the ceiling and the roof of the school's gymnasium. It then "ignited a wooden safety cage that housed the heat exchange unit that provided warmth to the gym," the department said in a press release.
"The fire from this safety cage created high temperatures that caused the steel trusses that support the roof to fail," the release continued. "The trusses failed initially at the east end of the gym and traveled west until all of the trusses had fallen."
The gymnasium roof eventually completely collapsed.
The cause of the fire is undetermined; an electrical cause cannot be ruled out. No evidence was found to indicate it was intentionally set, the release said.
Upon hearing the news, Racine Unified Superintendent Lolli Haws said in a statement: "We appreciate the hard work of the firefighters not only in their heroic efforts to fight the fire and save much of our building ... but also (in) their diligent investigation into the cause."
The fire investigation took about a month. It was initially hindered by extreme cold, ice and the instability of what remained of the elementary school gymnasium, according to fire department officials.
The fire broke out Feb. 27. Much of the elementary school, at 2713 Drexel Ave., was damaged by fire, smoke and water. Portions of Mitchell Middle School, which is attached to the elementary school and sits at 2701 Drexel Ave., were also damaged.
About 1,100 students were temporarily displaced. Elementary schoolers resumed classes March 5 at Wind Point Elementary School, 290 Jonsue Lane. (Wind Point was closed last year and had been sitting vacant.)
Middle schoolers returned to class at Mitchell on March 18, after crews from Racine Unified and Paul Davis National restoration company hurriedly cleaned and repaired the middle school portion of the building. They also sealed off the elementary portion.
With the middle school back in use, the focus is now on cleaning and repair work at the elementary school. Work should be done before summer and students should return for the 2014-15 school year.
When students return, they may or may not have a gym space. Unified officials have said the space will be reconstructed, but it's too soon to say when or what the finished product will look like.
The cost of all the work is not yet known. Unified's insurance should foot the bill, with the exception of a $50,000 deductible the district must pay.