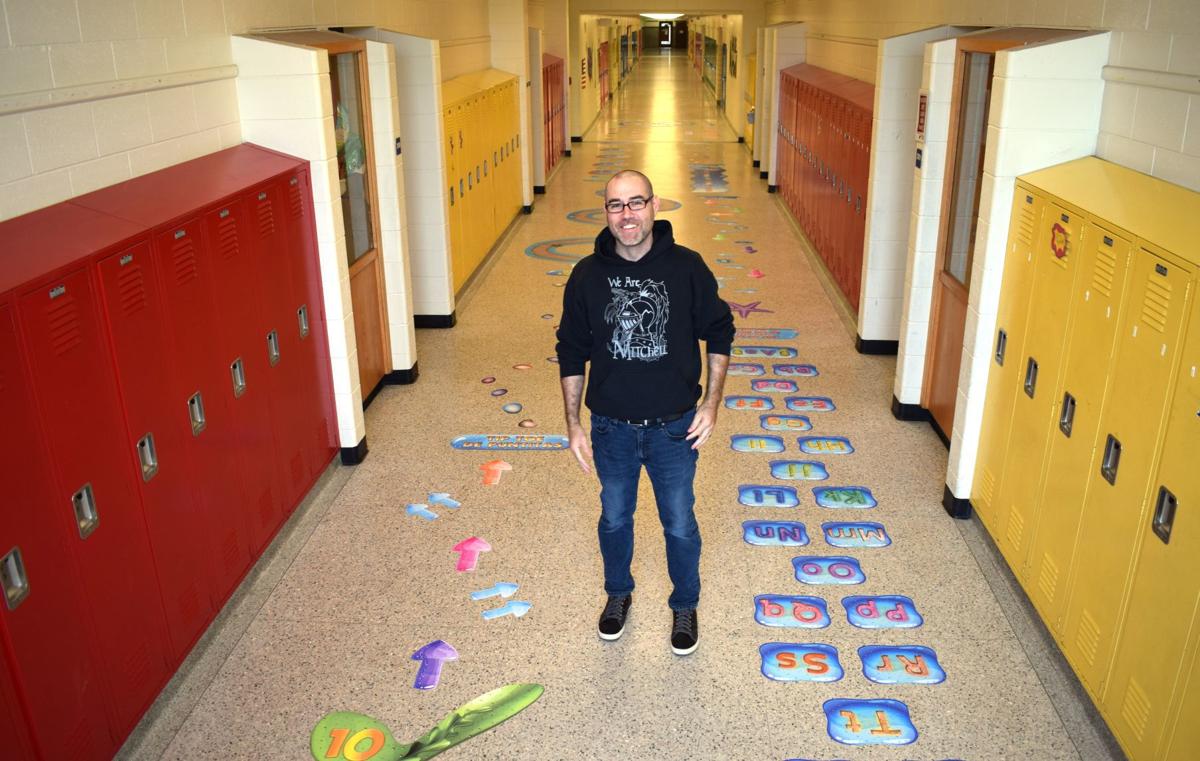 RACINE — When Mitchell Elementary School students walk on the south end of the second-floor hallway in September, they are in for a colorful surprise.
Through a donation of about $1,000 from three local businesses, Mitchell staff on Saturday and Sunday installed a 75-foot sensory path in the hallway to help students refocus and center themselves if they get overwhelmed. A sensory path is designed to engage sight, touch and sound through basic activities.
Some of the activities on Mitchell's pathway, labeled in English and Spanish, include a balancing segment that snakes along a curved path, a portion where kids tiptoe on small "rocks" and an area to step on numbered pieces in order, reminiscent of hopscotch. The aquatic-themed pathway is made of vinyl decals with adhesive on the back.
Steven Branson, assistant principal of the elementary school, said he expects to see a lot of kids — especially day one — using the new amenity.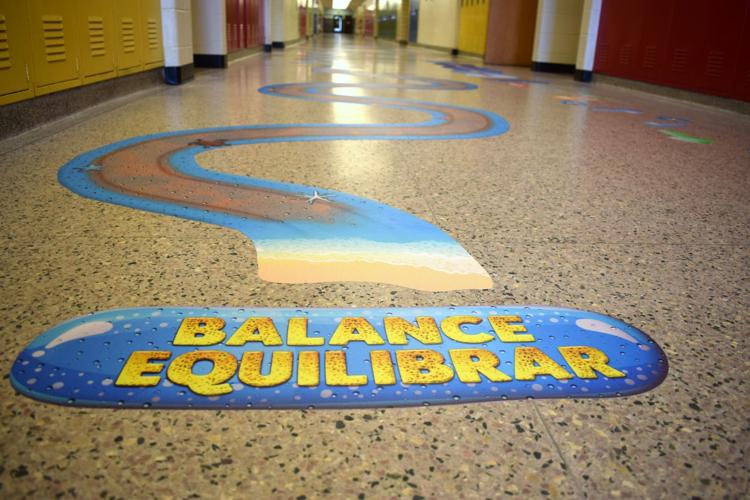 Data supports benefits
Sensory-based movement activities used in schools "trended toward higher positive changes" and have "the potential to influence academic outcomes," according to a 2016 study by the University of Puget Sound in Tacoma, Washington. The improvements were not found to be statistically significant, but students and teachers did find sensory-based movement activities to be positive, and the study still recommended their use on the basis of positive feedback.
While sensory paths are typically intended for special-education students, Mitchell's will be open to all kids. Branson said he would expect to see kids using it when they come in from recess.
The segment of hallway where the pathway was installed needed to be stripped of wax for the vinyl to stick. Staff then put several layers of wax over the top of the pathway. Because the pathway is intended to be permanent, the Racine Unified School District Building and Grounds Department needed to give approval, Branson said.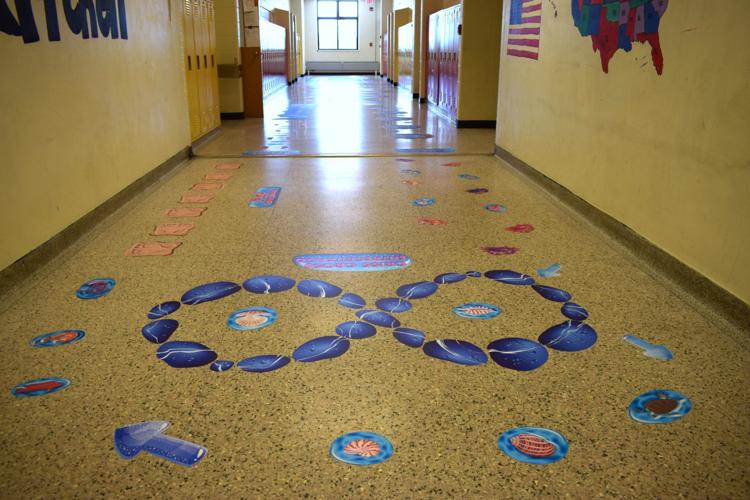 Occupational therapists at other RUSD schools have created their own sensory paths, but Mitchell's is the first known vendor-bought, professionally made path in the district.
"I'm extremely excited about the benefit this is going to give our kids this year, and I can't wait for day one when our kids come in and get to see their reaction to it," Branson said.
The primary sponsor was the Matthew Hennemann Farmers Insurance agency, with Masterpiece Painting and Decorating and Out Buildings Plus also contributing.
Hennemann said one of his employees' sister is a special-ed teacher at Mitchell. The employee proposed donating the path to the school, and Hennemann signed on because he felt the path was more meaningful than something like sponsoring an event or a sports field, he said.
"We wanted to give a benefit to the school that they will use on a daily basis," Hennemann said.
"We wanted to give a benefit to the school that they will use on a daily basis." Matt Hennemann, Farmers Insurance agent
"We wanted to give a benefit to the school that they will use on a daily basis."

Matt Hennemann, Farmers Insurance agent
Get local news delivered to your inbox!
Subscribe to our Daily Headlines newsletter.