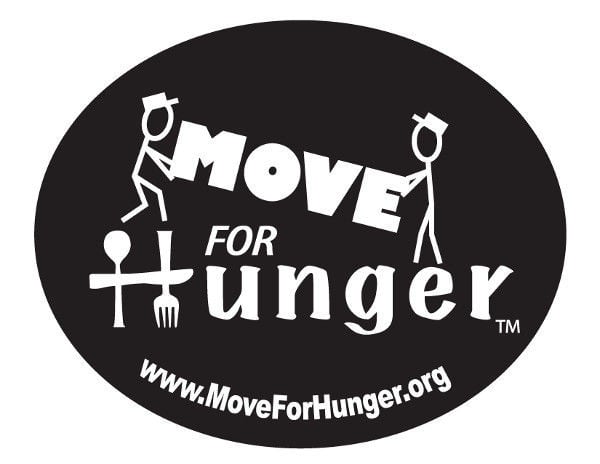 RACINE — Take the furniture, leave the food.
If you're moving and using Merchants Moving and Storage Company in Racine, Merchants will take your unwanted, uneaten food and donate it to the Racine County Food Bank.
Merchants, 1215 State St., recently became the first moving company in Racine County and fourth in Wisconsin to team up with Move For Hunger, a national, nonprofit organization that works with moving companies to collect unwanted, unopened food from people who are relocating and deliver it to local food banks.
Movers join the group by donating $300 and pledging to collect at least 300 pounds of food per year, said Dan Beam, Move For Hunger's communications manager.
Including Merchants, Move For Hunger now has four moving partners in Wisconsin, Beam said. The others are Ace Worldwide in Cudahy, A-1 Movers in Superior and O'Mara Moving Systems in Madison.
Since starring in 2009, Move For Hunger has delivered more than 6 million pounds of food to local food banks throughout North America, Beam said.
Merchants crews have already collected 262 pounds of food items and have delivered 180 pounds to the Racine County Food Bank.
"We are always excited for the possibilities that new donor relationships can bring, and are grateful for the extra food that they generate," said Dan Taivalkoski, executive director of the food bank, located at 2000 DeKoven Ave.
The food bank, which has operated for more than 30 years, supplies the emergency food network in Racine County with more than 90,000 pounds of food each month, he said.
Food insecurity affects nearly 470,000 people in southeastern Wisconsin, according to the group Feed Wisconsin, and nearly one in five children in the region go to bed hungry each night.
Merchants recognized the urgency of that need and joined Move For Hunger, company officials said.
"When we realized how many of our neighbors were going hungry, we knew we had to do something," said Anshanet Ball, Merchants' Move For Hunger coordinator. "Move For Hunger gives us the opportunity to help our community in a meaningful way."
The service is free to customers and turns every move into an opportunity to make a difference in the lives of the less fortunate, Ball said.
How it works
Merchants relocation coordinators mention the partnership with customers and let them know that the mover will take any unwanted, nonperishable foods.
Crews collect any unwanted foods in specially marked boxes, bring them to the Merchants warehouse, and deliver them to the food bank once a month.
"We are thrilled to have Merchants join us in the fight against hunger," said Adam Lowy, founder and executive director of Move For Hunger. "With such devastating hunger statistics at both the local and national level, their efforts will provide crucial support to the food bank's mission to feed the hungry."
Lowy's family owned and operated a moving company in New Jersey. There he saw firsthand how much waste occurred when people relocated.
"Clothing, furniture, appliances, and especially food," Lowy said. "After seeing so many pantries of perfectly good food being thrown away, I knew something had to be done. It started out as a simple idea."