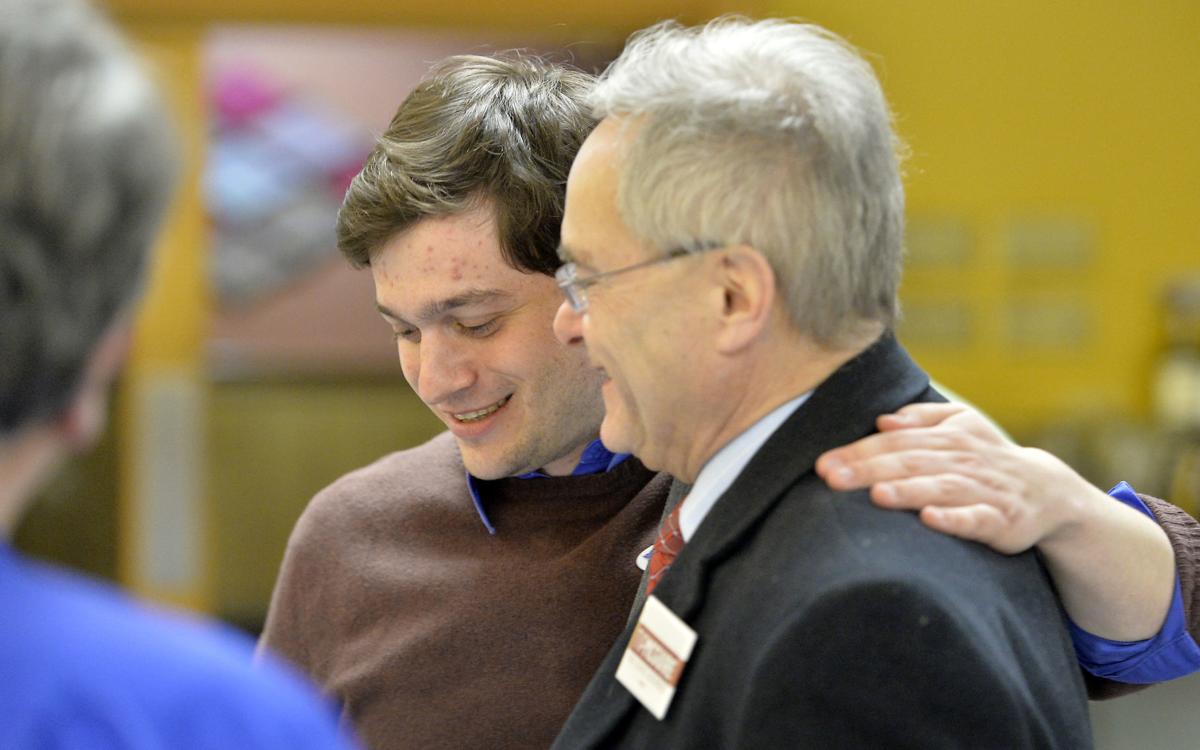 RACINE COUNTY — Somers resident Thaddeus "Tip" McGuire, a Democrat, has won the special election to represent Assembly District 64, defeating Republican Mark Stalker of Kenosha, according to unofficial results.
On Tuesday, voters in Racine and Kenosha counties went to the polls to choose a successor for former state Rep. Peter Barca, D-Kenosha, who was tapped by Gov. Tony Evers to be the state secretary of revenue.
Unofficial results from both counties show that McGuire, an assistant district attorney in Milwaukee County, received 4,424 votes and Stalker, a former Kenosha Unified School Board member, received 2,677. In Racine County, the vote totals were considerably closer, with McGuire receiving 599 votes to Stalker's 541.
The votes are unofficial until they are certified by the county clerks of both Racine and Kenosha counties.
"The election is really just the very the beginning, it's the beginning of all the work that we have to do to try to make sure that government works for the middle class and that it's supporting the people in our community," McGuire said at his victory celebration at the Fireside Restaurant and Lounge in Kenosha.
McGuire, 31, is a Milwaukee County assistant district attorney who has never held public office. He worked as a legislative aide for Barca from 2009-14.
"I'm looking forward to the opportunity to get to work on writing a budget for the people of the State of Wisconsin," McGuire said. "One that provides family supporting jobs, one that provides access to affordable health care and one that invests in our public schools."
Stalker concedes
Stalker, who gathered with supporters at the Casa Capri restaurant on Kenosha's north side, congratulated McGuire on the win.
You have free articles remaining.
"I tip my hat to Tip and the organization that he had and the ability to go out and beat us," Stalker said.
Stalker, a former Kenosha Area School Board member from 2005-07, said in recent elections Barca ran with little opposition and he wanted to make sure there was a debate about issues.
"I wanted to have conservative debate from the conservative side, I didn't want (the race) to be unopposed … certainly I wish the results could have been different, but it is what it is," Stalker said. "We knew it was going to be a tough district (to win)."
McGuire will be sworn into office during the coming weeks.
In Racine County, the 64th District includes: the far southeast corner of Mount Pleasant (including Lake Park and Lakeside); all of the Village of Elmwood Park; and a small portion of far southwest Racine (including the Mallard Shores subdivision). In Kenosha County, the district includes: the village and town of Somers east of Highway 31; and parts of the north end and most of the west side of the City of Kenosha.
Passing of father
McGuire's father Patrick died on April 13 at age 67.
"My father was one of my closest friends, he was very supportive of this (race)," McGuire said. "He was a great man. He was a witty conversationalist, he was a fun person to be around. And he could bring light and laughter to pretty much any situation."
McGuire said he especially missed his father during the home stretch of the race.
"Doing this was a stressful undertaking to begin with; obviously it requires a lot of work and he brought a lot of levity to that," McGuire said. "A lot of elections are about values. They are about values of fairness and justice, and values about how we want our community to look and feel. And those values were put in me by my parents." Stalker offered his condolences to McGuire on Tuesday night.
A visitation for Patrick McGuire is scheduled for 4 p.m. to 7 p.m. Sunday at the Piasecki-Althaus Funeral Home, 3720 39th Ave., in Kenosha and the funeral is scheduled for at 11:30 a.m. Monday at Green Ridge Cemetery in Kenosha.