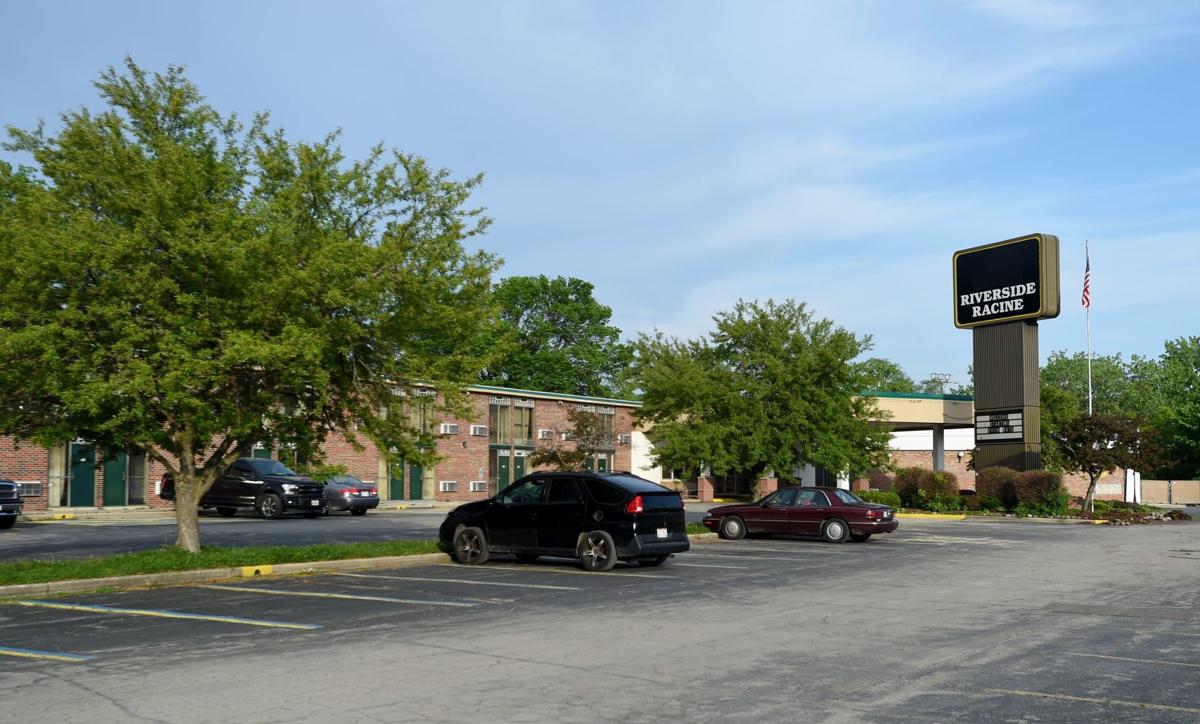 RACINE — Amanda Burns has a tough month ahead of her.
She's the counselor of the new Riverside Inn owners have on-site to help the 60 adults and 24 children living there to find new housing by July 1, the city's deadline for the building to be vacated.
The evictions come in the wake of the building at 3700 Northwestern Ave. being sold to two Milwaukee investors who are budgeting $2 million in renovations to transform the troubled site into the future Travelodge Watersedge Hotel.
Burns is a substance abuse counselor at Matt Talbot Recovery Services in Milwaukee and Genesis Behavioral Services. Before that, she was an intern at HALO, Racine's principal homeless shelter, and helped people access services and find jobs and housing.
A Racine resident, she said when she's not at Riverside she's looking up housing listings, calling landlords and visiting sites to check for vacancies. She has a stack of packets with resources she has compiled, including shelters, food assistance and especially subsidized housing.
But the challenges some of the residents face are substantial.
"A lot of them are out of hope," said Burns. "A lot of them were in tears."
'A family-oriented place'
Debra and Scott Casperson came to Riverside about nine months ago.
"If we were told this was going to happen, we wouldn't have come here," said Debra.
On Tuesday afternoon, the couple were hanging out on a picnic bench beneath a bit of shade at the corner of the two wings of the building. Lots of people stopped by, to chat, hang out and some to smoke.
Debra said a lot of her neighbors are stressed about the move. Whether it's because they're on a fixed income, have disabilities or have small children, she said a lot of people are struggling to figure out where they'll go at the end of the month.
On top of that, she said now that a lot of the troublemakers have been evicted, she appreciates the community.
You have free articles remaining.
"This is a family-oriented place," she said. "Everybody is like family here."
Ronald Tischendorf has been living on and off for 15 years at Riverside.
"We're tight-knit," he said of the residents. "A lot of people have been here on and off for a long time."
As a longtime maintenance manager and handyman, he trades doing work in-kind for staying at Riverside. He's looking for someplace to go but has a back-up plan.
"If that doesn't work out, I'll go off the grid," he said. "I've got a backpack. The summer's not too bad. It's the winter that's hard."
Daniel Boudreau had only been at Riverside for three months but said he does not know where he could go next. He's on Social Security, has heart problems and can't drive because of a recent OWI conviction.
"I'll go sleep out in the woods. I've done it before," he said. "But what about all the women and kids? Somebody with the city, (Mayor Cory) Mason or (County Executive Jonathan) Delagrave has got to take care of some people."
He acknowledged the OWI was a "stupid mistake," but said after working two jobs for 50 years and paying taxes, at age 64 Boudreau is frustrated with the situation in which he finds himself.
"I just want someplace to hang my hat," he said.
Bringing services to tenants
One of the new co-owners, Patrick Prabhu, said they asked Burns to spend at least this week at Riverside because they don't want to kick people out on the street.
"We're trying to do the best we can under the circumstances," said Prabhu.
Burns said the 10 residents who have spoken to her so far have felt better after the conversation and for some she's even helped them connect with jobs at Talbot and Genesis for which they are qualified.
The City of Racine and several service providers are scheduled to have representatives at the inn from 9 a.m. to 4 p.m. Friday in one of Police Department's mobile command vehicles, which has work spaces inside. But Riverside has offered to let them use space inside for people uncomfortable meeting in a police vehicle.
So far, Racine County Human Services, the Housing Authority of Racine County, HALO, Legal Action and UMOS — a Milwaukee organization that assists with housing, employment, education and health — have told city officals they will be there Friday.