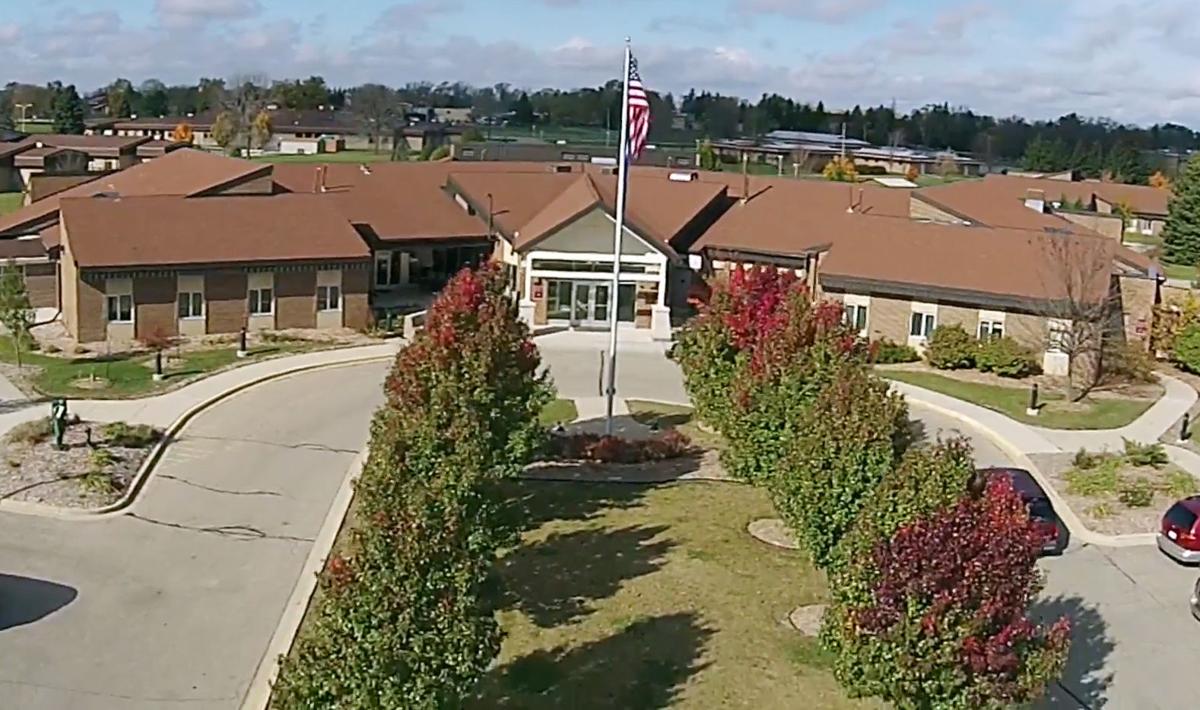 DOVER — Low staffing was a concern before the pandemic at the Veterans Home at Union Grove, a nursing home for military veterans and their families in Dover, and remains so now that it is experiencing its second deadly COVID-19 outbreak.
During the first outbreak in the summer, the Wisconsin Department of Veterans Affairs — which operates the home — received help in the form of 13 federal Department of Veterans Affairs employees. The home needed the help since so many of its staffers had tested positive.
As of Friday, federal help had not been requested amid the second outbreak, but "that can change at any minute" as "we are constantly assessing and reassessing our ability to effectively serve those who live with us," said Carla Vigue, communications director for the Wisconsin Department of Veterans Affairs. "Of course, we don't have a hard and fast threshold that would trigger such a request … If we reach a point where our ability to provide top quality care to our residents is in question, we will not hesitate to request assistance.
The VA indicated it is ready and willing to provide help if needed. "(The) VA stands ready (to) support the department's 'Fourth Mission' to surge capabilities into civilian health care systems in the event those systems encounter capacity issues," Charity Hardison, public affairs officer for the VA Great Lakes Health Care System, said in an email. Despite concerns about medical capabilities stretched thin, Hardison said that the VA is not facing staffing shortages that would force it to limit surge responses.
"We are grateful for the assistance provided to us by the federal VA last Fall. Those nurses were an essential part of the team that worked so hard to bring an end to the cases of coronavirus among our residents," Vigue said in an email.
On Monday, DVA reported that there were 24 active positive COVID-19 cases linked to the facility: 15 residents and nine staff members. On Wednesday, there were 27 active cases: 15 residents and 12 employees. By Friday, there were 18 active cases: 11 residents and seven employees.
Vaccinations began this month at the facility.
State Sen. Van Wanggaard, R-Racine, says he is keeping a close eye on the situation.
One of those who recently died after catching COVID at the facility, Joe Nosalik, was retired nurse and police officer who had been Wanggaard's partner for more than a decade on the Racine Police Department. Nosalik, who was also battling Parkinson's and Lewy body dementia, died on Dec. 21.
"He was pretty phenomenal … a huge loss," Wanggaard said of his late friend during a Monday phone interview.
"They're working those extra hours because they don't have the staff to cover all those extra shifts," Wanggaard said.
The state Legislature has been looking for ways to increase staffing levels at those facilities, including by raising pay nurses and other medical staffers. Gov. Tony Evers' Task Force on Caregiving in September was reviewing proposals aimed at boosting wages, benefits and recruitment of paid caregivers and expanding supports for unpaid family caregivers. But none of that has been voted on yet in the Legislature, which is currently in the process of creating a second COVID-19 package; the last time the Legislature voted on anything, it was on the first COVID package in April.
"We worked to increase pay and training. But when all this stuff (the coronavirus) hit, we've had such an impact on all the medical resources we have statewide, it's really difficult to find people we have statewide to feel those gaps," Wanggaard said. "We as a Legislature need to look at getting to boost those salaries of those who have gone the extra mile."
Of the nurses and other medical professionals who remain, Wanggaard said: "My God, they have stepped up to the plate."
249 people in Racine County lost their lives after catching COVID in 2020. Here are some of their stories
Beloved mothers. A barber who ran his shop like Floyd Lawson on "The Andy Griffith Show." A nurse/Marine/cop. A fisherman who "wasn't ready to go." Racine County lost nearly 250 people to COVID-19 last year. Here are some of their stories.
By the numbers
According to official data, Wisconsin reported 481,102 positive cases of COVID-19 in 2020. Since the first deaths were reported March 19, 4,859 deaths were attributed to COVID-19 in Wisconsin. In Racine County, 249 deaths were attributed to COVID-19 in 2020, with 17,628 confirmed cases; 90 of those deaths and 7,055 of the cases were reported in the City of Racine. Nationwide, more than 345,000 American deaths were attributed to COVID-19, with approximately 20 million testing positive throughout the year. As many as 1 in 5 of those who tested positive reported lingering symptoms, according to the World Health Organization. In December, 77,000 Americans died from COVID-19, an average of 2,483 per day, with more than 3,000 deaths being reported in one day several times; for perspective, there were 2,977 victims of the 9/11 attacks.