RACINE — As the Apollo 11 mission blasted off into space on at 9:32 a.m. July 16, 1969, from the Kennedy Space Center in Cape Canaveral, Fla., Racine native Steve Olsen watched in wonder.
Olsen, then 15, was one of about 1 million people who came to watch the launch in person, and one of 11 young Explorer Scouts and three adult scout leaders from Racine who took a road trip to the launchpad after fundraising for about a year.
"You've never seen or heard anything like that, when the rocket actually lit up and started firing off, you could feel the vibrations," Olsen recalled.
As the rocket hurtled silently through 240,000 miles of the unknown, Olsen and his fellow scouts raced back to Racine to watch Neil Armstrong take his iconic "one small step" on July 20, 1969.
Half a century later, the mission remains a giant leap for mankind, a unifying moment in world history that saw President John F. Kennedy's out-of-this-world promise to put a man on the moon come to fruition — and put the United States decisively ahead on Russia in the Space Race.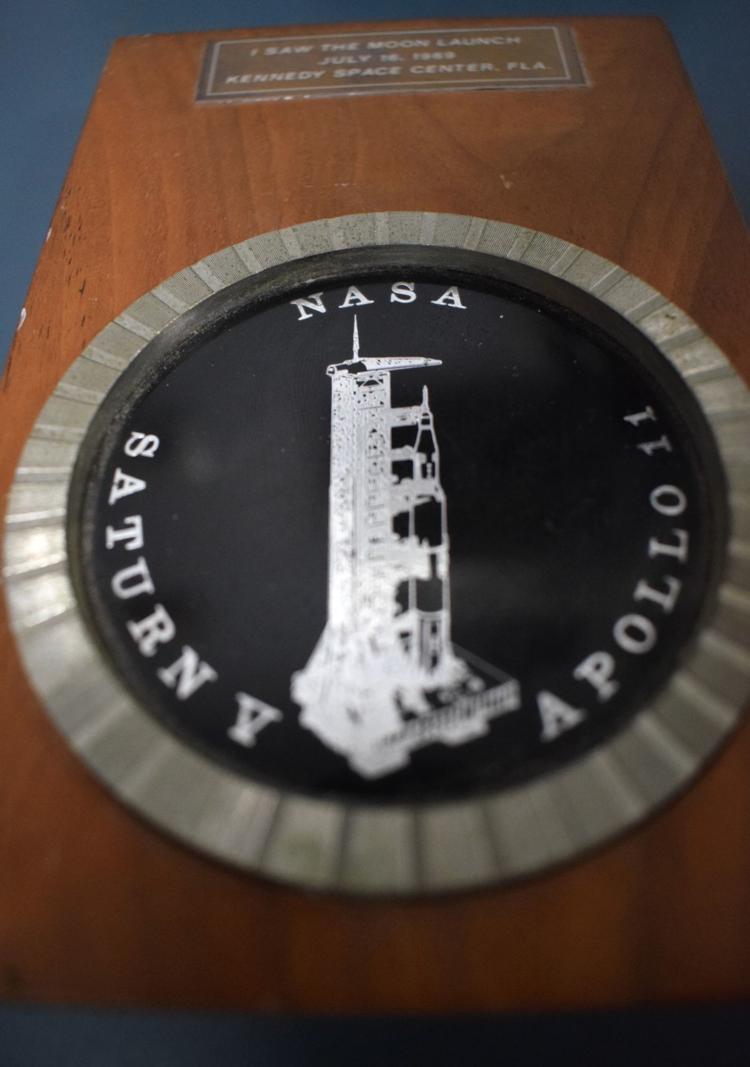 Local memories
"Now it's even more monumental when you go back," said Dean Theos, 77, of Caledonia.
More than 2,000 miles away from Racine, Theos woke up the morning of July 20 anticipating the landing, which he would not see on television until that night. He and his wife were living in Los Angeles then with their then-3-week-old son, Philip. Watching the landing on television, Theos said he was compelled to write in real time what was going on so Philip could have some memento of the landing.
Included in Theos' timeline: At 7 p.m., Theos began watching the first moon walk; at 7:40 p.m., Armstrong stepped out of the lunar module; at 8:15 p.m., Buzz Aldrin joined Armstrong on the lunar surface; at 10:10 p.m., Armstrong returned to the module.
"Where was Philip during this celestial feat — out like a light," Theos wrote to his son in his narrative, which he shared with The Journal Times.
Back across the Atlantic Ocean, Joan Borzynski, 73, of Caledonia, was traveling with friends in Spain. They found a TV and sat down to watch, along with many other guests.
"We all celebrated together," Borzynski said. "We got lots of congratulations, as we were Americans. The restaurant baked us a cake in honor of the event. It is a special memory."
Edith Larson, 75, of Mount Pleasant, recalled having her husband's relatives visit from California on the day of the landing. They all huddled around a TV in the basement. The Californian children had never seen a basement before then.
"It was a day of firsts, from basements to the moon," Larson said.
You have free articles remaining.
You're out of free articles
Sign in or create a FREE account to keep reading.
David Krogh, 69, of Racine, had recently joined the Air Force and was going through basic training at Lackland Air Force Base in Texas. Throughout high school he was infatuated with NASA's planned moon landing and enlisted at 19.
"Our drill instructor, for whom we had never seen the human side, brought in a small TV and we all sat around on the barracks floor and watched," Krogh said. "That was 50 years ago, but I remember that night like it was yesterday."
Charles Rule, 60, of Burlington, recalled listening to the radio with his family in great anticipation.
"As the lunar module neared the surface of the moon … as it was announced 'The Eagle has landed,' we all cheered," Rule said.
Cheryl Abbott, 73, of Dover, said she held her young son in her arms and watched the landing in her Kenosha apartment.
"It was exciting and I told my son about it," Abbott said. "I knew he would go on into the future and be able to see so much more than I will."
'I was mesmerized'
Now a flight test engineer with the Federal Aviation Administration in Chicago, Michael Ward, 62, of Mount Pleasant, credits the Apollo 11 crew for inspiring him to get into the aerospace industry. He said he stayed up late to watch the moon landing live.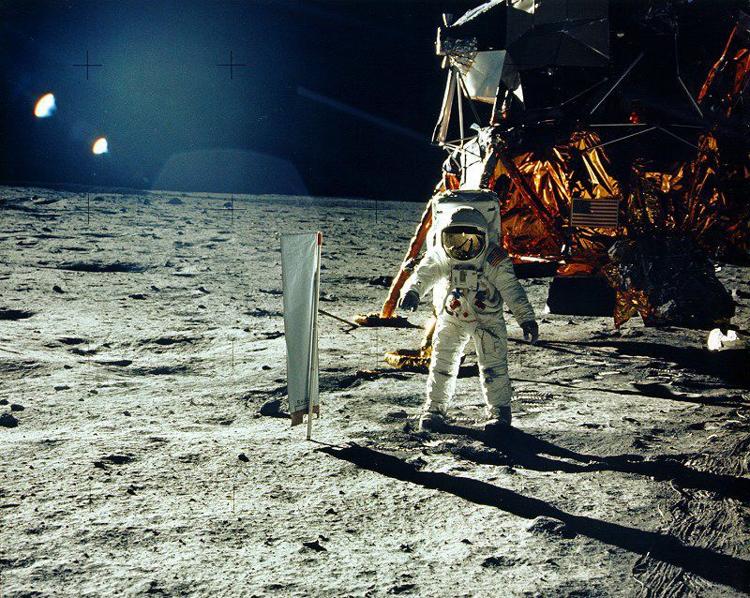 "I was mesmerized by what I saw and added 'astronaut' along with 'pilot' to my 'When I Grow Up' list," Ward said.
Just hours after landing, the astronauts took off and headed back to Earth.
When the Apollo 11 astronauts returned, they went to Hickam Air Force Base in Hawaii for quarantine. Racine resident and Navy veteran John Sinclair, 71, said he was stationed there at the time and got to see the astronauts up close as they were transported to the quarantine area.
"They were greeted by a very enthusiastic crowd and I remember them with big smiles, which I assumed was due to the fact they made it safely back to Earth," Sinclair said.