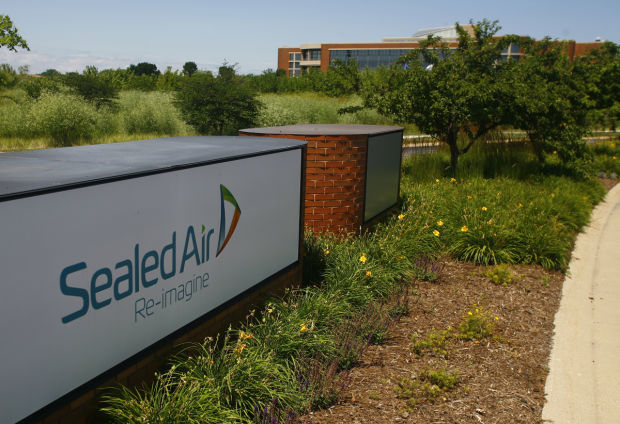 MOUNT PLEASANT — All of the approximately 300 local Sealed Air jobs will leave the Racine area within the next three years, with the moves starting next year.
Following Sealed Air's Wednesday morning announcement that it will build a new global headquarters in Charlotte, N.C., company spokesman Ken Aurichio confirmed that the consolidation will have a sweeping impact here, sending all local jobs to Charlotte.
Very few of the local jobs will disappear, Aurichio said, meaning virtually all local employees will have the option to transfer if they want to.
"We anticipate all or most of those will be relocating to the new facility along with the other locations," he said.
By making the moves over three years, Aurichio said, Sealed Air is trying to give time to employees who choose not to transfer to find other jobs.
Sealed Air's Diversey Care division is based at 8310 16th St. in Mount Pleasant.
Local Sealed Air employees were informed of the coming changes by company representatives in a town hall-style meeting at 9 a.m. Wednesday, Aurichio said.
The job transfers will happen in stages starting in 2015, he said. Although Sealed Air does not yet even have a site for the future global headquarters it plans to build in Charlotte, Aurichio said it's possible it will use some temporary office space there while the new headquarters is being built.
Sealed Air would expect either to sublease or sell the multimillion-dollar Sealed Air building in Mount Pleasant, Aurichio said.
Cost-cutting is not driving the consolidation, Aurichio said, although there will likely be some of that. Rather, he said Sealed Air has grown in recent years via acquisitions such as its 2011 purchase of what was then Diversey.
"This is really the impetus of our new CEO," Jerome Peribere, Aurichio explained. "He wanted to try to build a stronger one-company culture, to bring the three divisions all together under one roof."
Those divisions are Diversey Care, cleaning and sanitation products and systems; product care, the traditional Sealed Air business which includes the manufacture of Bubble Wrap; and food care, which is mainly packaging.
New global headquarters
On Wednesday Sealed Air, which is now based in Elmwood Park, N.J., announced it will establish a new global headquarters in Charlotte, described as a "modern, state-of-the-art, environmentally sustainable campus." The campus will become headquarters for its divisions, research and development facilities and corporate offices.
Within three years the publicly traded company expects about 1,300 jobs will be relocated to Charlotte from Elmwood Park, N.J.; Danbury, Conn.; Duncan and Greenville, S.C.; and Mount Pleasant, as well as a "small number" from other locations.
"This move will contribute to a stronger, one-company culture that will enable greater collaboration, efficiencies and better use of our investments in people and new technologies," Peribere stated.
A North Carolina committee that approves the state's main tax break to attract businesses on Wednesday approved up to $36 million over 12 years if the company meets job and investment targets. Sealed Air also will receive at least $5 million more in incentives from state and local governments.
The executive salaries moving to Charlotte mean the jobs will have an average annual salary of just under $120,000 a year compared to a Mecklenburg County average of $59,046 a year.
Sealed Air bought Diversey in 2011 for $4.3 billion in cash and stock. It was apparently the only time an entire Johnson family company – at the time the late Sam Johnson's family owned 51 percent of the stock – was sold to an outside entity.
At the time, Aurichio explained the Diversey acquisition was made because two-thirds of Sealed Air Corp.'s business is food packaging, under its Cryovac brand. Where foods are enclosed and protected by Sealed Air products, hygiene is paramount, and food companies often use Diversey Care products and systems.
Local employment has dwindled heavily since that 2011 acquisition; at the time Diversey had about 640 employees here.
Sealed Air's announcement has one possible ancillary effect on what is now the Sealed Air Family YMCA, 8501 Campus Drive. The $14.1 million YMCA, which opened in August 2012, was originally to be named Diversey Family YMCA in honor of a $6 million pledge the company made about two years earlier. When Sealed Air bought Diversey, the YMCA also took its name.
Sealed Air will fulfill its commitment to 600 paid YMCA memberships for 10 years, Aurichio said.
But will the Sealed Air name stick with the YMCA when the company has no more presesnce in this area? That hasn't been discussed, Aurichio said, but added, "I assume at some point the name will not remain."
The Associated Press contributed to this report.