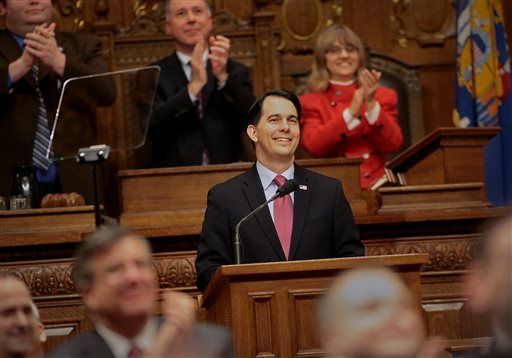 RACINE COUNTY — In the wake of Gov. Scott Walker's budget address to the state legislature Tuesday evening, local legislators noted that the short, 30-minute speech left many uncertainties on how Walker's proposals would be put in to action.
For local Republicans, the speech gave a solid starting point for legislators to work with.
"He threw out a lot of ideas that I think we have to debate," said Rep. Tom Weatherston, R-Caledonia. "Overall I think it was a good speech, but it leaves a lot of work for us."
For Democrats, however, the speech's brevity and lack of detail pointed to Walker's interest in appealing to a national audience instead of Wisconsinites.
"I think it was a good speech if you were trying to reach voters in Iowa … it was not a good day for middle-class voters in Wisconsin," said Rep. Cory Mason, D-Racine.
Walker's proposal to cut about $300 million from the University of Wisconsin System was among the most noteworthy topics for local legislators, especially how this cut would affect the University of Wisconsin-Parkside in Somers.
"Those cuts to higher education are devastating," Mason said, particularly referring to Parkside. "Those are cuts that are going to hurt."
Senator Bob Wirch, D-Kenosha, also worried about where the newly proposed cuts to the UW System would come from, especially after cuts in the last budget.
"I think (Walker's) speech was long on campaign rhetoric and very short on the facts," Wirch said, adding that he looked forward to the Legislative Fiscal Bureau's coming assessments on the proposals.
Weatherston, however, said he liked the idea of leaner universities, but also looked forward to more information on how the cuts would affect universities.
"If UW has less funding, they're going to have to become more fiscally conservative ... I see a lot of merit in that," he said. "I would like to see what that does to them."
Assembly Speaker Robin Vos, R-Rochester, praised the proposed budget and speech overall, but he worried in particular about a proposal to borrow $1.3 billion to pay for roads and infrastructure projects. Vos said this was putting off a solution to the problem.
"I think in the end we'd like to see revenue increases for transportation," he said.
Wirch equated borrowing money for road projects to putting the "transportation budget on the state's credit card."
Noting the months of work that lay ahead in preparing the budget, Vos said the most important part of the process is hearing from voters, and he urged constituents to reach out to him through phone, email and social media.