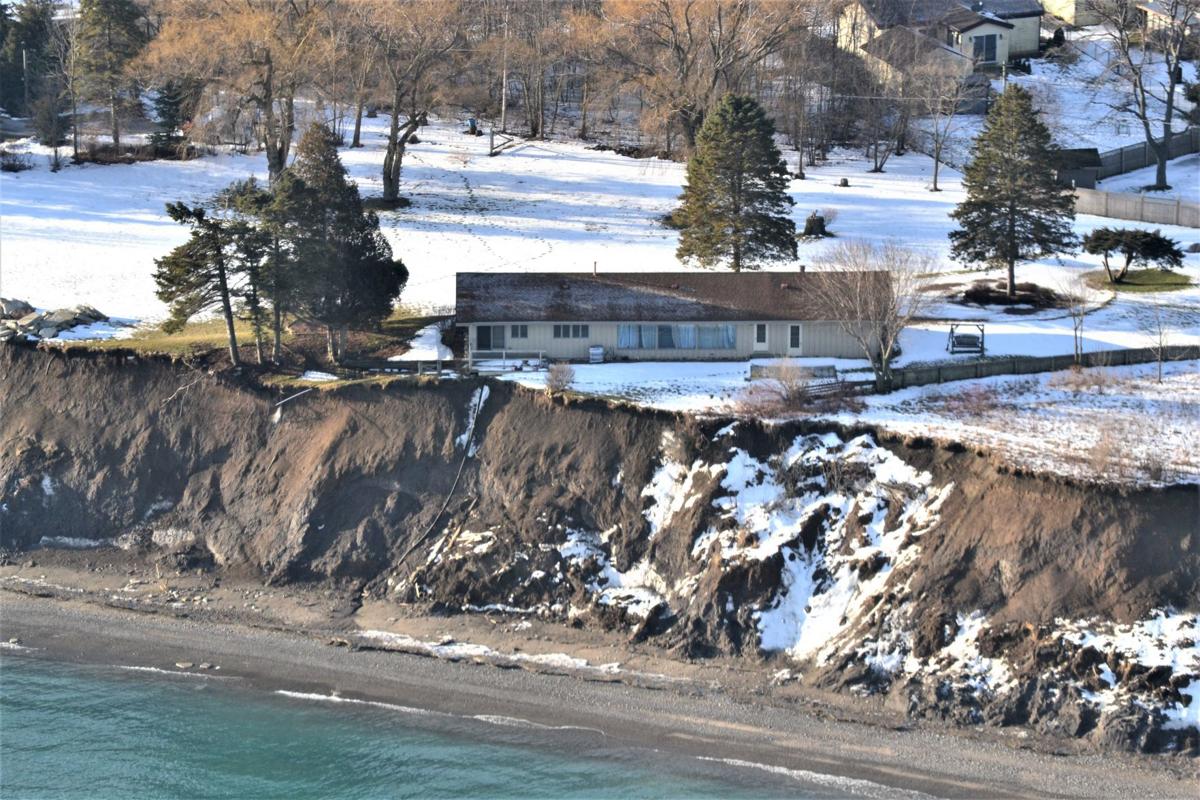 MADISON — Rep. Tip McGuire, D-Somers, introduced legislation Wednesday aimed at preventing further erosion of Great Lakes shoreline in communities in Racine and Kenosha counties, as well as throughout the state. LRB-4937 creates a revolving loan program for homeowners and municipalities to invest in erosion mitigation.
Recent extreme weather combined with near-record high lake levels has exacerbated an existing erosion problem for property owners in southeastern Wisconsin, as shown by the severe winter storm that pounded the lakeshore the weekend of Jan. 10-12.
As written, LRB-4937 would create a $5 million fund for making low-interest loans to homeowners so they would have the money upfront to invest in shoreline protection. The bill is a contrast to the federal aid Racine, Kenosha and Milwaukee counties are seeking, which could only be used to repair public property.
The bill would "help preserve the safety and structural integrity of shoreline properties across the state," according to McGuire's office.
"Shoreline erosion has become a safety issue for people in our community and across the state," McGuire stated. "This legislation is not a silver bullet, but it is an important first step to give property owners a tool to protect their homes and keep their families safe."
A member of McGuire's staff said under LRB-4937, the bill would give the Wisconsin Department of Natural Resources emergency rule-making power and additional staff to administer the new rules.
The bill is now being circulated for cosponsorship, will next get a bill number and then be assigned to a legislative committee.
State Rep. Greta Neubauer, D-Racine, supports the bill.
"This was drafted in response to concerns raised by people who live just a few blocks from me along the lake. They are facing significant costs to make sure their homes don't fall into the lake," she told The Journal Times.
Neubauer said the bill has bipartisan support and hopes to have it passed this legislative session, which is expected to end in March.
You have free articles remaining.
RACINE COUNTY — Racine County Executive Jonathan Delagrave on Friday issued a declaration of emergency in Racine County in response to severe …
Seeking federal aid
Damage to public infrastructure from the Jan. 10-12 storms, flooding and high waves is estimated at $6.45 million in Racine County — nearly all of that in the City of Racine — and more than $30 million for Racine, Kenosha and Milwaukee counties combined.
Racine County Public Works Commissioner John Rooney attributed the extent of the damage to not only high wind and water but to the mild winter Racine has experienced so far. Without ice built up along the coast, there was nothing to buffer the shoreline from the waves.
The Federal Emergency Management Agency has been asked to provide financial aid for restoring that infrastructure and has been assessing the damage. Officials from Racine, Kenosha and Milwaukee counties met with FEMA inspectors throughout the day Tuesday.
FEMA aid would only go to local governments as reimbursements, after restoration work has been performed.
In addition to affected public infrastructure, last month's storms and waves also severely undercut and gouged out banks along the shoreline in places including Caledonia, endangering homes in those areas.
"Shoreline erosion has become a safety issue for people in our community and across the state. This legislation is not a silver bullet, but it is an important first step to give property owners a tool to protect their homes and keep their families safe." State Rep. Tip McGuire, D-Somers
"Shoreline erosion has become a safety issue for people in our community and across the state. This legislation is not a silver bullet, but it is an important first step to give property owners a tool to protect their homes and keep their families safe."

State Rep. Tip McGuire, D-Somers