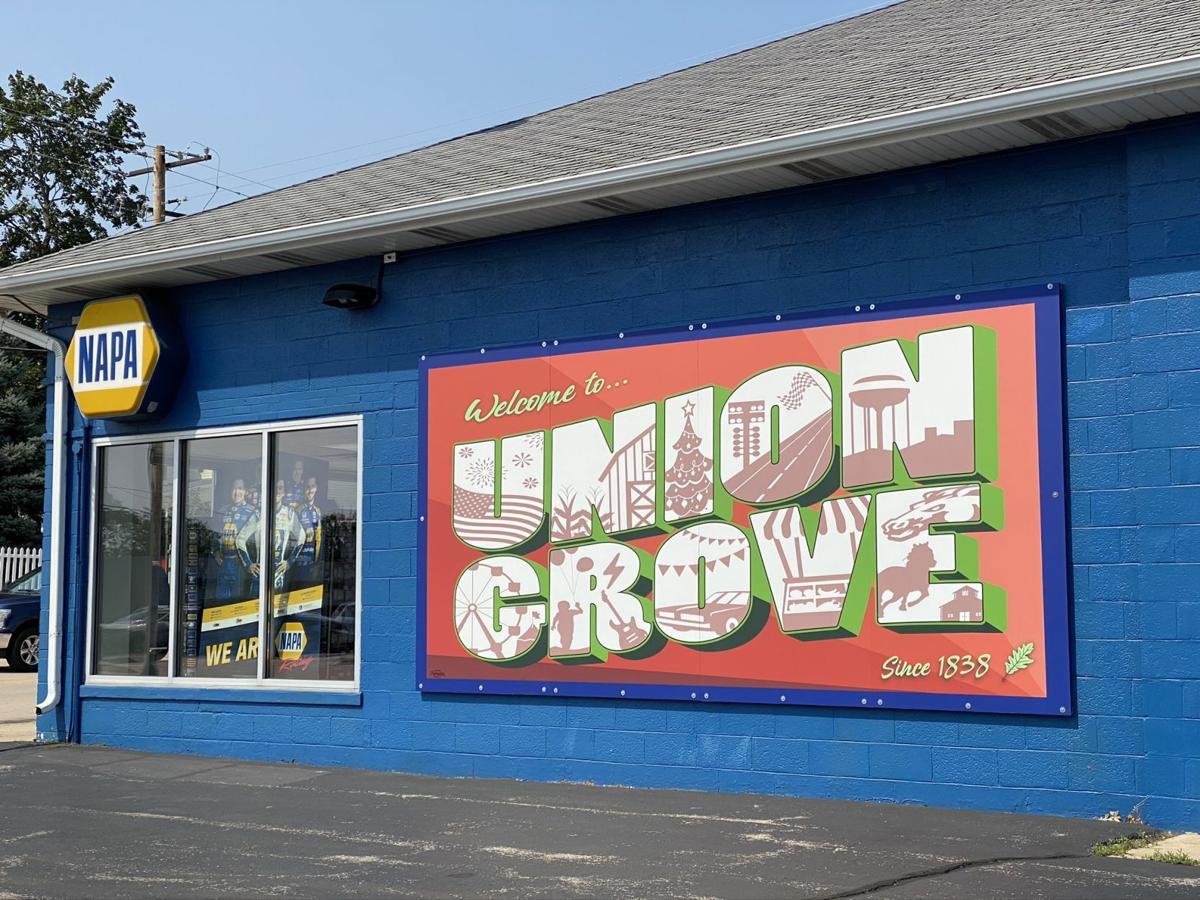 UNION GROVE — Despite a pandemic and not being able to function as the group usually does, Leadership Union Grove has been busy this year.
LUG completed two community service projects this year: replacing the windows and door for the Union Grove Area Food Bank building and installing a new mural on the side of the Union Grove NAPA Auto Parts building at 1401 Main St.
While one project may be larger and perhaps more noticeable in the community than the other, the recipients of both projects are thankful.
"Customer Views LLC out of Franksville did the install in June and food bank volunteers are very appreciative that they are able to open the windows and have a door that functions properly," said Deb Genal, 2020 LUG graduate and volunteer at the Union Grove Area Food Bank.
"The community of Union Grove thanks the Leadership Union Grove Class of 2020 for its generous donation of this sign," said Union Grove Village President Mike Aimone.
Challenges along the way
Like many other programs, COVID-19 took a toll on LUG. A big part of the experience is the opportunity to tour local businesses and meet local business leaders. When COVID-19 caused places to shut down, that was unable to happen. However, the class still met for an hour each month over Zoom for leadership training, led by Psychologist, Dr. Russ Kinkade Psy.D.
The 2020 class was one of the largest so far. Members included Jennifer Dassow, Patrick Brinkman, Lindsey Novasic, Rebecca Bursek, Nicole Friesema, Caitlyn Eulgen, Kris Paulson, Steve Wicklund, Jackie Duryee, Mike Hawes, Deb Genal, Ben Spargur, Keri Odea and Katy Johnson.
Because of the size, members opted to tackle the two community projects. Genal recognized the importance of the food bank and the class decided to replace the windows and door for the organization's building.
"Chamber members and private donors were extremely generous when we started fundraising for the project," Genal said.
Mural
The mural depicts events that happen in the Union Grove community throughout the year. Nicole Friesema and Caitlyn Eulgen, 2020 LUG graduates, learned through Union Grove NAPA Auto Parts owner Andy Spiering that Bill Martin, owner of Martin's Garage, used to project the coming vehicles onto the southern side of the building.
They all determined this spot was the perfect place to display the mural and give a nod to the Martin Family and all it has done for the community.
Union Grove High School art teacher Hal Kravig and UGHS students designed the mural. The design was printed by Byfuglien Inc. and installed by BSW Electric. All printing costs were funded by the Union Grove Lions Club.
The 2020 LUG Class celebrated the grand reveal and graduation on Aug. 17.
"In these unsettled times, this welcome sign serves as a daily reminder of Union Grove's rich history, promising future and of a community working together," Aimone said.
Things to do in and around Racine County