YORKVILLE — The village's elementary school is getting a concession stand for its baseball diamonds, a result of Leadership Union Grove's biggest class project ever.
Leadership Union Grove is a community-based personal, professional and community development program sponsored by the Greater Union Grove Area Chamber of Commerce.
Whereas many past LUG projects have been short-term, one- or two-day endeavors, such as cleaning streets or making a walking path, building the concession stand will be a lengthier process involving permitting, digging and building through the spring with a goal to be finished by June 1.
Most projects have also traditionally been in Union Grove, so LUG is excited to bring a project to Yorkville for a change, said Jennifer Ditscheit, executive director of the Chamber of Commerce. The baseball fields serve about 120 area families whose children play at the school.
Yorkville Elementary currently has a roughly 8-foot-by-8-foot shed serving as a concession stand, with no restrooms. Whenever there are games, the school brings in portable toilets. Because there is not a true, dedicated concession facility, it has been difficult for the school to host baseball and softball tournaments, said Kate Johnsen, a LUG class member and Yorkville Elementary minors baseball coach.
"Hopefully, if we are more up to par with facilities compared to some of the other areas, then we would be able to (host a tournament) somewhere in the future," Johnsen, 36, said.
Scott Nelson, Yorkville Elementary's majors baseball coach, was the first member of the LUG class to suggest the project. The scale of the project at first deterred some of the class's 12 participants, Nelson said, but that same scale eventually got them excited.
"It's not like we're just putting up four walls and calling it a building," Nelson, 38, said. "We're going fairly in-depth with this thing. It's almost like building a house, really, when you're putting in a well, putting in some sort of septic system. It's a big undertaking for us."
In fact, the project is so big that the LUG board is making extra check-ins to help guide the class, Ditscheit said. But the class remains committed.
"We came to a meeting and said 'This is very, very big,' " Ditscheit said. "And they are committed. They are absolutely, 100 percent committed to this project."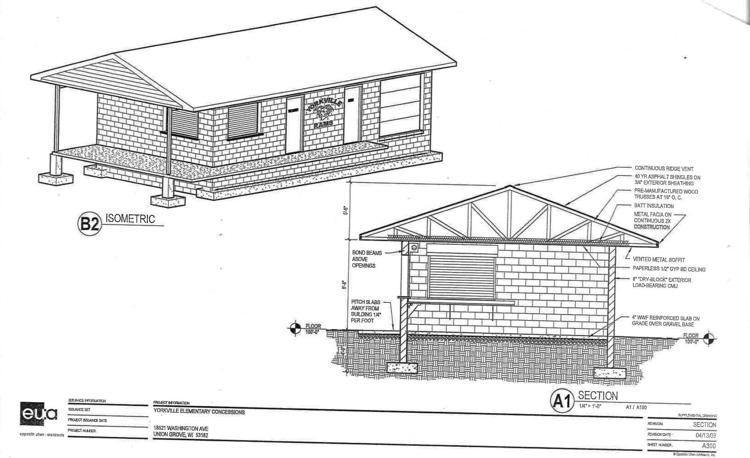 Construction plans
The finished concession stand will have plumbing and electricity. There will not be a kitchen inside due to permitting concerns, but there will be stainless steel serving surfaces and materials inside while parent volunteers grill outside.
One of the first orders of business will be digging a well when the weather begins to more closely resemble spring. Nelson said the class already has most of the necessary sanitary, building and zoning permits, so as soon as the weather allows, the construction can start.
In total, LUG wants to raise $60,000 and get some local tradespeople to volunteer time and services if possible. The $60,000 should be enough to cover materials and labor if the project does not secure enough donations.
"We feel like that would adequately cover all our costs," Johnsen said. "We're fundraising in different ways, though. We are looking for people's time and talent donations from tradespeople in the community, so that would obviously lower the cost."
The group is also doing fundraisers. From noon until 10 p.m. on March 21, the Culver's at 722 S. Sylvania Ave. in Yorkville, will donate 15 percent of proceeds from orders when the customers mention the project. Also, LUG is looking into the possibility of establishing a brick program, in which people can sponsor bricks for the building and have their names engraved on those.
Community excited
Nelson and Johnsen are Yorkville residents who have children at Yorkville Elementary. They said it has been encouraging to see that the Village Board and school officials are excited for the concession stand.
Sherry Gruhn, the Yorkville village president, said the project will benefit both Union Grove and Yorkville because so many area families use the facilities.
"It's a win-win for both communities, really," Gruhn said.
Dave Alexander, administrator for the Yorkville Elementary District, concurred, adding that the school and community are grateful that a group of people with representation from both villages is "taking on a project that's providing a benefit for all the people here in the community." A project, Alexander said, that "really services the youth in providing an upgrade to the facilities for our baseball and softball programs."
The project was decided upon in November, and the LUG class has managed to stay motivated to complete it the whole time, Johnsen said.
"Everybody is so excited for us to be doing it, which kind of fuels you to want to do it more," she said.
"They (the Leadership Union Grove class) are absolutely, 100 percent committed to this project." Jennifer Ditscheit, executive director of the Greater Union Grove Area Chamber of Commerce