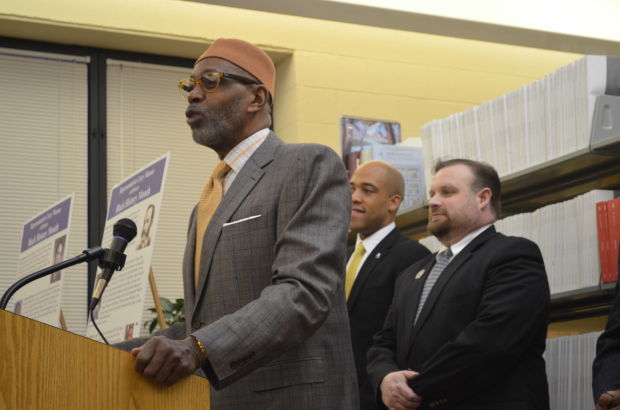 RACINE — As Black History Month comes to a close this week, several community leaders gathered Monday night to commemorate the accomplishments of eight African-American residents of Racine throughout history.
Whether a runaway slave, a local teacher or a member of Congress, current community leaders spoke on their research or personal memories of these eight men and women who left an indelible impact on Racine and, in some cases, the country.
"We have a great tradition in this country of celebrating Black History Month in February, and we learn about many great national figures who are important at both a national and state level," said state Rep. Cory Mason, D-Racine, who organized the event. "But sometimes we forget how important Racine's contributions are to the legacy of African-American history here in this country."
In front of an audience of about two dozen residents at the Racine Public Library, five speakers addressed the legacies of former community members including U.S. Rep. Gwen Moore, D-Wis., a Racine native; Corrine Reid-Owens, one of the first black Racine Unified School District teachers and often described as the "Rosa Parks of Racine;" and Joshua Glover, a runaway slave captured in Racine and famously broken out of jail by local abolitionists.
While discussing the achievements of George Bray, former alderman and founder of the Racine Branch of the National Association for the Advancement of Colored People, Jameel Ghuari said Bray made sure Ghuari went to school by ensuring his mother knew about it when he was caught skipping class.
Ghuari is now the director of the neighborhood center that bears George Bray's name.
"What I remember most about George Bray is that he was a humanitarian," he said. "His spirit still is there in the Bray Center ... and all I'm trying to do is be a keeper of that vision."
Mason announced after the event he will host a similar event next month for Women's History Month to commemorate women who have made an impact on Racine's history.