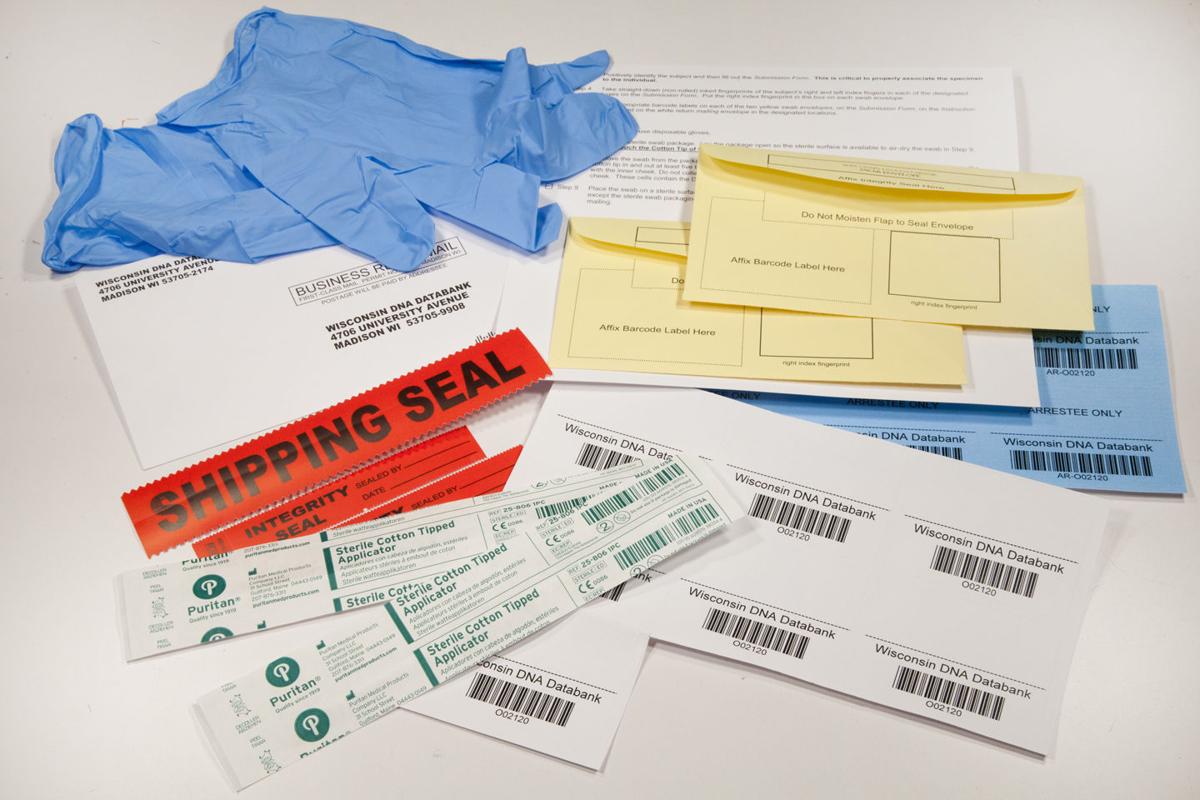 RACINE COUNTY — A new law that will greatly expand the way DNA is collected by law enforcement agencies will give them a new tool to fight crime, according to Racine County Sheriff Christopher Schmaling.
DNA samples are currently only required for anyone convicted of a felony and certain sex-related misdemeanors.
Starting April 1, law enforcement will be required to take DNA from anyone arrested for a violent felony — anything from homicides to burglaries and stalking — and certain sex-related misdemeanors. The law also requires anyone convicted of a misdemeanor after April 1 to submit a DNA sample.
The big change is collecting DNA while a person is arrested, said Racine County Sheriff's Lt. Steve Sikora.
'DNA is huge'
"DNA is huge these days," Sikora said. "Look at all the crimes solved."
Schmaling pointed out DNA was used to help find a suspect in the 1997 slaying of 14-year-old Amber Creek.
The Illinois girl's body was left in a Town of Burlington wildlife preserve. For 17 years the case went unsolved; last year, DNA reportedly connected James Eaton to evidence found on the girl.
Schmaling said there are cases like the Amber Creek case that could also be solved with more DNA evidence.
"I'm excited about it," Schmaling said about the proposed law change. "It will provide law enforcement with a new tool that will provide closure and relief to victims and exonerate the wrongfully accused."
Schmaling said he felt it will also ultimately save taxpayer money; it will reduce investigation time and court time by helping build stronger cases.
When the state law change was proposed, there was controversy over the provision allowing DNA to be collected at arrest, and concern from the American Civil Liberties Union of Wisconsin that it would set a dangerous precedent for tracking innocent people. The Wisconsin ACLU could not be reached for comment Friday.
Caledonia Police Capt. Dan Warren, who also supports the new law, pointed out the only people who DNA will be collected from at arrest are those stopped for "major crimes," not just speeding.
Warren anticipates there will be some challenges to the law after collection starts. He said it has cleared hurdles in other states and anticipates it will here, too.
You have free articles remaining.
Preparing for the change
In preparation for the law change, the Sheriff's Office is training more staff and has ordered more DNA collection kits.
Racine County Jail staff members already collect some DNA using mouth swabs, Sikora said. For instance, people who have been convicted of a felony or sex-related misdemeanor may not have DNA samples on file, and when jail staff do a records check a note will come up saying a DNA sample must be collected, Sikora said.
Because of the law change the Sheriff's Office will be doing more DNA collections, Sikora said. More staffers are being trained to do the records checks and DNA mouth swabs.
Affecting local departments
Most of the DNA swabbing will be done by the Sheriff's Office, but other local departments are preparing for times when their personnel may have to take DNA.
The Caledonia and Mount Pleasant police departments are working on policies and procedures pertaining to the collection, according to officials.
Warren said Caledonia police may have to collect DNA themselves at times such as when a suspect is taken to the hospital and cannot be transported directly to jail; or when someone is transported to the Caledonia Police Station and is bonded out directly from there.
Also police may end up doing their own DNA swabbing if an officer conducts a traffic stop and finds someone has a conviction requiring a DNA sample but has not submitted a sample.
The cost
After law enforcement personnel collect the DNA they will send it into the state.
The state pays the full cost of the DNA tests and the shipping, said Brian O'Keefe, administrator for the Division of Law Enforcement Services within the Wisconsin Department of Justice. The DNA collection and other expenses are paid for through a $200 to $250 surcharge those convicted of misdemeanors and felonies must pay, O'Keefe said.
The surcharge also went to expand the State Crime Lab in Madison and to hire additional staff to handle the increase in collected samples, O'Keefe said.
Local law enforcement agencies collecting the DNA also are issued $10 per sample collected to offset costs and staff time, O'Keefe said.
Sikora anticipates the new DNA collection could slow down the intake process. According to a video provided by the Department of Justice, the process is only supposed to take 5 minutes, Sikora said, but he said it may take longer until staff become familiar with the process.
But, he said, it's worth the time because more cases with be solved through DNA evidence.