RACINE — A KFC employee and her boyfriend are each being charged with identity theft and fraud after reportedly using the card of a drive-thru customer to make multiple purchases.
Jerry Crosby, 29, and Alexis Rodgers, 24, each from the 1000 block of Memorial Drive, are charged with personal identity theft, a felony, and fraudulent use of a credit card, a misdemeanor.
According to the criminal complaint: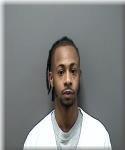 A Racine woman contacted police after discovering that her credit card was missing and several unauthorized payments had been charged to her account on April 11, totaling $758.20.
The woman had last used her card to purchase food at the drive-thru at KFC, 3212 Douglas Ave. The resident's receipt indicated that Rodgers was working the drive-thru at the time the woman's credit card went missing.
Three of the charges were made on the missing credit card for room reservations at a Pewaukee hotel, with each room costing $151.67. Another purchase, this time for $128.77, was also at Amoco Express Food in Racine for gas, cigarettes and Hennessey.
There was a $11.57 purchase at the Family Dollar in Racine and three other charges to out-of-state businesses.
Surveillance footage from Family Dollar shows Rogers accompanied by a man, later identified as Crosby, who made a transaction using the stolen card, receipts show.
Police also obtained surveillance from Amoco which showed Crosby arriving in a silver Pontiac, wearing a KFC hat and paying with the credit card.
Police found the silver Pontiac, which was listed under Rodgers name, at Crosby's and Rodger's residence.
As of Friday, Crosby remained in custody on a $1,500 cash bond, online records show. Rodgers is not in custody and a warrant has been issued for her arrest.
Get local news delivered to your inbox!
Subscribe to our Daily Headlines newsletter.