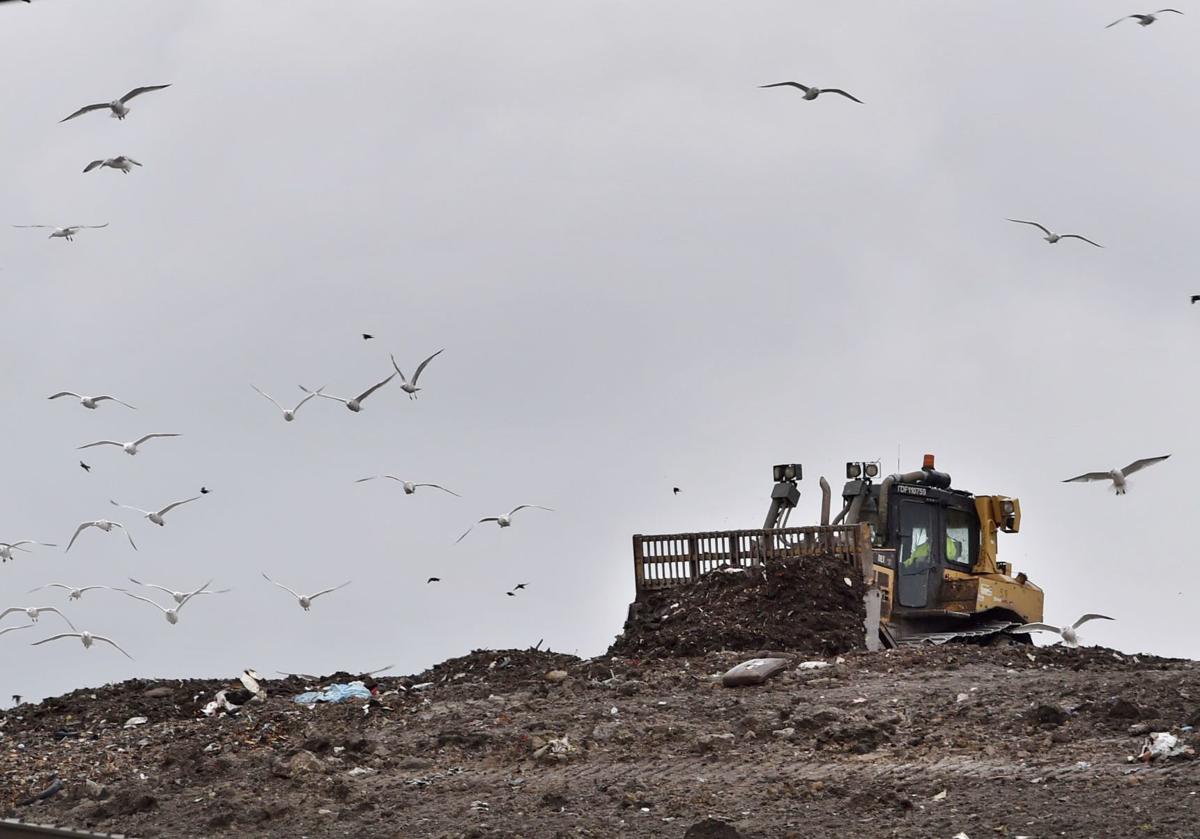 RACINE — The clock is ticking for the Kestrel Hawk Landfill, 1989 Oakes Road.
Every year, said Division Manager Mike Williams, the company does a flyover survey of the site and reports how long they believe they'll be able to continue accepting solid waste.
The company's latest report states that should the landfill continue to accept garbage at its current rate, it will have to close in six years.
Williams said the impending closure shouldn't be news to anyone.
"It's been out there for years," he said. "Everybody knows we're closer and closer to the end."
The question is what area municipalities and commercial entities will do once Kestrel is out of commission and how Foxconn could affect that estimated timeline.
Williams said Kestrel accepts on average 600 tons of solid waste per day, which totals about 219,000 tons per year.
The City of Racine accounts for 25,000 tons per year, according to Tom Eeg, the city's assistant commissioner of public works. The city offers garbage pickup for single-family homes and apartment buildings with less than four units.
Mark Yehlen, Racine's public works commissioner, said the city is still far from looking at alternatives to Kestrel Hawk.
There are landfills in Kenosha County and near Franklin in Milwaukee County. He pointed out that, these days, having a landfill within city limits is rare and that most municipalities have to haul solid waste considerable distances.
Yehlen said the city will conduct studies to weigh its options when the landfill says its three years away from closing. But he knows now that one thing is certain.
"Our costs will go up," he said. "Unless the cost of fuel goes down again, which I'm not counting on."
Delaying the inevitable
In the meantime, the city is in the early stages of forming a community-based waste reduction campaign to extend the lifespan of Kestrel Hawk. Yehlen said they plan on teaming with environmental organizations involved in the community, such as Greening Racine.
"They have to be community-based efforts," said Yehlen. "There's only so much we as a city can do."
So far the emphasis is on educating the public on the classic three R's: reduce, reuse and recycle. For example, encouraging people to donate unwanted large items such as furniture.
Yehlen said city officials are also hoping to partner with some commercial and industrial groups. One such partnership, with InSinkErator, promotes using garbage disposals to handle food waste instead of sending it to the landfill.
He said the city also hopes to partner with suburban municipalities that use the landfill, such as Mount Pleasant and Caledonia.
"We're doing what we can to reduce our portion but we also need to figure out how to go out into the larger community and promote waste reduction for people we don't provide services for," said Yehlen. "We're doing what we can for ourselves but realizing it's bigger than just the city."
The wildcard
The wildcard in all this is the Foxconn project, soon to be underway in Mount Pleasant.
So far, no estimates have been released about how much solid waste the campus and its projected 13,000 workers will create, how it will be collected and where refuse will be disposed.
That's to say nothing of additional suppliers expected to move to the area, along with the development brought by workers moving into Racine County communities, prompting more grocery stores, restaurants and other amenities.
"It's been out there for years. Everybody knows we're closer and closer to the end."

Mike Williams, division manager for Kestrel Hawk Landfill
Get local news delivered to your inbox!
Subscribe to our Daily Headlines newsletter.