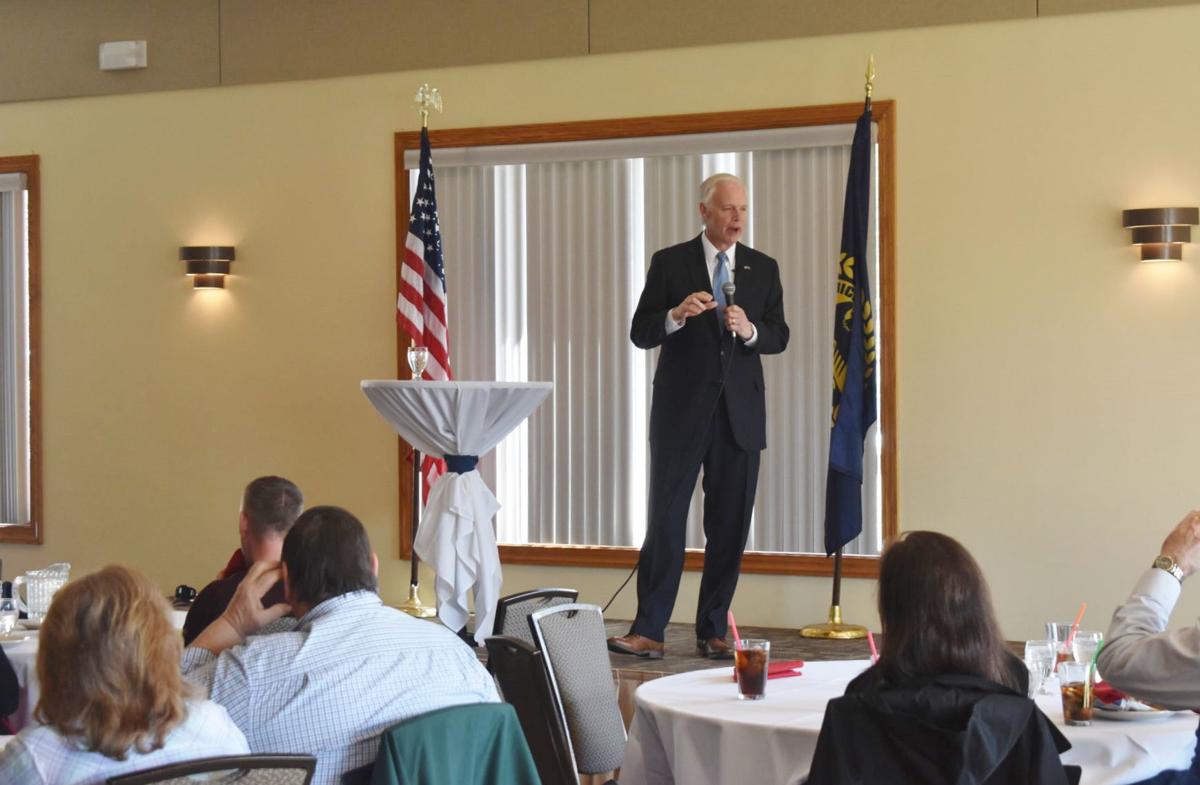 KANSASVILLE — In September 2016, U.S. Sen. Ron Johnson recalls being in a meeting with different heads of committees, national security advisers in the Obama administration and then-FBI Director James Comey.
"The narrative from the administration to members of Congress was 'We have evidence that Russia has attempted certain things in our election, but we're aware of it, we've got it under control,' " Johnson said.
Johnson, R-Wis., added that the Obama administration officials urged the participants of that meeting to go out and assure the public that they have confidence that the results of the election will be legitimate.
Without revealing any classified information given to those who attended, Johnson said he told members of the administration that he was not going to make that claim.
"I won't dispute what you're saying, but I'm concerned based on what you're telling me," Johnson recalled saying at the meeting.
On Friday, Johnson spoke to the Union Grove Area Chamber of Commerce at the Michael's On The Lake Restaurant, 3101 Eagle Road, Kansasville.
"What I know right now, I don't think in any way, shape or form, Russia affected the results of the election," Johnson told the group of about 50 people.
That story came up when one of the members of the chamber of commerce asked Johnson about election security.
With the 2018 midterm elections rapidly approaching, Johnson said the Department of Homeland Security is working with the states to establish a main contact person and possibly provide security clearance in the event election data is breached.
You have free articles remaining.
"Nobody is ignoring this … this is being taken very seriously," Johnson told the group. "The states by and large have to run these elections and ask for advice from (the Department of Homeland Security)."
Johnson added he thought "James Comey interfered far more in the (2016) election" than Russia.
Probe has to 'come to a close'
It has been 18 months since the meeting that Johnson described. During that time, Comey has been fired, officially for allegedly mishandling an investigation into presidential candidate Hillary Clinton's private email server — although Trump said in a May interview with NBC's Lester Holt that he fired Comey because "this Russia thing with Trump and Russia is a made-up story" — and former FBI Director Robert Mueller has been named the special counsel to investigate Russian interference into the 2016 presidential election.
The Mueller investigation has charged 13 Russian nationals and several people close to the Trump campaign, including Michael Flynn, Trump's former national security adviser; Paul Manafort, Trump's former campaign chairman; and George Papadopoulos, a former Trump campaign adviser who pleaded guilty to lying to the FBI about contacts with Russia.
"I think Robert Mueller is a man of integrity, you see the type of rigorous investigation he's undertaking," Johnson said. "I wish James Comey would've done that with the Hillary Clinton email scandal, quite honestly."
Johnson has been critical of the process to investigate Russian interference, including telling The Journal Times Editorial Board that he thought Mueller "should resign" because of conflicts of interest, and said the investigations by the Senate and House should have been concluded before a special counsel was assigned.
"The problem with a special counsel is it just gets out of control," Johnson said. "We need to bring this (investigation) to a close. We need to find some certainty. We have enormous problems facing this nation and having this over this administration's head is not a good thing."
"We need to bring this (investigation) to a close. We need to find some certainty. We have enormous problems facing this nation and having this over this administration's head is not a good thing." U.S. Sen. Ron Johnson, on Mueller investigation
"We need to bring this (investigation) to a close. We need to find some certainty. We have enormous problems facing this nation and having this over this administration's head is not a good thing."

U.S. Sen. Ron Johnson, on Mueller investigation