RACINE — Racine Police Officer John Hetland, killed Monday night while trying to stop an armed robbery at Teezers Bar and Grill, 1936 Lathrop Ave., is remembered by those who knew him as much more than an officer of the law.
Beyond his selfless heroics on the night he died, Hetland was: a star baseball pitcher and first baseman during his time at Park High School; a devoted father; a dedicated public servant; a police union mainstay and a police association board member.
Hetland, 49, leaves behind two children, a 15-year-old son and 8-year-old daughter, according to Jim Palmer, executive director of the Wisconsin Professional Police Association.
Tragically, Palmer said, Hetland had planned to retire by the end of the year to spend more time with his family.
"He obviously was a dedicated public servant and just a devoted father," Palmer said. "He talked about retiring at the end of the year … to spend more time with his two kids, ages 15 and 8. It just kind of adds something to an already extraordinarily tragic event."
"I've attended more law enforcement funerals than I can count, but I think that this will be the first one that involves an officer I personally knew," Palmer said. "It touches even more close to home, so I can only imagine how this must be impacting John's fellow officers. I have talked to some of them, and this is a huge loss. He's going to be missed."
Baseball
In 1987, the University of Minnesota was going to offer Hetland a baseball scholarship, former Park coach Al Ellingham said Tuesday, but the school withdrew the offer after Hetland "tore up" a knee playing football in the fall of that year, his senior year at Park.
Coming off a severe knee injury, further athletic accolades may not have seemed to be in the cards. But he came back in the spring for more stellar performances on the baseball diamond, including a no-hitter.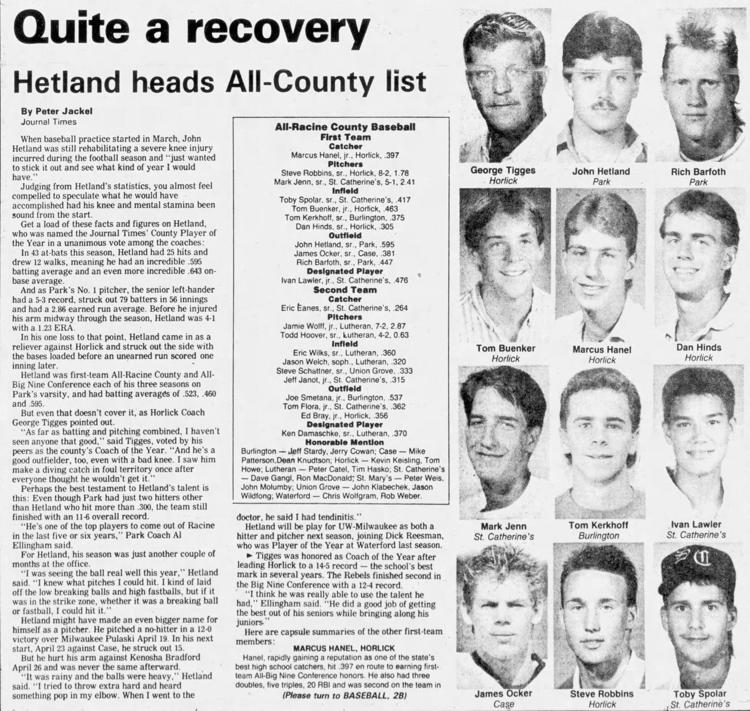 In the spring of 1988, he was named Player of the Year in the Big Nine Conference, was a first-team outfielder on the All-Racine County team and was unanimously voted The Journal Times All-Racine County Player of the Year by local coaches.
But Hetland had hurt his arm late in the 1988 regular season and gave up 10 runs to Horlick in a WIAA regional final.
"Never in my wildest dreams did I believe we would score that many runs against Hetland," Horlick Coach George Tigges told The Journal Times. "We've never hit him that hard."
A month later, when Hetland was voted County Player of the Year, Tigges told The Journal Times: "As far as batting and pitching combined, I haven't seen anyone that good."
In his junior year, Hetland batted .500. He topped that in his senior year by batting .600.

Ellingham remembers Hetland well almost three decades later.
"Of all the kids I coached, he was in the top five," Ellingham said Tuesday. "He was an excellent team leader; he was like a coach on the field. He knew how to play, and he was really good with other kids on the team.
You have free articles remaining.
You're out of free articles
Sign in or create a FREE account to keep reading.
"He was the guy you wanted up to bat when the game was on the line.
"He was definitely a good guy. We'll miss him."
Jack Schiestle, who coached Hetland for a local amateur team sponsored by Orth-Abbott Insurance, remembered him fondly Tuesday night.
"I just have an empty feeling today," Schiestle said. "He was a terrific ballplayer — absolutely outstanding — and probably one of the hardest outs I've ever seen. He just hit the ball anywhere and everywhere. And he had a great arm. The kid could throw the ball like crazy. I remember watching the kid play and thinking, 'I've got to get him on my team.' Luckily, he was nice enough to play for me."
Scott Petersen, president of PointOne Recruiting Solutions, was an infielder on that Orth-Abbott team. On Tuesday, he remembered being mentored by Hetland.
"I was like 16, 17 years old and he was in college," Petersen said. "I think it was about three years of many, many days of baseball together, shagging balls and telling stories in the dugout. He, along with many other guys his age, took me under their wing and helped me mature pretty early in life.
"I have not seen him in years, but my heart certainly feels empty today. So sad. So very sad."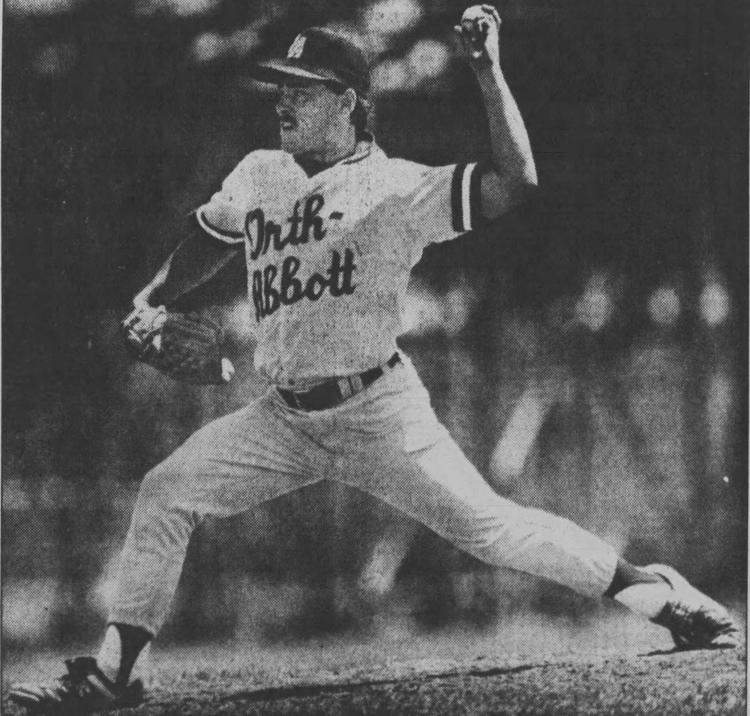 Police career
Hetland joined the Racine Police Department in 1995.
In 1999, he received an Exemplary Officer Award and in 2000 he received a Unit Citation Award and Exemplary Officer Award. Also in 2000, The Journal Times followed Hetland as he did a prostitution sting operation in an unmarked squad car on State Street.
"After 5 p.m., it's almost sickening how many guys are out there doing this," Hetland told The Journal Times during the sting.
He had served on the Board of Directors for the Wisconsin Professional Police Association since 2007, Palmer said. Palmer spoke highly of him on Tuesday, saying he was a devoted member of the board and of the Racine Police Department.
During a Tuesday afternoon press conference, Mayor Cory Mason spoke of Hetland's courage and integrity and of his work with the Racine Police Association union. On the Racine Police Association website, Hetland is listed as the vice president of its Board of Directors.
"He was fighting not only to protect the city, but to fight for his colleagues to make sure that they had fair and safe working conditions," Mason said.
The RPA in a statement on its website asked for "patience and prayers as we process the loss of Officer Hetland."
Services for Hetland are pending at Draeger-Langendorf Funeral Home in Mount Pleasant.
"He talked about retiring at the end of the year … to spend more time with his two kids, ages 15 and 8. It just kind of adds something to an already extraordinarily tragic event." Jim Palmer, executive director of the Wisconsin Professional Police Association