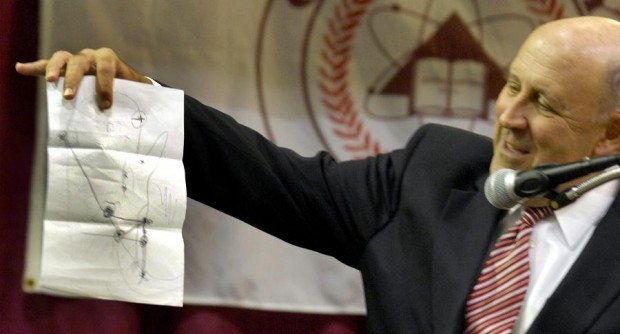 STURTEVANT - Italy-based Seda International Packaging Group will open its first North American manufacturing operation in Racine County, creating 189 new jobs in the beginning.
The move will involve a $76 million investment by Seda. The company sells paper packaging products for the food industry, such as paper cups, ice cream containers and clamshell containers for fast-food restaurants.
The announcement was made Thursday afternoon at CATI, the Center for Advanced Technology and Innovation, 2320 Renaissance Blvd. in Sturtevant.
"This is an important step for this company," said Seda part-owner and Chief Operating Officer Gianfranco D'Amato.
He and other officials said Wisconsin bested Ohio, Pennsylvania and Toronto in landing the Italy-based company's North American plant.
D'Amato gave great credit to Gov. Jim Doyle, who helped make the announcement.
"This is going to be a major, major employer for southeastern Wisconsin for decades to come," he said.
Doyle also announced $5.7 million in state incentives to land Seda. The state is providing $4.2 million in tax credits and a $1.5 million Community Development Block Grant forgivable loan.
Officials did not announce exactly where Seda will build or locate. Gordy Kacala, Racine County Economic Development Corp. executive director, said the company will need about 160,000 square feet.
Seda Packaging, which is part of the Seda Group of 13 companies, is the world's largest manufacturer of food industry products, said Doyle spokesman Zach Brandon.
Kacala said Seda hopes to begin hiring about Jan. 1. It will be at least six months later, he estimated, before production can begin.
The company will employ printers, engineers, machinists, machine operators and operations people, Kacala said.
D'Amato declined to project what sort of employment growth will follow the initial 189 positions.
Doyle told the story of how Seda came to learn about, and choose, Wisconsin. In late March Doyle was in Italy to talk with Italian shipbuilder Fincantieri, which bought Marinette Marine in Wisconsin. He is hoping to convince Fincantieri to manufacture a new type of U.S. Navy ship in Marinette.
"I got a tip that there was a really great company in Naples, one of Europe's largest paper-converting companies, and they were searching for a North American presence," Doyle said.
He made a side trip to Naples where he met with the family-owned Seda. "I toured an incredibly innovative manufacturing operation," Doyle said.
He drew chuckles when he held up the crude drawing of Wisconsin he made on a piece of paper, to introduce the state to Seda's owners.
"Wisconsin began to move up that list of states they were looking at," he said.
D'Amato said the choice of Wisconsin involved location and incentives, but also said the personal relationship with Doyle "made a very big difference." Seda had not previously considered Wisconsin before Doyle's visit, he said.
"They wanted to be near Chicago, and have the ability to get to Canada," Doyle said.
Yet another reason that Racine County made sense, D'Amato said, was Racine's past as home to Western Publishing Co. and the residual knowledge of the printing industry. Seda's manufacturing process includes any printing that goes on its food packaging products.
Approximately 70 percent of Seda's sales now come from within Europe, D'Amato said, and about 10 percent from North America.
The Seda Group has 12 manufacturing facilities throughout Europe. It employs about 2,000 people, Brandon said.
Seda says it is focused on buying its forest products from local, sustainable sources and is known for its major investments in research and development.