STURTEVANT — The job hunt was on for more than 500 people who attended the 2019 Spring Hiring Event Wednesday afternoon at Fountain Banquet Hall, 8505 Durand Ave.
Recent college grads sought to make connections while experienced workers hoped to spark new careers. Others tried to land new jobs after layoffs left them out of work.
"It's a job seekers' market. A lot of employers are looking for people," said Racine County Business Consultant Chris Henning, one of the event's organizers.
The jobs fair was co-sponsored by The Journal Times, Job Center of Wisconsin, Racine County Workforce Solutions and Workforce Development Board of Southeastern Wisconsin.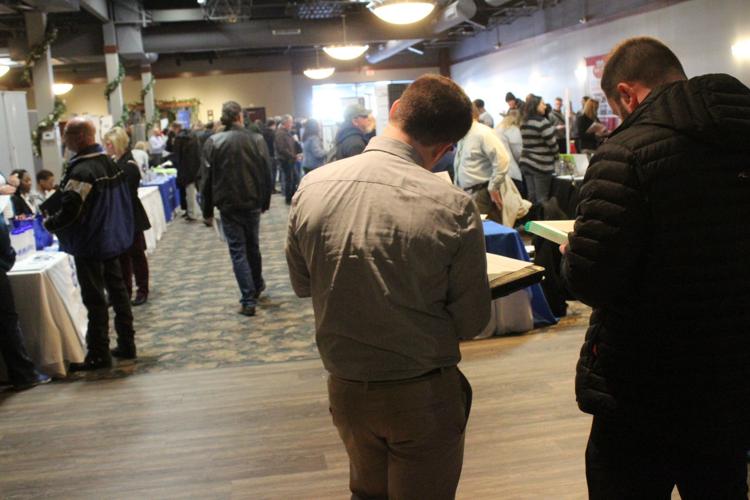 Employees-to-be
Shane Sauls, 26, and James Ludington, 25, both recently graduated from the University of Wisconsin-Milwaukee and are looking for jobs in marketing. Before talking with any potential employers, they both identified a handful of companies they hoped to maybe land a job with.
"I've gotten interviews after going to career fairs like this," Sauls said, hoping to line up more interviews after shaking some hands Wednesday.
Leke Adesina, 35, was born in Nigeria, holds Irish citizenship and has lived in southeastern Wisconsin since 2014. He has a master's degree in exercise and sports science with a certification in clinical research, but got laid off in January when the department he was working in was defunded.
"This is the first time I've attended such an event," Adesina said. "I'm hoping to put myself out there (and) make a connection to be considered for a job … I'm hoping someone can find my experience useful."
Bob, who is in his 60s and asked that his last name not be published, said he was "burned out" by his previous occupation. He said he mutually split with his previous employer and wanted to start a new career, maybe in customer service or social services.
"I'm transitioning … trying out different things," he said. "I'm just looking for some info, want to learn about companies where I haven't had a face-to-face (meeting)."
Bob added that applying for jobs isn't like it used to be. He finds it weird to address cover letters as "Dear Hiring Manager," preferring to meet potential employers in person before ever sending in a resume — a practice that's become less common in the internet age.
"Everything is online now," he said. "You don't know who to call to follow up."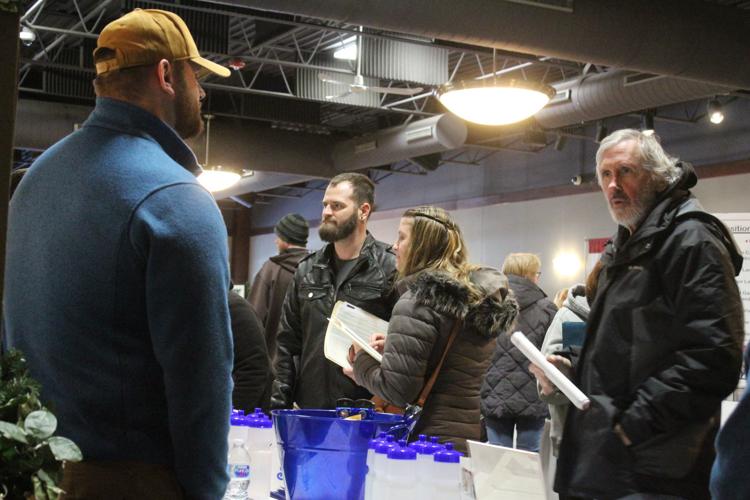 Al Brantman faced less pressure. He already has a part-time job but "wanted to see what else was out there."
His wife, Kathy Brantman, is planning to retire next month but is hoping to keep busy with a part-time job.
"I want to keep my job skills up," she said.
The employers
Although Racine County's unemployment rate has been dropping since 2010, down to 3.1 percent in December, Henning said there are still plenty of people looking for work and companies looking to hire them.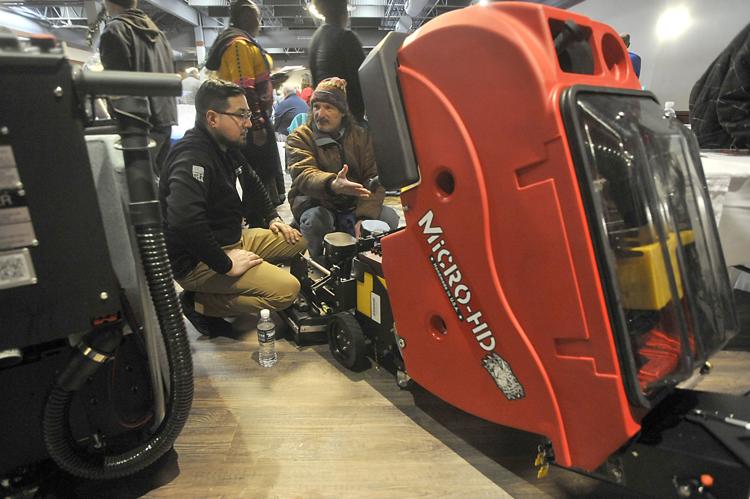 Jeff Humphrey — an assembly supervisor with R.P.S. Corp., a manufacturer on the north side of Racine — said R.P.S. hasn't had much trouble filling job openings.
However, R.P.S. recently purchased a new building "right around the corner" from the business' headquarters, 1711 South St. With the expansion, the company needs to hire more people.
"I'm looking for people who are hands-on and have experience with tools," Humphrey said.
Michelle Lascon was there representing General Mills. The food manufacturer known for its cereals — including Lucky Charms, Trix and Cinnamon Toast Crunch — has a factory on the south side of Milwaukee that needs second- and third-shift workers.
Lascon says that high wages and benefits for skilled manufacturing machine operators — starting above $19 per hour with 401(k) matches and more than two weeks of vacation time — are a big draw for new employees. But there's still a high turnover rate.
"For General Mills, not a lot of people know we have a location in southeast Wisconsin," Lascon said. "We want exposure."
Jessica Scheeler wasn't trying to find any new employees on Wednesday. As an outreach and admissions counselor for Job Corps, Scheeler was trying to connect with potential students, ages 16-24 who are low-income, are veterans or have a disability. If they sign up in Job Corps, they can be paid a stipend to get work training or earn their high school diploma.
The grant-funded program helps young people become better adult workers, allowing them to find jobs elsewhere.
"It's a unique combo of work and education," Scheeler explained.