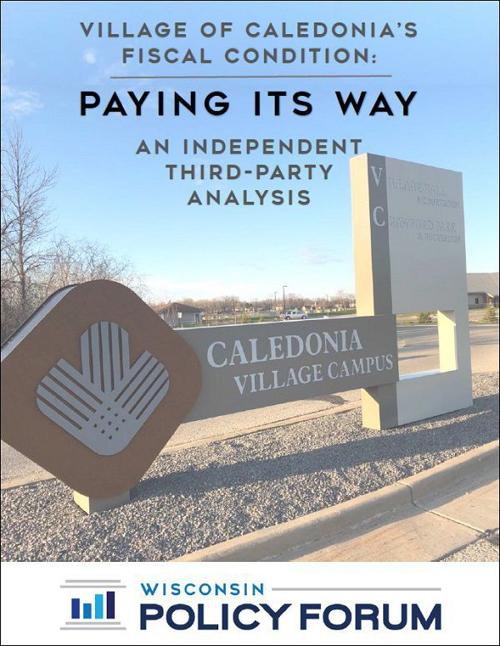 CALEDONIA — While the U.S. and world economy sails in tumultuous, uncharted waters in the midst of the ongoing COVID-19 pandemic, a third-party financial analysis finds the Village of Caledonia in a good position to take on the rough economic seas that lie ahead.
Wisconsin Policy Forum President Rob Henken summarized the study's final report at a special meeting of the Caledonia Village Board on April 20.
Henken noted the WPF's new report "Village of Caledonia's Fiscal Condition: Paying Its Way, An Independent Third-Party Analysis," is the latest in a series of reports arising out of the Resilient Communities Initiative spearheaded by the Johnson Foundation at Wingspread, which seeks to "bring the Greater Racine communities together to work collaboratively to … promote economic growth and address the public policy issues that are facing the larger region."
Research began last fall and wrapped up in late February, using village financial data from 2013-18.
Two earlier WPF reports studied service-sharing and City of Racine finances. An analysis of Mount Pleasant village finances is to be released in May or June.
Henken said the Caledonia report was finished "virtually days before the COVID-19 crisis hit," creating a "dilemma."
"Our options were either to release this report as written or potentially wait a little while, see what happens, in terms of the crisis and its economic and fiscal impacts and then try to rewrite portions of the report," Henken said in presenting the report's findings. "We chose the former. We believe that this report will be helpful to you in really understanding what the village's fiscal condition was going into this crisis."
Henken said the methodology used was the Financial Trend Monitoring System developed by the International City/County Management Association, which uses a variety of fiscal indicators to assess the underlying forces that may affect municipal finance.
"It's a series of financial metrics," Henken said. "ICMA actually has 80 or more metrics that it uses. We selected a dozen that we really think are good barometers of where a local government stands from a financial perspective."
The dozen metrics encompass four areas of solvency: cash solvency, budgetary solvency, long-run solvency and service-level solvency.
Caledonia currently has an AA2 rating with Moody's for its growing tax base, healthy financial position and moderate unfunded pension liabilities. The rating, assigned in late 2018, is the credit rating firm's third-highest. Only state-imposed property tax levy limits and a somewhat high debt burden precluded Caledonia from a higher rating.
Henken said Caledonia compared favorably to a peer group of a dozen select similarly-sized Wisconsin municipalities.
Median income, property value
The report noted Caledonia experienced an 8.7 percent increase in median household income, with Caledonia's $77,240 far outpacing Wisconsin's $56,759 average and the $57,752 national rate. Caledonia's poverty rate, meanwhile, fell to 5.4 percent, well below figures for Wisconsin (12.3 percent) and the nation (14.6 percent). Caledonia experienced an 8.3 percent increase in total equalized property value to $1,921,664,000.
When compared to its peer group, Caledonia ranked third in median income, fourth in mean income and eighth in per capita property value.
"The picture this is painting here is a community doing relatively well when compared to its peers," Henken said.
Property tax reliance
In regard to fiscal metrics, what Henken called "striking" was Caledonia's "very significant reliance on property taxes," which comprise an $11.71 million, 71 percent share of operating revenues for Caledonia's General Fund and other property tax levy-dependent functions.
"That is typically thought of as not a best case scenario — to be so reliant on one source of revenue," Henken said.
Intergovernmental revenues came in second at $2.2 million, with a "significant" 41 percent, $893,000 share coming from the state's Shared Revenue Program, which accounts for 5.4 percent of the village's total operating revenues.
During the six-year period studied, Henken noted the federal Consumer Price Index (CPI) rose 7.8 percent.
"As a whole, the village was able to actually beat inflation in terms of revenue growth, even though property taxes lagged," Henken said.
In terms of operating revenues, Henken noted Caledonia had a 9.6 percent increase, a 1.5 percent growth rate when adjusted for inflation.
"That's healthy," he said. "A government's revenues do need to grow for it to be able to sustain the service level that its citizens depend upon. If that growth greatly exceeds inflation it's problematic. In this case, you're pretty darn close."
Yellow-light warnings
In the report, traffic light icons were used as visual indicators for various metrics findings, with green lights being positive indicators.
"We're seeing largely seeing green lights in terms of your overall revenue picture," Henken noted. But going forward, Henken cautioned that the village will need to see 1, 2, or 3 percent growth in its levy to maintain the service levels village officials desire.
"That could be problematic if you don't see greater growth in net new construction," Henken said.
Intergovernmental revenues, meanwhile, received a cautionary yellow light given that they are overwhelmingly derived by state funds and that intergovernmental revenues are garnering an increasing share of village operating revenues. Highway aids, the village's largest source of intergovernmental revenue, are highly dependent on state and federal fiscal circumstances.
Caledonia also received a yellow light for growth in property tax revenues, the village's largest single revenue source, with the village seeing a decline in tax revenues in constant dollars.
While the village experienced a 4 percent increase in property tax revenues, the collections equated to a 3.5 percent decrease when adjusted for inflation.
Henken said it was important to make sure that expenditure growth not exceed the capacity of revenue growth.
In 2018, operating expenditures for property tax-dependent functions were led by public safety, which comprised a 55 percent, $9.2 million portion of the total, followed by roads and public works at $2.1 million (24 percent) and debt service at $1.7 million (11 percent).
Added positions, benefit obligations
The WPF analysis showed village expenditures rising 15.6 percent, a level significantly higher than the 7.8 percent growth of inflation, with pension, health care, public safety and debt service costs cited as "significant budget drivers."
In terms of governmental workforce trends, Henken noted Caledonia added positions in nearly all departments, growing by 10.7 full-time equivalent (FTE) positions, excluding the 14 FTE positions created when Caledonia became fiscal administrator for the Central Racine County Health Department. The rise drew a cautionary yellow light from the WPF as any additional village hiring "may increase budget pressures."
The fiscal analysis report gave Caledonia both yellow and red lights for its fringe benefit fiscal indicator, noting fringe benefit costs were increasing as a percentage of the village's operating expenditures.
In terms of overall expenditures, Henken said Caledonia had experienced "relatively healthy expenditure growth." On a per capita basis, overall expenditures per 1,000 residents grew by 13.8 percent.
Cautioned the WPF, "Future budget deliberations should consider the long-term impacts of these trends against anticipated future revenue growth, as the addition of FTE's, growing capital needs, and increasing debt service will increase the probability of budget difficulties in the absence of matching revenue growth."
Analyzing Caledonia's long-term budget solvency, Henken said key considerations include future fringe benefit costs for health care, pensions and OPEB (Other Post Employee Benefits) retiree healthcare liabilities. The village's OPEB liabilities rose 22 percent, nearly $1 million, over the 2013-18 period.
Henken said Caledonia's OPEB liabilities were lower on a per capita basis than larger municipalities but "on the high side" compared to its peers, earning the village mixed green and yellow lights on retiree healthcare funding.
Debt service
Looking at Caledonia's debt service and general obligation bonding, Henken saw a "good news, bad news story."
"The good news is the state statutory limit is 5 percent, so clearly … Caledonia still has a very manageable debt load," he noted, with the long-term debt indicator earning a yellow light. "The bad news, of course, is that this is trending upward. I don't want to oversell the level of concern here, but it could start to crowd out some of your operating needs."
In regard to capital improvement needs, the fiscal analysis gave Caledonia dual green and yellow lights.
Looking at short-term solvency, Henken said Caledonia was on solid footing, earning green light indicators for both fiscal liquidity and fund balance.
Overall, Henken said the fiscal analysis showed Caledonia to be in good fiscal health.
"This is largely a favorable picture," he noted. "Your finances are well managed and those factors do suggest opportunities to explore service-sharing with your neighbors and also open-mindedness toward any new revenue opportunities that might emerge."
COVID-19 impact
Henken said it's unknown what effect the COVID-19 pandemic will have on Caledonia's finances.
"It is still far too early to tell what the impacts are going to be," Henken said. "This government has done a good job. Overall the hope will be that this isn't going to break your back in 2020, but clearly your 2021 budget will be a much more difficult endeavor."
The WPF offers free online public access to the Caledonia fiscal analysis at wispolicyforum.org.
Get local news delivered to your inbox!
Subscribe to our Daily Headlines newsletter.