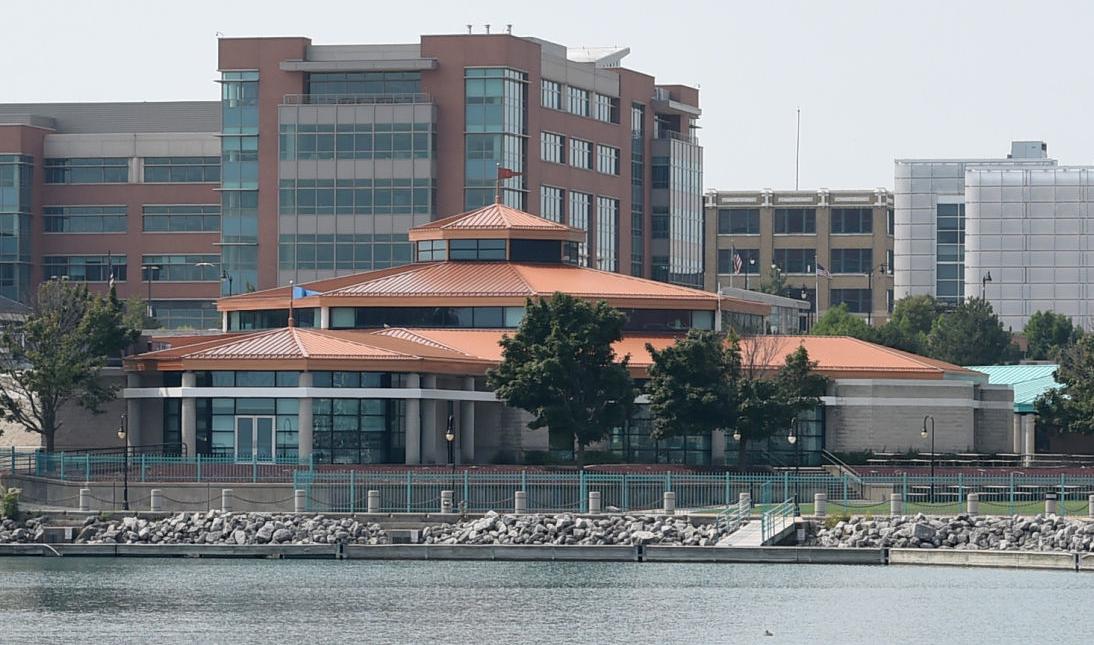 RACINE — In an effort to bring more people, business and festivals Downtown, the city is planning to retool its contract with the business that runs Festival Hall, Paul P. Harris Rotary Park and Memorial Hall.
Currently, the three city-owned locations — collectively known as the Civic Centre — are run by VenuWorks, a venue management company based in Ames, Iowa, that runs more than 30 arenas, theaters and convention centers nationwide.
The current contract with VenuWorks was most recently approved in fall 2017, when doomed discussions to build a hotel and arena Downtown were still ongoing.
With the arena plan being scrapped and the current VenuWorks contract set to expire this summer, the City Council's Committee of the Whole Tuesday night discussed possible changes for the direction of lakefront facilities.
"I want to see more festivals," 15th District Alderman Melissa Lemke said during that meeting.
Upon recommendation of the committee, and if approved by a City Council vote, VenuWorks will be offered a one-year extension to the contract. Other businesses would be allowed to bid to take over the complex ahead of summer 2020.
VenuWorks would be invited to reapply to run the Civic Centre under the new guidelines, but the facilities could end up under another group's wing.
"We have a beautiful piece of land out there. It needs to be filled with something," 5th District Alderman Steve Smetana said. "We need to make it affordable. We need to make it right for the people of Racine."
Amanda Gain, the Civic Centre's executive director and a VenuWorks employee, said she hadn't heard that any aldermen wanted a change before Tuesday, but added that she understands and would still be interested in working with the city.
Money and value
Sixth District Alderman Sandy Weidner, who brought up the topic on Tuesday, said she missed the days when there seemed to be a well-attended event by the lake every weekend in the summer.
She blamed the downturn inactivity on what she called a misguided contract drafted by the city almost a decade ago.
Right now, the city's contract with VenuWorks states that the No. 1 objective should be "to maximize revenues from the use of the facility."
You have free articles remaining.
"Right now the contract makes it clear what (the goal) is: Make the most money," City Administrator Jim Palenick said.
"It looks like the contract does make it difficult for VenuWorks to be accommodating to the festivals," Weidner said. "There is a pressing need for us to address this," she said. "If you look at why Festival Park and Festival Hall were built, it was to accommodate the 83 festivals that used to take place in the city.
"And now we have one, maybe two festivals a year that actually use that facility."
Although the aldermen who attended Tuesday's meeting didn't want to lose revenue or radically increase expenditures, they unanimously agreed that perhaps the primary purpose of the publicly owned buildings shouldn't be to make money, but rather to provide value to the city and its citizens.
The lack of community events is "not a reflection on VenuWorks," said Weidner, who was first elected to the City Council in 2000. "That's a reflection of the contract we negotiated."
A private event like a wedding may technically make more money, Palenick said, but nonpublic gatherings lack the community benefits the aldermen would like to see coming from the Civic Centre.
Aldermen said the new focus could also encourage other recurring events to take place Downtown — such as a farmers market, after the Downtown Farmers Market deserted Downtown in 2017 for West Racine, or convince Salmon-A-Rama to stay Downtown, after its leaders said the fishing festival was considering a move earlier this year because of potentially rising city fees.
Affecting Racine's taxpayers
First District Alderman Jeff Coe is concerned about the city spending much more on its annual Civic Centre subsidy — set at $323,000 in 2016. Coe said he doesn't want to go back to the situation in 2005 when Racine was spending upwards of $800,000 on the Civic Centre.
Still, he didn't show opposition to rethinking the contract, a move that could draw more consumers into his district.
"I would like to see Festival Hall and Festival Park used for more than just roller derby practice or wedding receptions," Weidner said. "There are plenty of other venues in the private sector that could accommodate those."
Drawing up the papers
Palenick was directed to draft a series of potential new contracts that could replace the one currently in effect.
His deadline has been set for Sept. 1, at which point the City Council will be able to review the proposal and pinpoint what they would like to see going forward regarding who gets to lead Civic Centre operations.
"We have a beautiful piece of land out there. It needs to be filled with something. We need to make it affordable. We need to make it right for the people of Racine."

Steve Smetana, 5th District Alderman