RACINE — A young man arrested after he and two co-defendants lured a woman into thinking she could buy Xanax from them, but instead robbed her at gunpoint, accepted a plea deal on Monday in Racine County Circuit Court.
Roberto Ascencio, 19, pleaded no contest to theft with a dangerous weapon and possession of a firearm by a felon, a reduction in the original charge of armed robbery.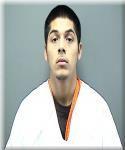 The no-contest plea will be treated as a guilty plea at sentencing, which was set for June 11.
The Racine County District Attorney's Office is recommending a sentence of five years in prison followed by five years extended supervision.
Case history
According to the criminal complaint, Ascencio lured the victim to his car on April 26 on the promise he could sell her 25 Xanax for $160.
Reportedly, Ascencio parked his car in the 1500 block of Kearney Avenue. In the car, were two other men, Travis Patrick Callow, 22, and Marco Castilleja Jr., 19.
The woman told police she got into the car with money in her hand, intending to purchase the Xanax.
However, Ascencio tried to grab the money out of her hand.
She asked him, "Are you trying to rob me?"
She reported that Callow replied with something to the effect of, "yeah, get that money" while he held her arms down, tried to choke her, and Castilleja allegedly pulled her hair.
Then, according to the victim, Ascencio pulled out a silver and black .40 caliber handgun, racked the slide, and said "I'll blow this (expletive)."
According to the victim, her money was taken from her and she was shoved out of the vehicle.
She then met up with her boyfriend. They went looking for the three suspects in order to get her money back.
While she was searching for the three suspects, someone called the police to report a suspicious person. The Racine Police Department made contact with the victim, who ultimately reported the robbery.
Stolen firearm
Investigators learned more the next day, April 27, when a woman contacted the RPD to report that her father's handgun had been stolen and used in a robbery the night before.
According to the criminal complaint, the witness alleged that Ascencio and Callow planned the robbery and borrowed her father's handgun.
She said she witnessed the robbery. Afterward, Ascencio got spooked by the presence of an RPD squad car and ran off with her father's handgun.
Co-defendants
The two co-defendants, Callow and Castilleja, have cases working through the court system.
Callow was sentenced for theft, as party to a crime, to a term of probation of three years with an underlying sentence of two years in prison followed by three years of extended supervised release.
Castilleja is charged with armed robbery, as party to a crime. There may be a negotiated settlement in the case and a status hearing was set for 8:30 a.m. on April 13.
Mugshots: Racine County criminal complaints, April 9
Today's mugshots: April 9
These are images of people charged with a crime in Racine County. Booking photos are provided by Racine County law enforcement officials. A defendant is presumed innocent unless proven guilty and convicted.
Lynette Chinchar
Lynette Chinchar, 5800 block of Kinzie Avenue, Mount Pleasant, disorderly conduct (domestic abuse assessments), misdemeanor bail jumping (domestic abuse assessments).
Chavez M Edwards
Chavez M Edwards, Milwaukee, Wisconsin, misdemeanor bail jumping.
David S Silwa
David S Silwa, 3400 block of Taurus Court, Racine, possession of THC.
Brooke Erin Thomas
Brooke Erin Thomas, Milwaukee, Wisconsin, hit and run (injury).