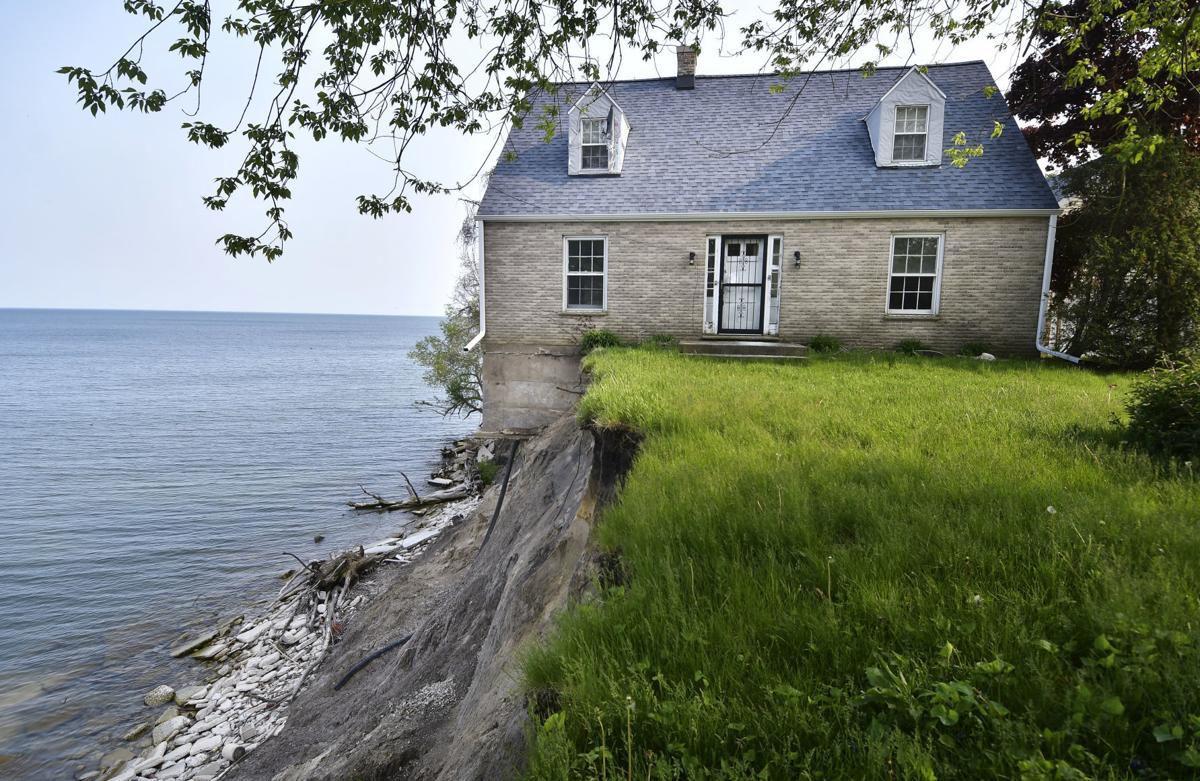 SOMERS — A home teetering on Lake Michigan's eroding shoreline is headed into foreclosure.
Tom and Marge Lindgren are the former owners of the now bank-owned property located at 609 17th St., just east of Highway 32.
The three-bedroom home once had a beautiful backyard with a large maple tree, picnic table and porch, creating a front-row seat to Lake Michigan's breathtaking sunrises and natural beauty.
At any moment, it could fall into the lake.
"How that house is still holding up is beyond me," Marge Lindgren said. "I can't believe it's still hanging on there."
Last spring, the Lindgrens were in their kitchen during a powerful storm when they heard a loud crash. It was their back porch and its concrete foundation, which crashed 30 feet off of the top of a cliff, leaving the home's foundation exposed.
The Lindgrens packed their bags, boarded up the house and moved in with a family member.
Just over a year later, historically high water levels and an unusually wet spring have wiped away an additional 6 to 7 feet of shoreline.
According to a Kenosha County mapping tool offering satellite imagery, a 2015 aerial photo shows nearly 60 to 70 feet of land between the house and cliff.
Childhood home
The house was Tom Lindgren's childhood home. He purchased it from his father and lived there with his wife for more than 15 years.
The Lindgrens spent thousands on renovations over the past several years, including adding a new roof, furnace, water heater and 2½-car garage.
You have free articles remaining.
The couple applied for a low-income government loan and received an estimate of $300,000 to construct a seawall and prevent further erosion. Once the estimate arrived, the Lindgrens didn't even consider it.
According to county records, the property is owned by Lakeview Loan Servicing LLC.
Village keeping its distance
"The bank is now responsible for it," Somers Village President George Stoner said. "The village doesn't want anything to do with it.
"If we take it, we'd be responsible for putting up the shore protection, and that stuff is extremely expensive.
"I think it's going to be an entity between the (Department of Natural Resources), the Army Corps of Engineers and the bank."
Stoner said the village may consider issuing a raze order on the house.
"If we issue a raze order, I need to find out if the village would have any liability in it," Stoner said. "If it does, I'm not going to recommend or support that we do that."
What happens next?
Another issue is cleanup costs. It's uncertain who is responsible for removing the debris and any possible contaminants if the house falls into the lake.
"We're just trying to live our life, which is paycheck to paycheck right now," said Marge Lindgren, who has worked as a bartender at Ron's Place in Kenosha for 27 years. "I don't know what is going to happen to the house. At this point, I'm really not quite sure."
The cost to raze the house would be approximately $10,000 to $20,000, according to Kenosha County Clerk Mary Kubicki.
"It probably became too overwhelming for (the Lindgrens), and they said, 'Forget it' and walked away from it," Kubicki said. "They're trying to get rid of it by foreclosure.
"They obviously can't sell it in the condition it's in because nobody would give anyone a loan unless you just sell the land."