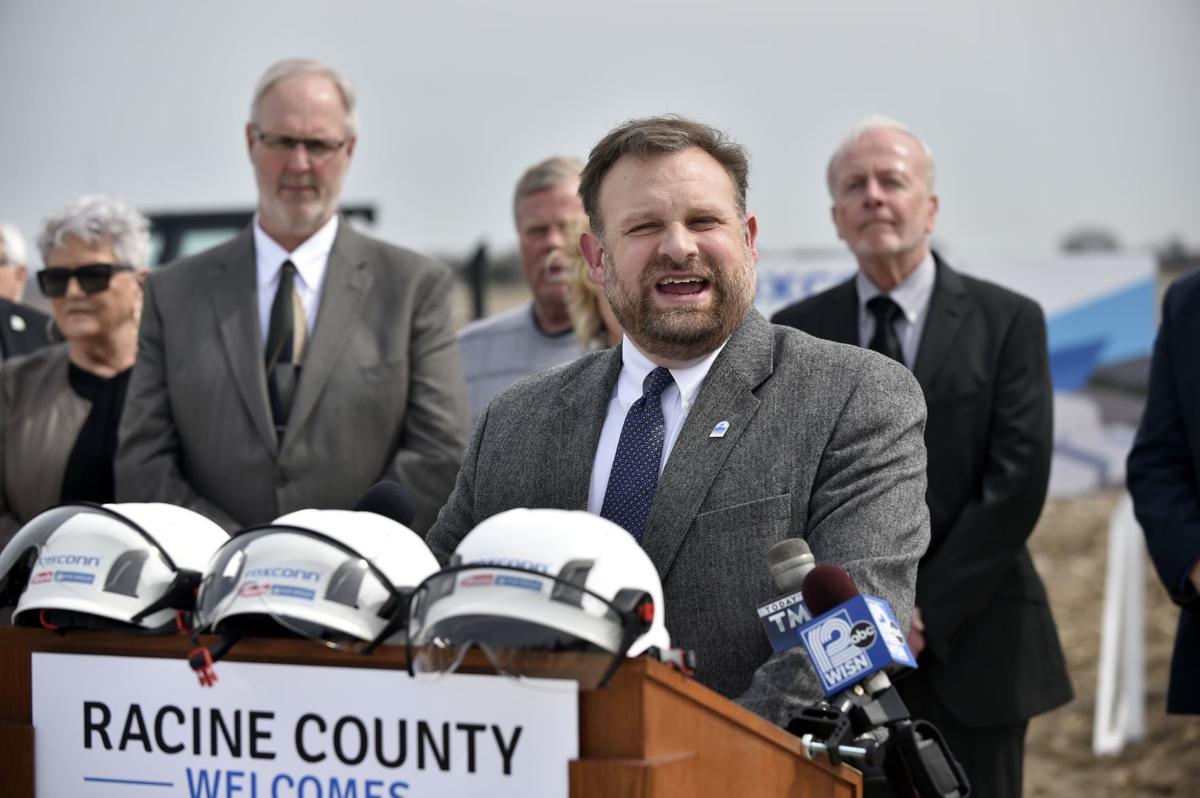 RACINE — It's fitting that one of the books stacked on Mayor Cory Mason's conference table is "Abundance" by Peter Diamandis and Steven Kotler.
According to the book's 2012 New York Times book review, Diamandis argues that, in spite of the glass appearing half-empty, it's not only half-full but, due to the promise of technological advances, it could soon be overflowing, raising living conditions and improving quality of life as it does.
It's also fitting that Foxconn announced earlier this week it plans to open an innovation center at 1 N. Main St. that will develop "smart city" innovations. Alan Yeung, Foxconn's director of U.S. strategic initiatives said the goal was to, "enhance quality of life, living spaces and working environments."
The project lines up nicely with Mason's priorities: solid, middle-class jobs coming to the city and utilizing technology to improve sustainability and quality of life.
After almost a year as mayor, Mason feels he's better positioned to steer Racine toward those goals than he was as a state legislator.
"This is hardest and best job that I've ever had," he said. "I work really hard to try to get it right but it's also a very exciting time to be here in Racine; there's a lot of change coming."
Managing growth: pieces of the pie
When Mason was elected on Oct. 17 in a special election to fill the unfinished term of John Dickert, it was on a platform of growing and stabilizing Racine's middle class and positioning constituents to take advantage of the Foxconn development in neighboring Mount Pleasant.
After suffering years, even decades, of economic decline, the Foxconn project is seen as an opportunity for more Racinians to secure quality jobs and pull families out of poverty.
Today, unemployment is down but wages and poverty rates remain, as described by Mason, "stubbornly" flat.
"The challenges the city faces weren't created in a year," Mason said. "They won't be solved in a year."
Because it was a special election, Mason is up for re-election again in April, so his time is limited.
Foxconn's Wisconn Valley development is still in its infancy but the project's benefits are already trickling in. Dozens of redevelopment projects have been announced in Racine during the past year: the former Zahn's Department Store at 500 Main St., the former Downtown YMCA building at 401 Wisconsin Ave., the former Gold Medal Furniture building at 4701 Packard Ave., the former Gospel Lighthouse church at 1230 Sixth St. and more.
But the question that's been raised by some aldermen and constituents is, how will that growth and wealth be used? And how will the city determine who gets what?
"For so long Racine has been in this climate of scarcity, where the pie keeps getting smaller and smaller," said Mason. "The challenge we have now with all this economic activity coming to the area, the question is not, 'How do we keep hanging onto the smaller piece of the pie?' It's, 'How do you grab as big a piece as you possibly can of all the economic activity that's coming your way and how do you make sure that, that activity is broadly shared?'"
That includes questions of how the city will adapt as well. After years of cutting staff and services, one of the questions going into budget season is, what staff and programs will be needed going forward?
"As you're figuring out what to do next it doesn't always mean reverse engineering (cut staff and programs)," said Mason. "It's figuring out, those were the needs yesterday, what are the needs of our citizens going to be tomorrow?"
He and the City Council are also trying to make it easier for constituents to follow what's happening in city government. The Committee of the Whole met on Tuesday to discuss changes to streamline and simplify the council's, as Mason described, "byzantine" processes.
"It certainly wasn't something that I thought I would be talking about when I ran for office," he said. "But having sat in this seat for a year, cutting red tape and streamlining our process is definitely a priority."
This week the City Council and general public will get a peek at Mason's financial priorities for the year when he gives his budget address at a special City Council meeting tentatively scheduled for 7 p.m. on Oct. 10 at City Hall, 730 Washington Ave., Room 205.
New perspective
Mason said his time as mayor has altered the way he sees the political discussion around this fall's state and national elections. Many of the issues touted on the stump don't affect cities as much as the "wonkier," more technical issues largely ignored.
For example, Mason has his thoughts on Act 10, the state law that effectively ended collective bargaining for most public employees:
"I continue to think that, that was a very divisive and unhelpful piece of legislation," said Mason. "I'm somebody who believes, even as a mayor who has to sit on the management side of the bargaining table, that giving workers a voice to negotiate hours, wages and working conditions, is to the benefit not only of those workers but to the city itself and to the citizens to whom they provide services."
However, the city still bargains with labor unions that represent the majority of its employees, who are firefighters and police officers.
"So we're still negotiating with people," he said. "It's just one-half of our employees get the benefits of collective bargaining and our other half don't."
If Act 10 were to be repealed, as Democratic gubernatorial candidate Tony Evers has said he would do, there would be a lag time where unions would have to re-organize before approaching the bargaining table.
Another issue Evers has discussed is removing the cap on property taxes. Mason said given Racine's property tax rate is already high, he's concerned raising it higher could stymie development.
"The place where the state government could be most helpful is not on the property tax levy — it's on shared revenue," he said.
Since 2012, Racine's shared revenue from the state has hovered between $27,511,210 in 2013 and $27,779,982 in 2017.
Mason also said the state overuses pre-emption bills that limit cities' abilities to create municipal laws.
"I voted for those things around the smoking ban and some other things. There's a time and a place where I think that makes sense. But it's been overused quite a bit," he said. "If you're not going to give the city more resources and then you make it even harder for them to function and take away the few remaining tools that they have, it makes it really hard for cities to flourish."
"At the end of the day, what cities are looking for is a partnership with the state to help us figure out how to succeed," he said.
Mason credits partnerships, with the private and public entities, for a lot of the progress the city has seen so far. While it's been tough year with 80-100 hour workweeks, he feels it has been worth it.
"I feel like I've done more in a year as Mayor than I did in the previous 11 years as a legislator," said Mason. "It really tests all your abilities, all your stamina, all your intellectual capacity, all your ability to make coalitions and move things through. So, very exciting but very, very challenging."
"This is hardest and best job that I've ever had ... I work really hard to try to get it right but it's also a very exciting time to be here in Racine; there's a lot of change coming." Racine Mayor Cory Mason
"This is hardest and best job that I've ever had ... I work really hard to try to get it right but it's also a very exciting time to be here in Racine; there's a lot of change coming."

Racine Mayor Cory Mason 
Get local news delivered to your inbox!
Subscribe to our Daily Headlines newsletter.