All information current as of Monday, Jan. 18.
CVS Pharmacy
The only "permanent" daily test site in Racine County listed by the Wisconsin Department of Health Services is CVS Pharmacy, 3915 Durand Ave., Racine.
Tests at CVS are performed via the drive-thru, with drivers using the nasal swab on themselves with the guidance of a professional.
Weekly community testing
Rather than intermittent community testing days typical throughout the summer and fall, the National Guard now has regularly scheduled community testing at two different Racine County locations two days a week. They are: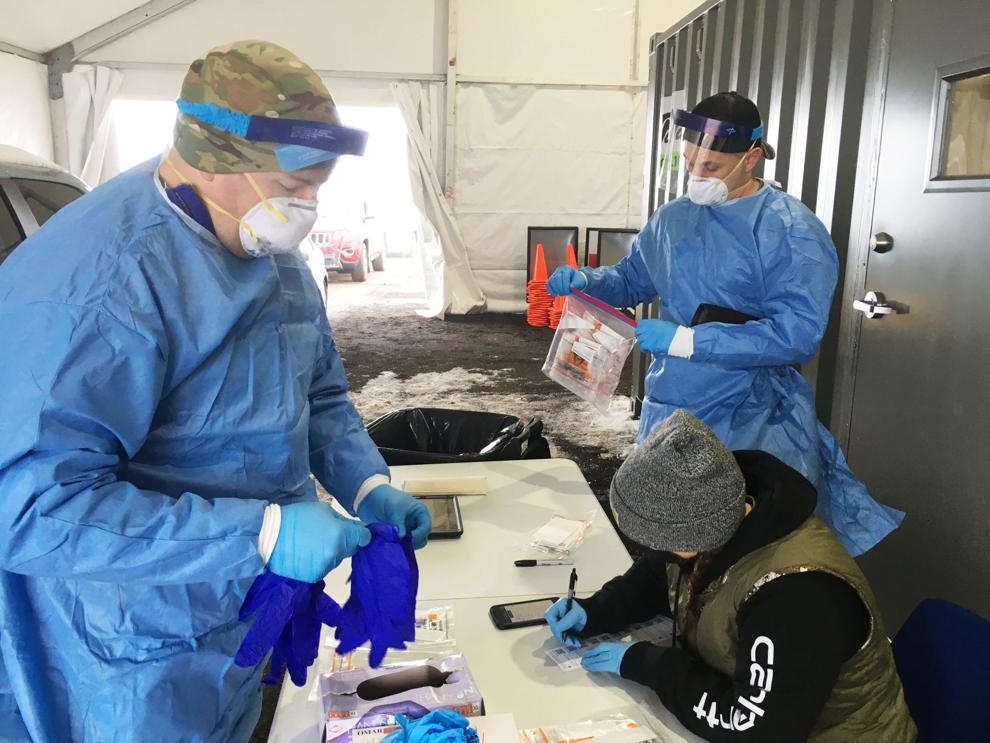 • Every Wednesday through at least March 10, from 10 a.m.-5 p.m., at the Racine County Fairgrounds, 19805 Durand Ave. Vehicles should enter the fairgrounds via Main Street, according to a release from Racine County.
• Every Thursday through at least March 4, from 9 a.m.-5 p.m., at Festival Hall, 5 Fifth St. A notice from the City of Racine about testing states: "Be patient and remain calm. Expect long wait times."
For community testing, results are expected to be available within one week and can be received by calling 866-419-6988. Preregistering for a test, which can be done at register.covidconnect.wi.gov, at either the fairgrounds or Festival Hall is encouraged but not required.
You also do not need to be actively experiencing symptoms to get tested.
Get a home test
After requesting a test, it should be delivered to your home within a matter of days. PO boxes cannot be used for delivery.
According to the Department of Health Services: "Once you receive your collection kit, you must collect the sample in the presence of a licensed health care professional over a virtual Zoom call," which can be downloaded at zoom.us/download.
After that is done, samples are to be sent back by dropping them off at a UPS drop-off location. To find one near you, go to ups.com/dropoff.
Nearby
Each of Racine County's neighboring counties have more options than Racine, according to DHS.
Kenosha
• 15-minute testing is also available 9 a.m.-5 p.m. Monday-Thursday and 9 a.m.-1 p.m. Fridays at the University of Wisconsin-Parkside, 4130 Petrifying Springs Road, Somers
• CVS Pharmacy, 3710 57th Ave. — By appointment
• CVS Pharmacy, 2207 80th St. — By appointment
• CVS Pharmacy, 3726 22nd Ave. — By appointment
• Kenosha Community Health Center Mobile Unit, 3520 30th Ave. — 7-8 a.m. for first responders only, then 8 a.m.-4 p.m. for the public on Mondays, Wednesdays and Fridays
• Modern Apothecary - Fire Station 3, 2121 Roosevelt St. — 2-6 p.m. on Tuesdays and Thursdays, 9 a.m.-1 p.m. Saturdays
Milwaukee
On account of its far great population, Milwaukee County has more than 40 active COVID-19 testing sites. A listing and map of each of them can be found at county.milwaukee.gov/EN/COVID-19.
Waukesha
• CVS Pharmacy, 1130 W. Sunset Drive — By appointment
• CVS Pharmacy, 17165 W. Bluemound Road, Brookfield — By appointment
• CVS Pharmacy, 15550 Appleton Ave., Menomonee Falls — By appointment
• CVS Pharmacy, 2135 Silvernail Road, Pewaukee — By appointment
• Malone Park, 16400 W. Al Stigler Parkway, New Berlin — By appointment (262-788-9311), drive-thru and walk-up, 9 a.m.-3 p.m., Monday-Saturday
• Village Primary Care Providers, 111 Delafield Road Suite 219 — By appointment (262-239-4209 or 262-239-7070), 9:30 a.m.-4:30 p.m., Monday-Friday
• Waukesha County Expo Center, 1000 Northview Road — Drive-thru open 9 a.m.-4 p.m., Monday-Friday until at least March 10, excluding Feb. 15
Walworth
• Covenant Harbor, 1724 W. Main St., Lake Geneva — Drive-thru open 9 a.m.-4 p.m. scheduled Jan. 22, Jan. 25, Jan. 29
• UW-Whitewater William Center, 907 W. Schwager — By appointment (DoINeedACOVID19Test.com), 10 a.m.-6 p.m., Monday-Friday