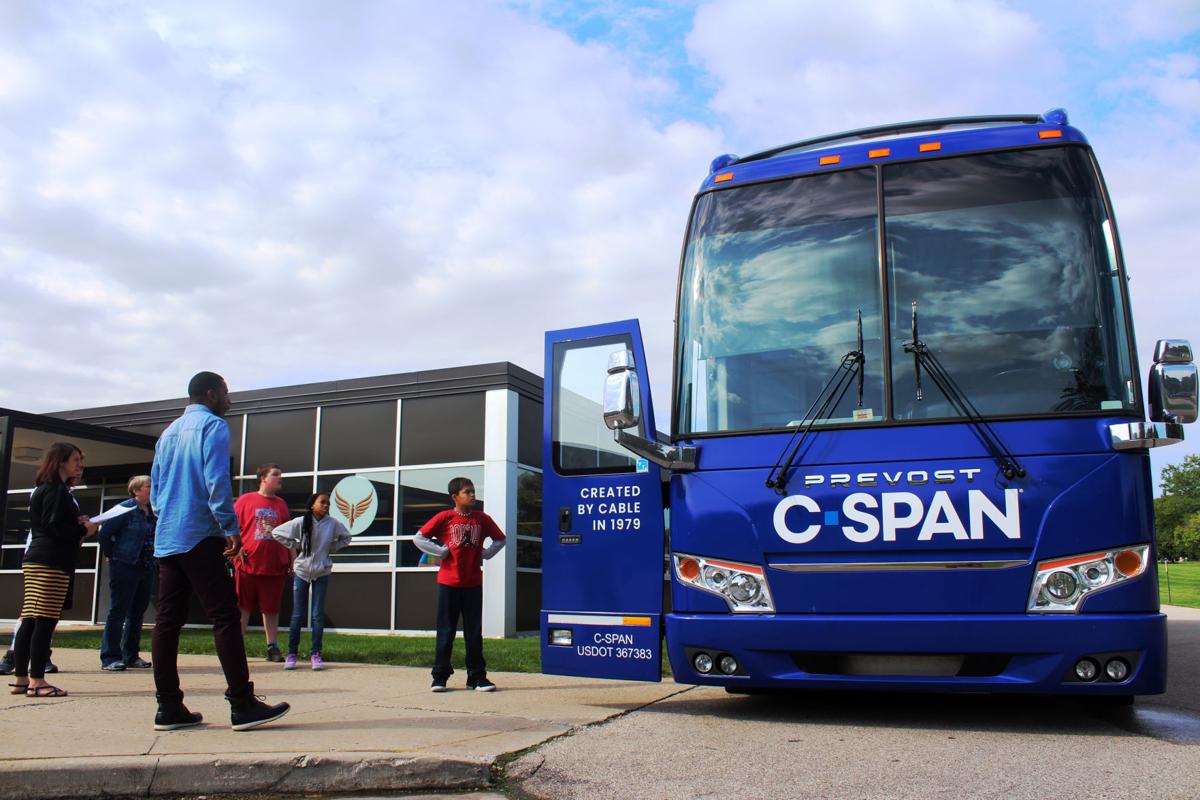 RACINE — "Why is the news important?" Heath Neiderer, a marketing manager for C-SPAN, asks a group of Starbuck Middle School students Tuesday morning.
One student, sitting on a comfy couch inside C-SPAN's digital-friendly 45-foot bus filled with touchscreens and TVs parked in Starbuck's parking lot, replies: "News tells us what's going on."
"That's right," Neiderer replies, before rolling into a pitch for C-SPAN, the cable channel that shows unabridged, unedited footage of federal government proceedings. Neiderer gave his pitch several times Tuesday morning as more than 125 middle schoolers visited the bus.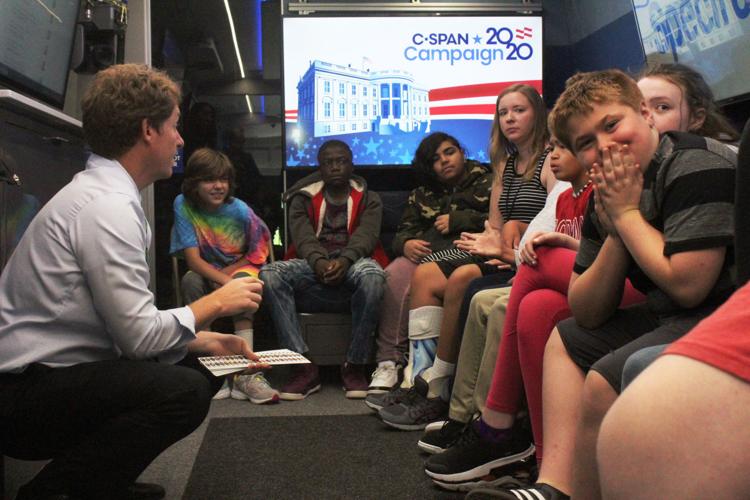 C-SPAN doesn't have a lot of the things other news networks rely on. There's no commentary, no advertising, no bias, said Ivette Lucero, a C-SPAN marketing representative.
The network is funded by cable and satellite television companies themselves, primarily.
Lucero said that a small portion of every cable/satellite customer's monthly bill will usually be siphoned off to fund C-SPAN, which stands for Cable-Satellite Public Affairs Network.
"We don't pick sides. We like to show people what's happening. We give people a front-row seat to their government," Lucero said. "We want people to know all of the resources out there."
As the 2020 campaign gains momentum, C-SPAN is trying to get more face time with TV watchers when they aren't actually watching TV.
That's why the luxury bus made stops around Milwaukee on Monday, at Starbuck and at the University of Wisconsin-Parkside on Tuesday, and is scheduled to be in Gary, Indiana, on Wednesday. Over the course of a seven-week tour that will end next month, the bus will have visited thousands of people in 10 states, Lucero said.
The trip's route focused on 2020 presidential battleground states.
"By visiting these communities, C-SPAN will provide another component to our extensive Campaign 2020 coverage and give our viewers an in-depth, unfiltered look at politics, from the early days on the campaign trail right up to Inauguration Day," Steve Scully, C-SPAN's political editor, said in a statement.
You have free articles remaining.
The Wisconsin leg of the tour was sponsored by Spectrum/Charter Communications, and other parts of the tour were funded thanks to other cable providers like Cox Media Group and Mediacom, Lucero said.
"Spectrum is excited to bring the interactive C-SPAN Bus to Wisconsin and continue our long-standing partnership with C-SPAN," stated Adam Falk, senior vice president of state government affairs for Charter Communications. "We are proud to serve Milwaukee, Kenosha and Racine by providing residents and local leaders the C-SPAN Networks and to share their robust educational and political resources with the community."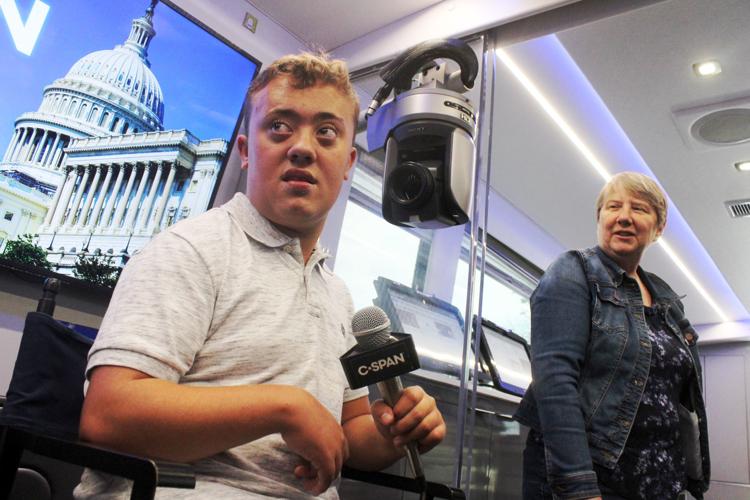 When talking with students at colleges, C-SPAN's representatives would often meet with journalism classes to talk about what C-SPAN offers that other outlets don't. For the kids at Starbuck, mainly C-SPAN is just trying to introduce the idea of the news to youth. To get the idea across, Neiderer made a connection with something he knew the middle schoolers understood: "What does Cartoon Network show? Cartoons. So what does C-SPAN show? The government."
StudentCam
C-SPAN was also promoting StudentCam, its annual national video documentary competition. The prompt for this year's contest, in which students in grades 6-12 can submit a 5-6 minute documentary, is: "What's your vision in 2020? Explore the issue you want presidential candidates to address during the campaign."
The Journal Times reported at the time: "The girls (Richards, Noll and Nixon) are the first all-female team and first middle school team to win the grand prize in the competition … The McKinley team made their video about the potential of nuclear energy to meet energy needs in the next 20 years, a time when experts say America's energy demands will exceed the energy available, said the team's advisor, Larry Jozwik."
Stephanie Skaarnes, the International Baccalaureate coordinator at Starbuck, said that she hoped by having C-SPAN visit this year another group of Racine Unified students might become the second local group to take home the StudentCam crown.