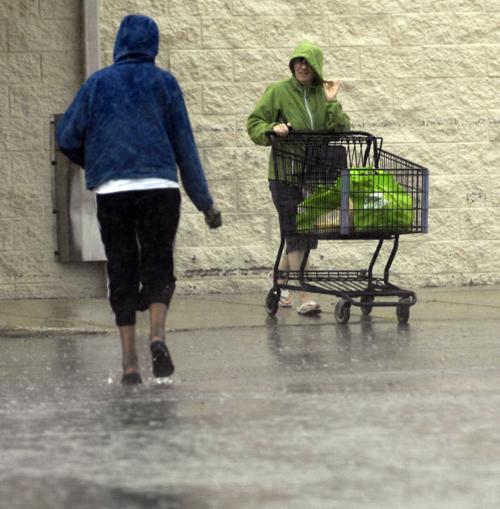 RACINE — Heavy rainstorms like the one Racine experienced last month are occurring more frequently in Wisconsin and the phenomenon could mean tough choices for cities, wastewater utilities and their ratepayers, researchers say.
According to the Wisconsin Initiative on Climate Change Impacts, an overall increase in the average temperature in the state has lead to an increase in the frequency of rain events of 1 inch or more, and that increase is already having real implications on local storm and wastewater systems.
Sponsored by the state Department of Natural Resources and the University of Wisconsin-Madison, the group has been working for the past seven years to try to determine what the climate change impacts for Wisconsin might be and what to do about them. One key area of study has been the effect of such climate change on precipitation.
To find the answers to those questions WICCI's Stormwater Working Group began looking at the changes in patterns of rainfall and snowfall
in the state and identified increases in the intensity and frequency of heavy rainstorms, explained WICCI Outreach Chairman David Liebl.
In addition to projecting that Wisconsin communities would get more rainfall in the late winter and spring, the working group determined the state would likely get more stormwater runoff than it had in the past. It also projected an increase in groundwater levels, said Liebl, who also serves as statewide stormwater specialist for the UW-Cooperative Extension in Madison.
Racine Water and Wastewater Utilities Manager Keith Haas presented some of the group's findings during a recent neighborhood meeting on sewer backups in the Racine Lutheran High School area. He tried to impress upon residents just how much of a jump in heavy rain events southeastern Wisconsin has seen.
Pulling up a chart showing the top 10 rainfalls — storms that dropped 4 inches of rain or more — in Milwaukee and Madison between 1909 and 2008, Haas pointed to a cluster of lines between the late 1990s and 2008.
"These are 4-inch and 5-inch rainstorms. The reason why your fathers and grandfathers who lived in the same neighborhood didn't have the same problem was they didn't see it as frequently," he said.
In more recent data, WICCI projections presented to the Wisconsin League of Municipalities indicate southeastern Wisconsin will see a 10 percent increase in annual rainfall between now and 2055 as result of rising temperatures.
The reason climate change is to blame for such increases, Liebl said, is because as the air gets warmer it can hold more water. More moisture in the air leads to more storms.
The rainfall data produced by WICCI has helped wastewater officials be aware of what's in store, but the reality is that it can't tell those officials how much money should be invested to deal with the impacts of such changes, Haas and Liebl said.
In Racine, the city and wastewater utility has spent millions of dollars over the years in an effort to keep storm and groundwater out of sanitary sewer pipes and basements.
In addition to lining both storm and sanitary sewer pipes to seal up cracks, it has installed several sanitary sewer holding tanks around the city. Meanwhile the city, as well as neighboring municipalities, has required many developers to install stormwater retention ponds to collect more of the rain dropped by heavy storms.
Deciding just how much money should be spent in the future to prepare for such heavy storms, however, all depends on what officials think makes sense and what ratepayers are willing to pay. It's a fine balance between the impact to the environment and private property owners and the impact on the pocket-book, Haas said.
Although the utility knows it will get more bad storms, it has no way of predicting when those storms will come, he added, which makes such choices all the more difficult.
"At some point you can always prevent anything from happening to anybody if you are willing to pay as much as it takes," Liebl added. "At some point people need to decide what that boundary is."