RACINE — It's been two weeks since the 84 people living at Riverside Inn were told they need to find a new place to live.
The hotel, which hosts many long-term residents, was sold at the end of last month. Since a hotel/motel permit didn't transfer between owners, the city said that everyone living at Riverside needs to leave. A 30-day notice was delivered to tenants at the end of May.
About half of them have already moved out, but many still remain. They include: a single father with two kids; a Marine Corps veteran; a man recently out of jail; a woman trying to get her disability payments; a couple of down-on-their-luck contractors.
A few of them have plans for July 1, the day they must be out of the trouble-plagued low-rent hotel, but some of them are still searching.
New co-owners of the hotel, Karl Rajani and Patrick Prabhu, purchased the building and assets for $1.4 million cash. They plan to make $2 million in renovations and to reopen the facility as the Travelodge Watersedge Hotel.
Bobby
Bobby Miller spent his Monday afternoon driving around the city, searching for "For Rent" signs, with one of his kids in the backseat.
Miller is out of a job, but still needs to find a place for him and his two kids to live.
"We're trying to find assistance to find a place," he said as he got into his car.
By July 1, he only has one goal: "Not being homeless."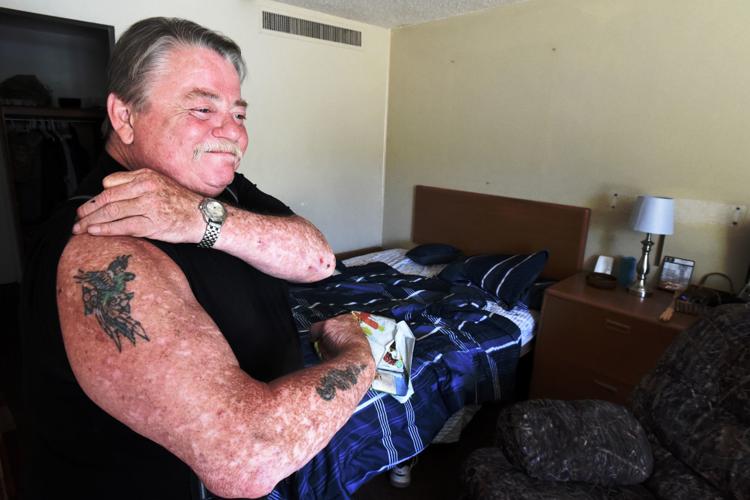 Daniel
Boudreau — a mustachioed, suspender-wearing man with a booming voice who leans forward as he talks animatedly with his hands — is angry about the situation he and his neighbors find themselves in. His situation hasn't changed much since he spoke with The Journal Times last week.
Two bicycles lean against the backside of Riverside Inn, 3700 Northwestern Ave. At left, a long-ignored pool can be seen, partirally with stan…
Last month, a young boy wandered into the open door of Boudreau's first-floor room. The boy, maybe 5 or 6 years old, noticed a box of Corn Flakes on top of the fridge and asked for some. He quickly finished off three bowls of cereal and a banana before his father found him.
When asked what kind of help they need, he replied: "Food for the children and a place for me to live." He isn't confident those problems will be solved in the next two weeks.
He's only been at the Riverside Inn three months, after spending a year in jail for an OWI.
Register for more free articles.
Stay logged in to skip the surveys.
Boudreau's sister dropped off some groceries on Monday, which will help get him through the week, but Boudreau has no idea what's next. He said he has no money and, in two weeks, still doesn't know where he'll be staying. Maybe, he says, he'll camp out in the woods.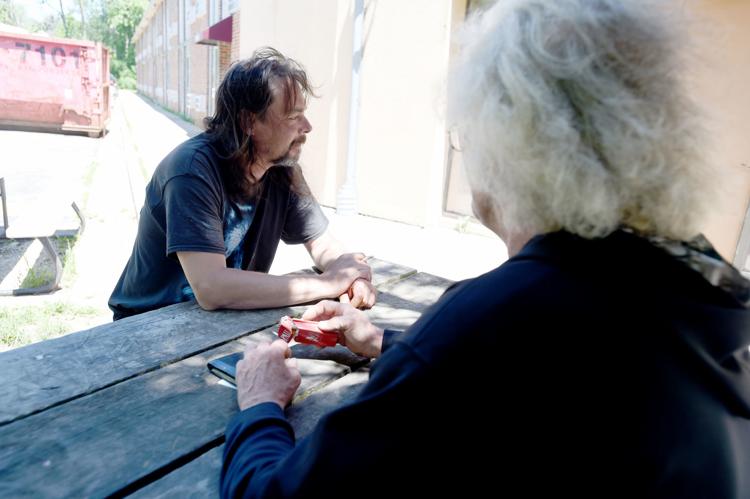 Ron and Scott
Most afternoons, Scott Casperson and Ron Tischendorf can be found sitting at a picnic table underneath a tree in front of the hotel. A Journal Times reporter found them doing just that on June 3. On Monday, they again were there again, splitting a pack of cigarettes and chatting under the same tree.
Tischendorf — who said he hasn't had stable housing for two decades and has lived at Riverside off and on over the years — gives the younger Casperson tips about staying sheltered without a place to call home.
"You have got to have friends in winter so you can couch-bounce," Tischendorf advised. "If you stay over and they feed you, make sure you stay around and do the dishes. And you can only stay one night, maybe two, or else they'll get annoyed with ya. That's when you call another friend and do the same thing with them for a couple nights."
Both men face physical handicaps that make it more difficult to do their work as contractors. Tischendorf has drop foot in one leg and arthritis in the other, and also doesn't have a valid driver's license. Casperson has a heart condition, so he has to be careful not to overexert himself.
"We're in a situation where every penny counts," Tischendorf said. "I have to do whatever I have to, to survive.
Tischendorf said he has a tent he's made use of in the past when there was nowhere to sleep, but he knows his girlfriend wouldn't be a fan of staying outdoors. He found an available apartment last week, but there wasn't any running water in the bathroom.
"Thank God this county has so many free meals, if you know where to find them," Tischendorf said. "I don't mind being a nomad. I know how to do it."
Casperson said he knows someone who needs to get some electrical work done on their home, and that he might be able to trade his labor for a room to stay in for a while, but doesn't know of any more permanent options for himself or his wife.
"Being thrown out like this is kind of ridiculous," Casperson said, taking another puff of a cigarette.
An inconsistent reputation
Everyone The Journal Times spoke with disparaged Riverside's rough-and-unsafe reputation, despite the Police Department labeling the place a nuisance in 2017 and the City Council revoking its liquor license that year.
"We're like a family," Miller, Casperson and Tischendorf all said, independently of one another. They all contend that the majority of the problems at the hotel were caused by acquaintances and friends of the people staying at Riverside, not the guests themselves.
When Casperson saw Boudreau come home, he immediately got up to help him carry groceries into  Boudreau's room.
Boudreau complimented the management of Sam Naimi, the man who just sold Riverside. Boudreau said Naimi was known to give out diapers to single mothers who needed them, or give guests a ride if they didn't have a bus pass.
"We all help each other," Tischendorf said.