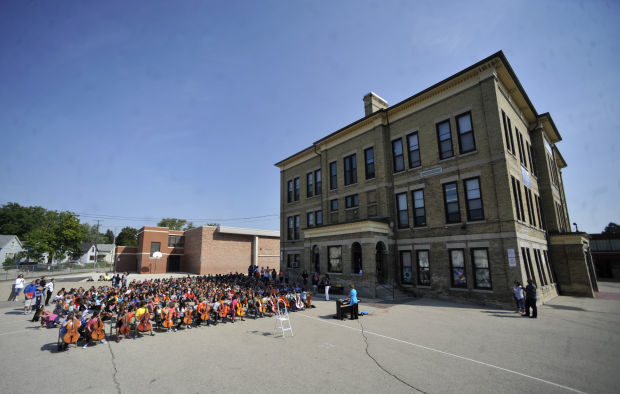 RACINE — A new community group is calling for Racine Unified's Jefferson Lighthouse Elementary School to be renamed so that it is no longer named for Thomas Jefferson, the third president of the United States who authored the Declaration of Independence but also owned more than 600 slaves throughout his lifetime.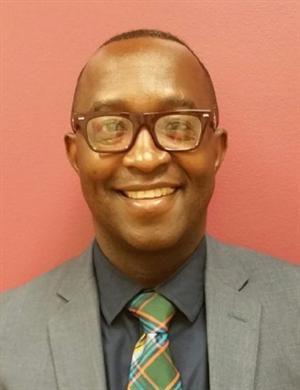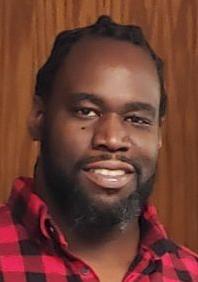 U.S. history books invariably talk about Jefferson's contributions to the foundation of the U.S. but they often ignore the abuses of Black people he perpetrated, according to the proposal from the new community group: Black Employees Matter.
The purpose of Black Employees Matter is to advocate for and improve the achievement of students, primarily students of color, in Racine Unified. One of its primary goals is to increase the number of Black educators hired and retained by the school district.
Black Employees Matter is led by Dr. Kevin Brown, who worked for the Racine Unified School District for more than two decades before leaving in 2014; and by Scott Terry, a Racine native and educator who founded Sentinel Mentors, a "mentoring and social enterprise initiative empowering African American youth and families in Racine County."
This proposal has not yet been presented to Racine Unified, according to the district's spokeswoman Stacy Tapp. Name changes to schools need to be approved by the RUSD Board of Education.
Criticisms of Jefferson
"When he (Jefferson) wrote the Declaration of Independence, he was not truthful," Brown said, referring to how Jefferson wrote "All men are created equal" but still treated many men as lesser.
In the proposal to change the name of the school, Brown wrote: "As a result of Thomas Jefferson owning and raping slaves, he should not be on any school and definitely not on a school with African American Students. Thomas Jefferson's name should not be plastered on City of Racine's structures, schools, or monuments. Thomas Jefferson, to the African American community, serves as a reminder of a dark and violent past from our nation and third president. Changing the name of the school is a step in the right direction and most of all the district will be remembered for being on the right side of history."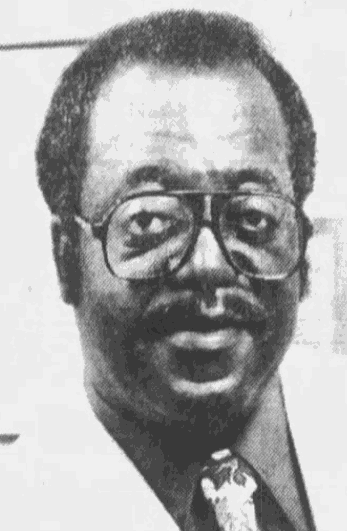 There are 20 elementary, middle and high schools in total within RUSD that are named after people. Out of those 20, only one is named after a person of color — Julian Thomas Elementary School, which got its name from a local civil rights leader who was instrumental in integrating Racine's schools in the 1970s.
The school had been named Garfield School previously, honoring the country's 20th president James Garfield, but a 2003 vote by the school board changed the school's name to honor the local leader instead.
Broken down by race, the students in RUSD are
38.9% White,
25.3% Black,
28.4% Hispanic/Latino,
5.9% identified as two or more races,
1.1% Asian,
0.3% American Indian or Alaskan Native, and
0.1% Native Hawaiian or "Other Pacific Islander."
Building on momentum
The request to change the name of Jefferson Lighthouse School comes as a surge of similar actions nationwide call for the removal of names of slave owners, Confederates and others who stood in the way of civil rights from public places.
Horlick High School is removing all Confederate imagery related to its school mascot and team name: the Rebels.
A statue of Christopher Columbus — the Italian explorer who sparked European colonialism of the western hemisphere who allegedly caused millions of deaths to indigenous people — is being removed in the City of Columbus in Columbia and Dodge counties.
The Washington Redskins, the NFL team in Washington, D.C., that has long been criticized for naming its team a slur directed at Native Americans, said this week that it may be changing its name after more than 80 years of using it.
Still, the momentum of these changes has led to monuments that don't honor racists being vandalized. Demonstrators in Madison on June 23 tore down the Lady Forward statue and a statue honoring Col. Hans Christian Heg, an abolitionist and former Racine County resident who died fighting with the Union in 1863.
Five names
Black Employees Matter has offered five other names to replace Jefferson's name on the school.
• Joshua Glover: Glover ran away from slavery in St. Louis in 1852. He settled in Racine, where he earned a reputation as a hard worker and friendly gentleman. After slave catchers recaptured him in 1854, thousands of demonstrators in Milwaukee and Racine rallied to free him from jail. This was a touchstone moment in the abolitionist movement nationwide. It sparked the State of Wisconsin to declare the Fugitive Slave Act unconstitutional, a defiance of the federal government.
• Isaac Granger Jefferson: Isaac was a slave of Thomas Jefferson. He was tasked with crafting and repairing tools at Monticello. But in 1797, Isaac and his family were "gifted" as a wedding present to Thomas Jefferson's daughter. In 1822, Isaac wrote that he had been freed by his "owners" and later settled in Petersburg, Virginia. He became a writer and his memoir was published multiple times. If the school were to be renamed after him, "They could still call it Jefferson Lighthouse School," Brown said.
• Vel R. Phillips: This lifelong Wisconsinite had a lot of firsts. In 1951, she became the first woman to graduate from the University of Wisconsin Law School. In 1956, she became the first woman and first African American to be elected to the Milwaukee Common Council. In 1971, she became the first Black female judge in the state. Seven years later, she was elected as Wisconsin's secretary of state, becoming the first African American woman to be elected to any statewide office in the United States. One of Milwaukee's major north-south avenues is named for her. She died in 2018 at the age of 94.
• Ezekiel Gillespie: After purchasing his own freedom from slavery in 1818, Gillespie settled in Milwaukee and freed other slaves through the Underground Railroad. After the Civil War, he tried to register to vote but was rejected because he was Black. In 1866, Gillespie's landed with the Wisconsin Supreme Court, which ruled that Black men should be allowed to vote in the state. Nationwide, Black men were not able to vote until 1866, thanks to the Civil Rights Act of 1866, although American leaders throughout the country have still spent decades trying to suppress African American votes.
• Peter D. Thomas: Thomas was 14 when the plantation he was enslaved on was freed in 1862 by Union soldiers from Wisconsin. He later enlisted with the Union and fought until the end of the Civil War. In 1883, he was elected Racine County coroner, marking the first time an African American was elected to any office the county.
Carey Norris, aka DJ Mr. 262, emcees at the Juneteenth Rally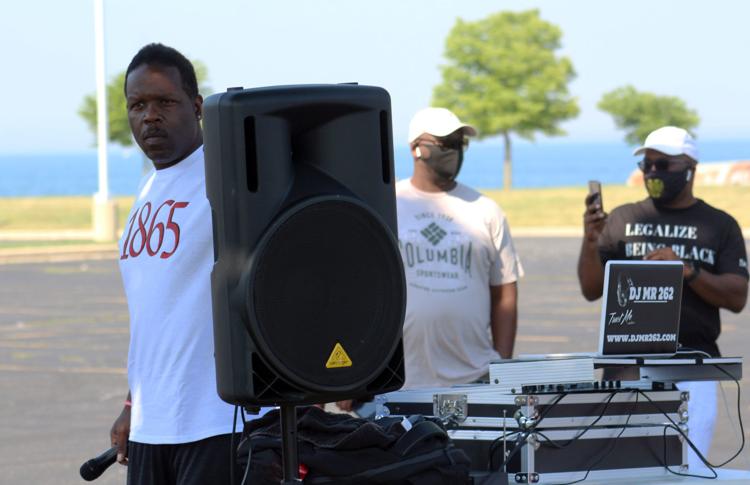 Battle Mode and a U.S. flag bandanna-mask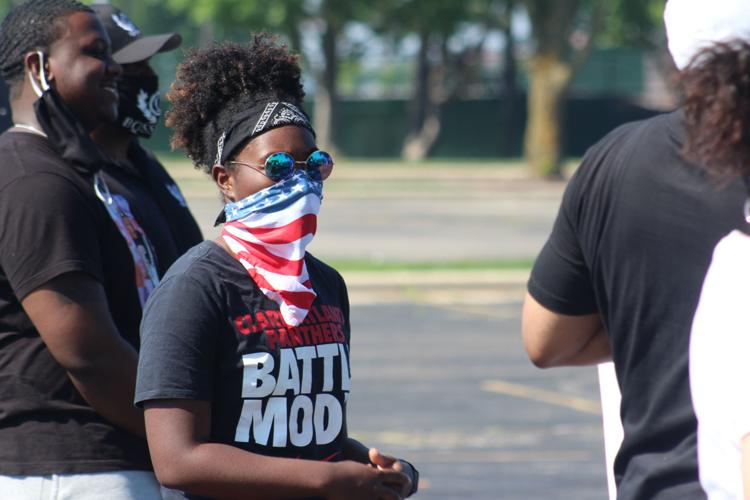 "I'm Black I'm Proud" Juneteenth 2020 tees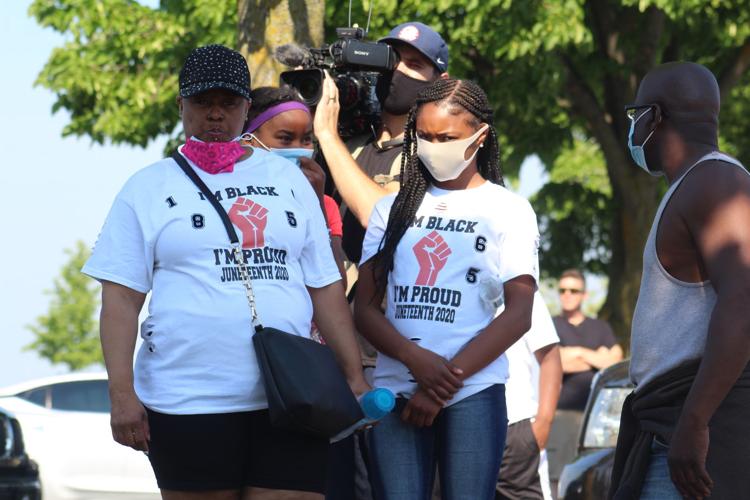 Masks at Juneteenth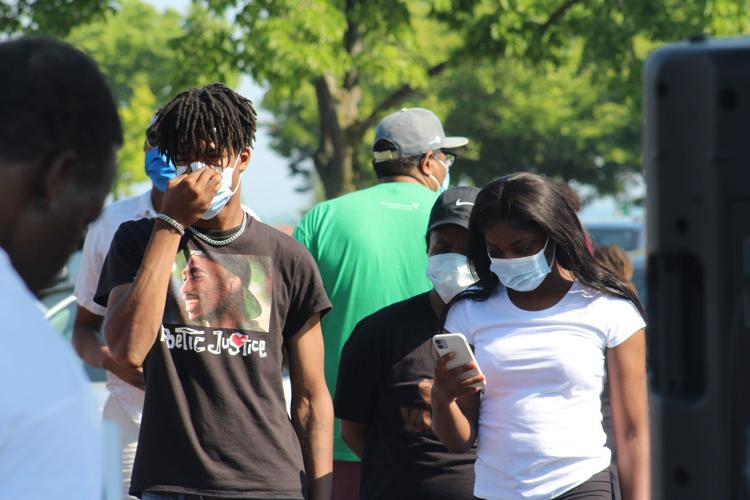 Caron Butler fist up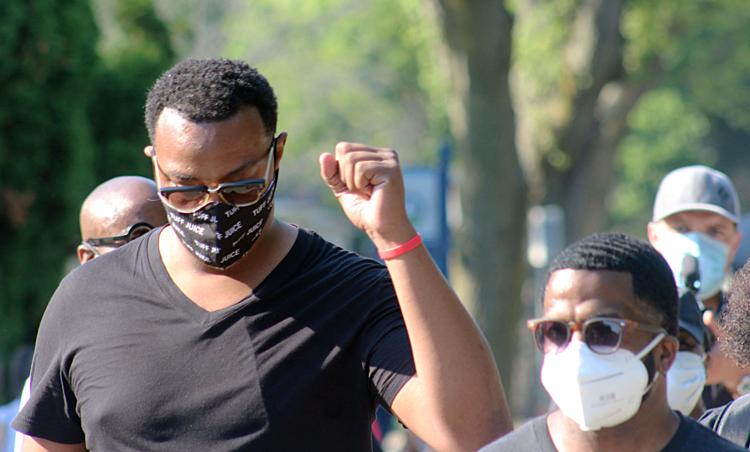 Wisconsin NAACP Criminal Justice Chairman Corey Prince addresses the crowd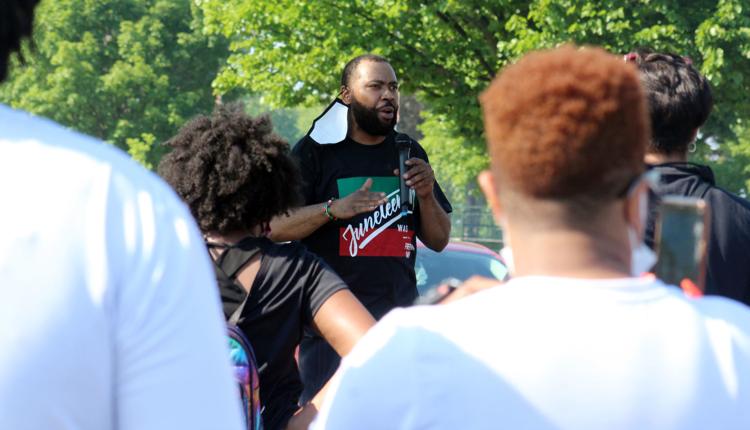 "I stand with Black Lives Matter" at allies' rally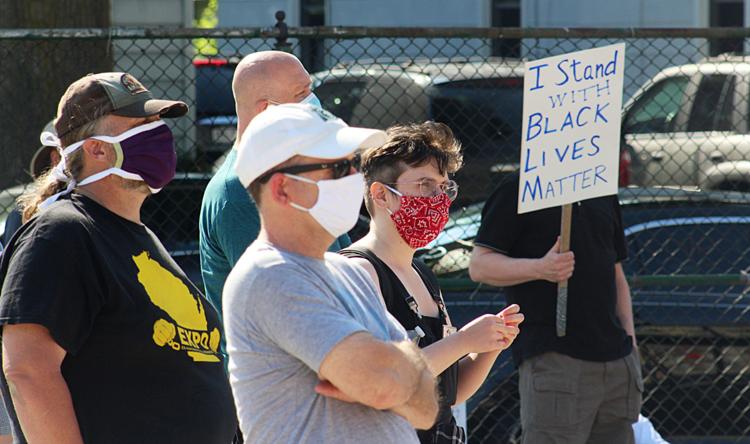 "Black Lives Matter" / "No Justice No Peace"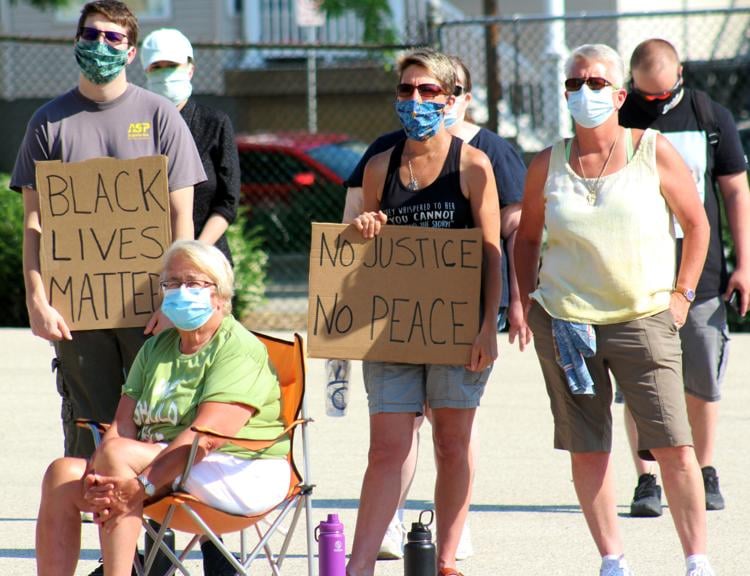 Alderman John Tate II addresses allies' rally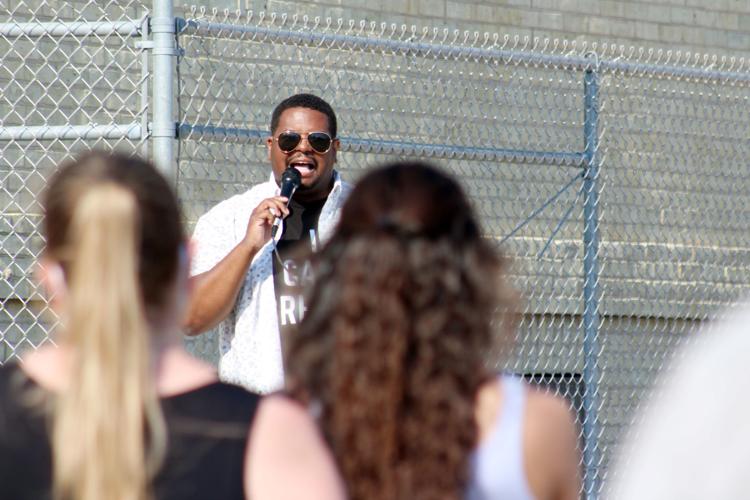 Signs call for change at allies' rally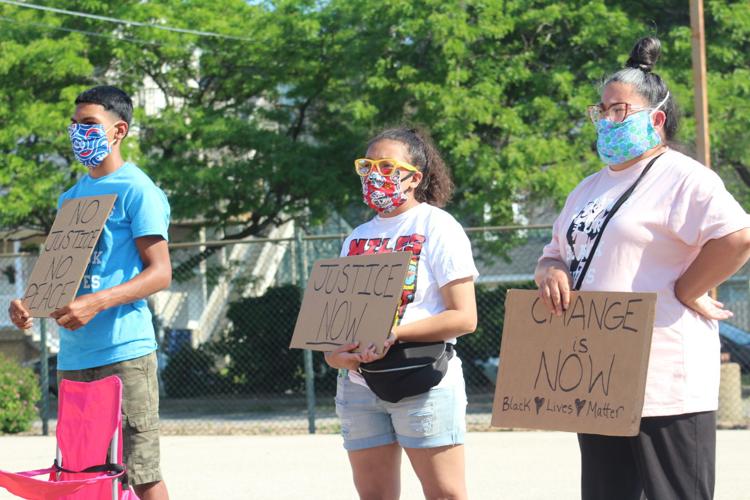 Signs call for change at allies' rally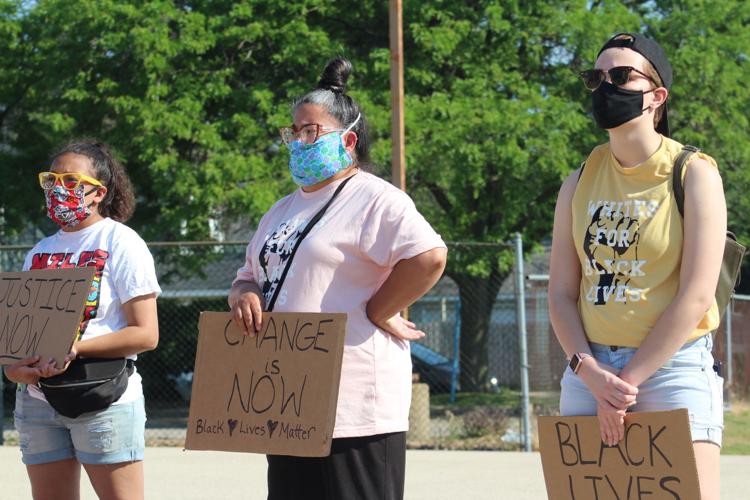 Black Lives Matter tee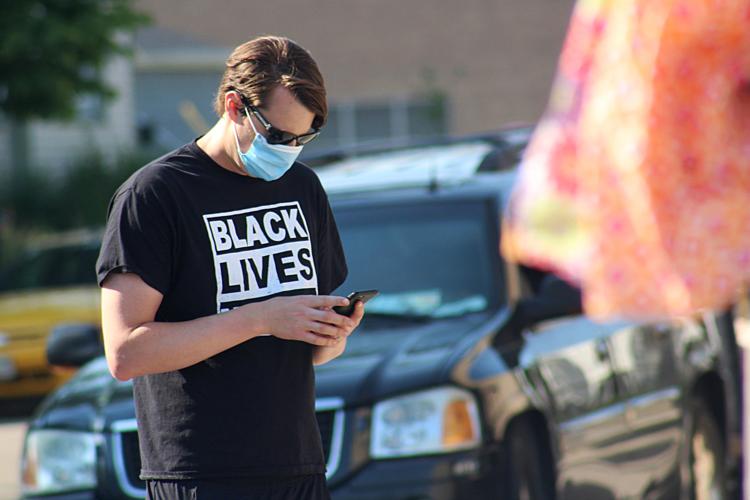 On his shoulders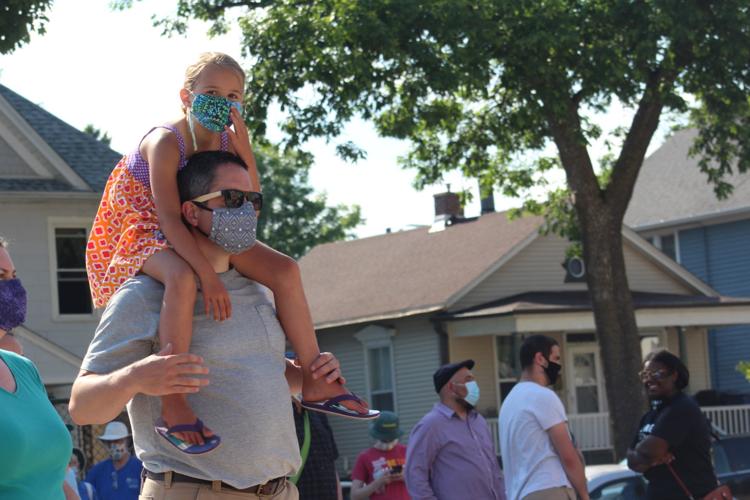 On his shoulders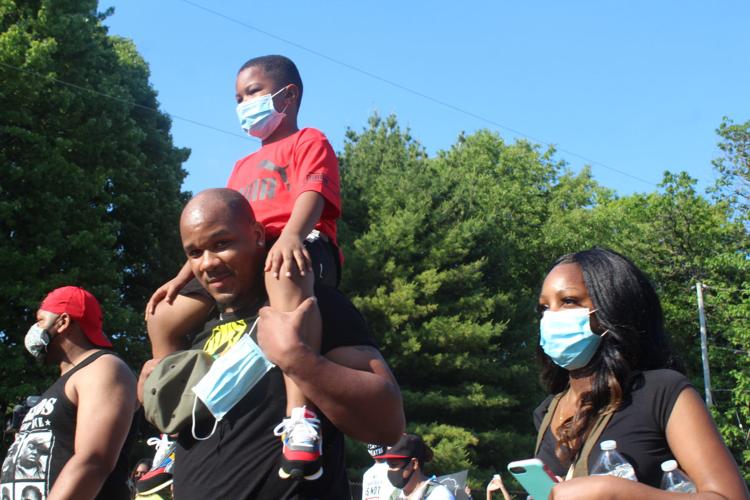 Black Lives Matter at allies' rally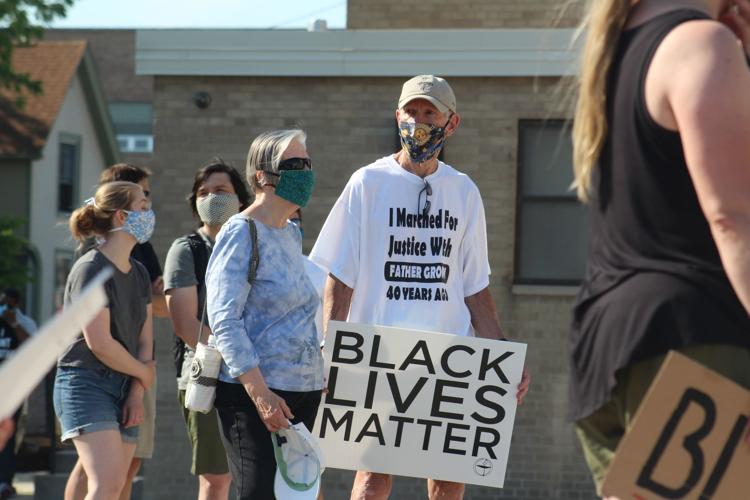 Marching for justice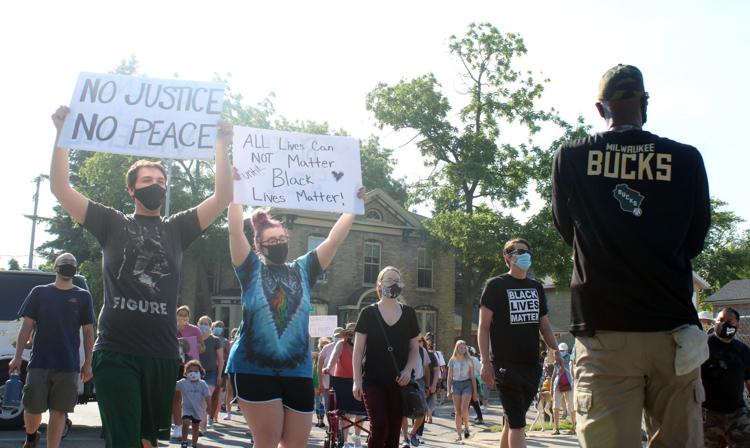 Marching for justice, led by Carl Fields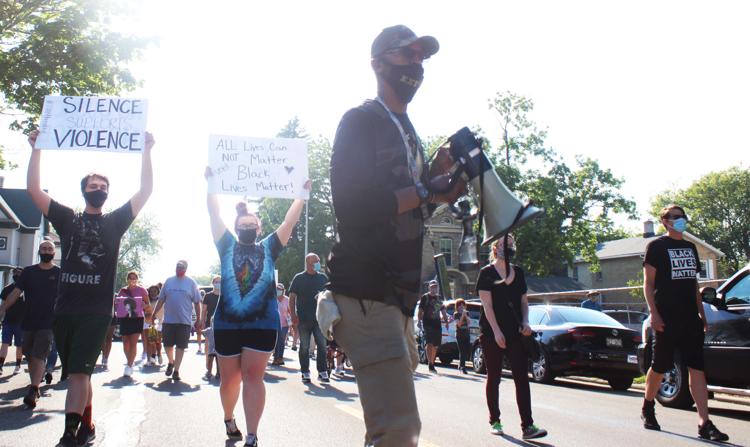 Black Americans rally reaches 14th St. and Wisconsin Ave.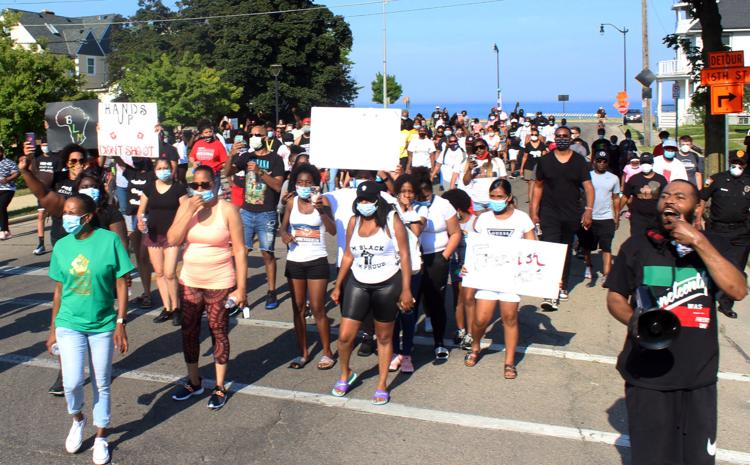 Marching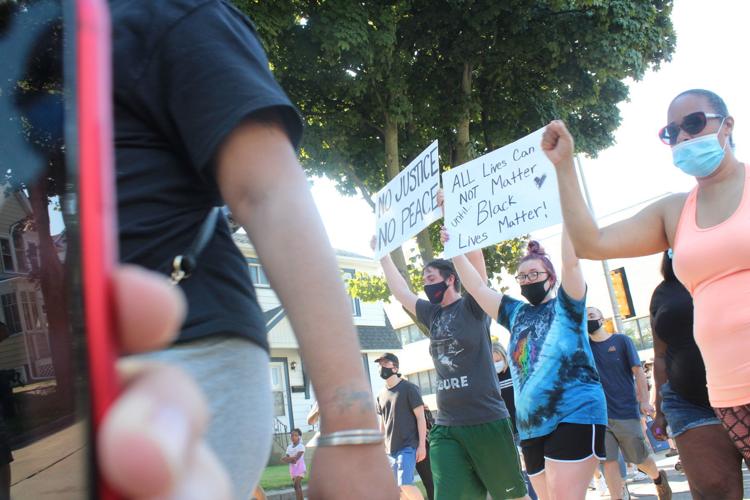 Marching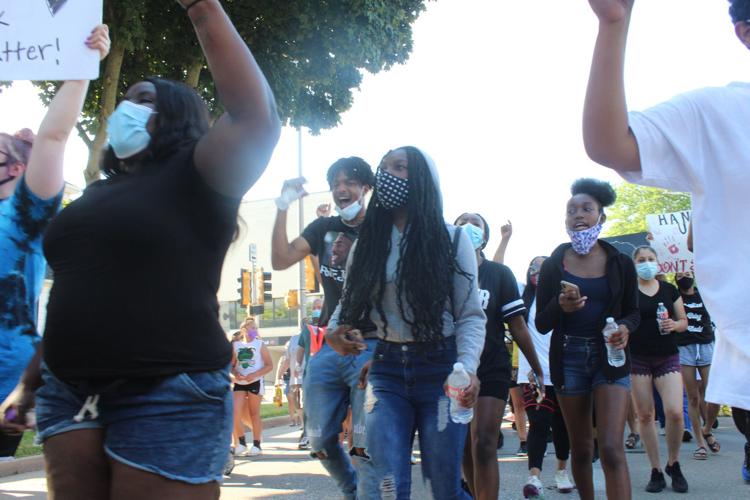 BLM and Hands Up Don't Shoot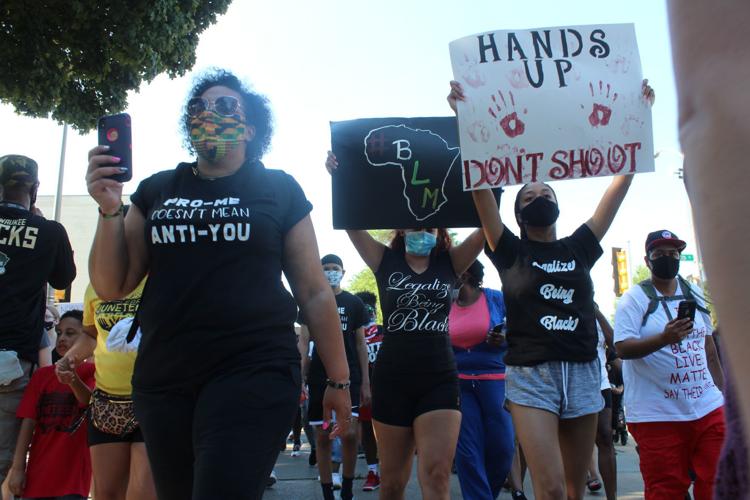 Young ones marching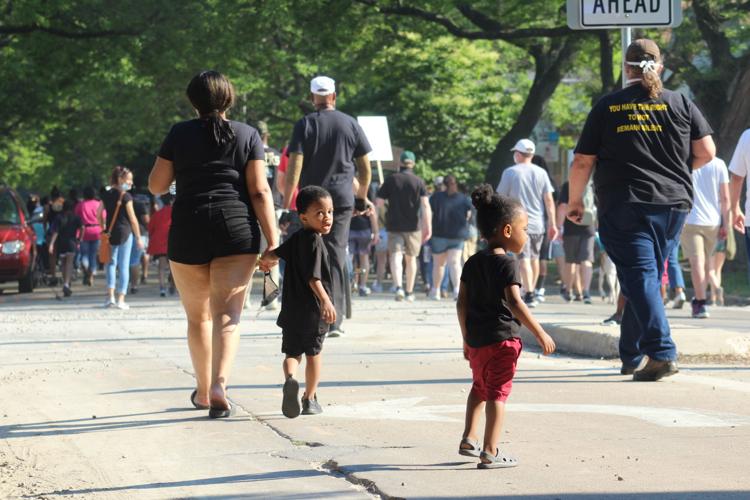 Olympia Brown Unitarian Universalist Church shows solidarity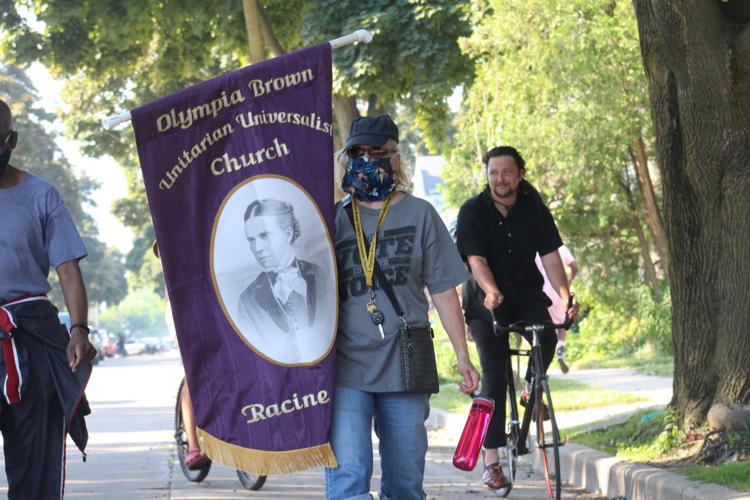 Cheering on marchers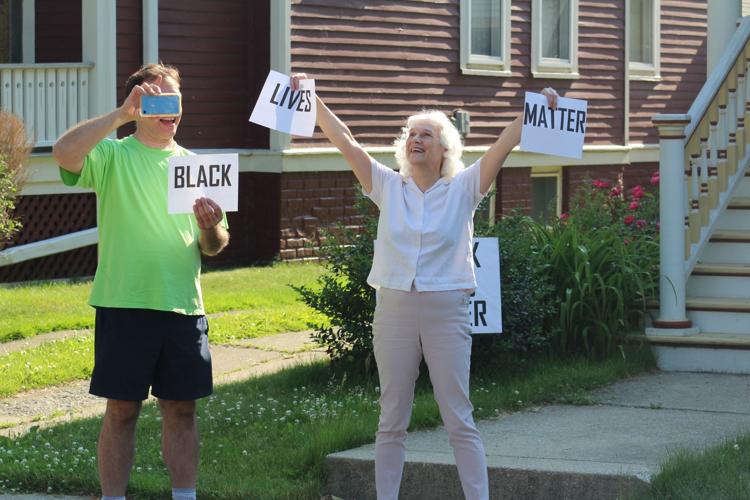 Marching toward Dr. John Bryant Community Center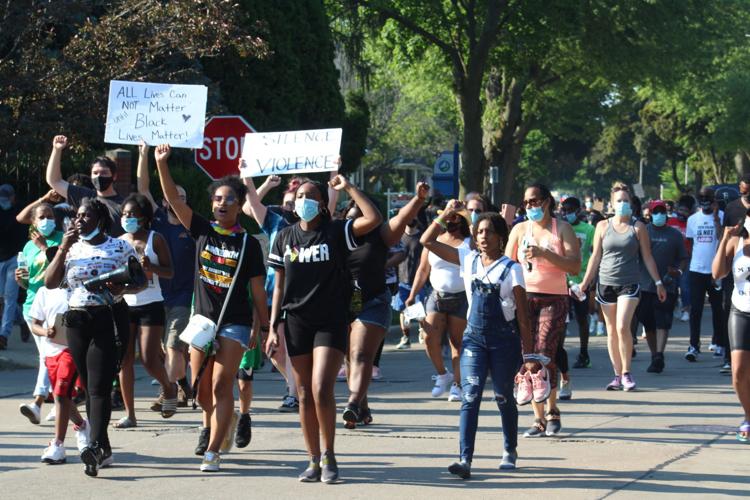 Marching with fists raised
All ages marching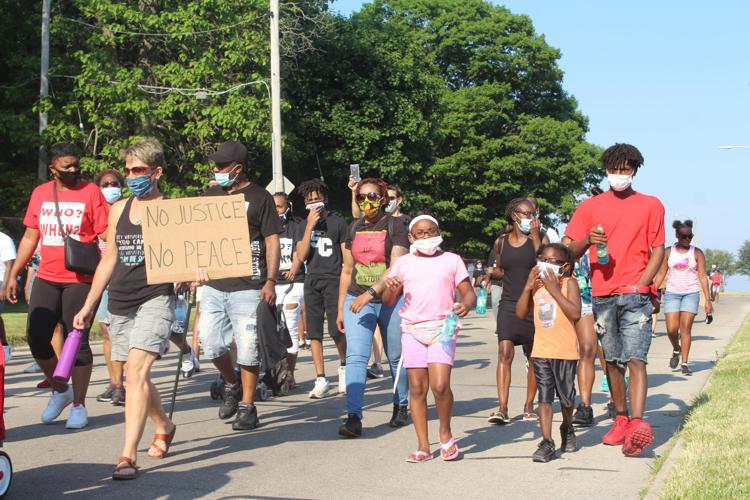 NBA All-Star and Racine native Caron Butler takes the megaphone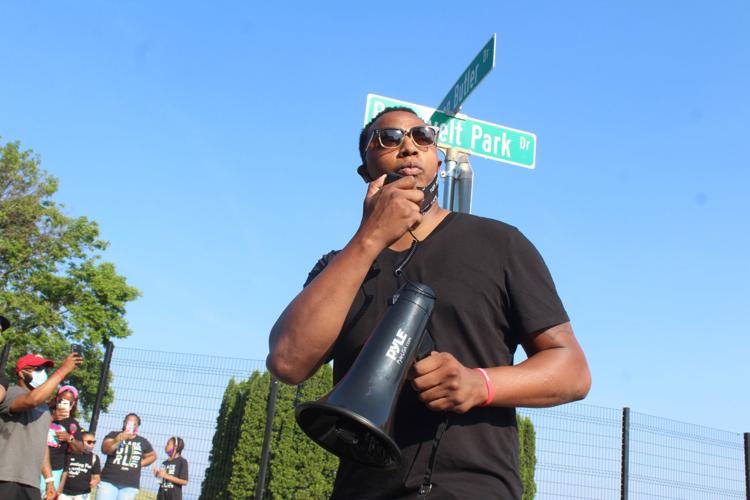 NBA All-Star and Racine native Caron Butler takes the megaphone
NBA All-Star and Racine native Caron Butler takes the megaphone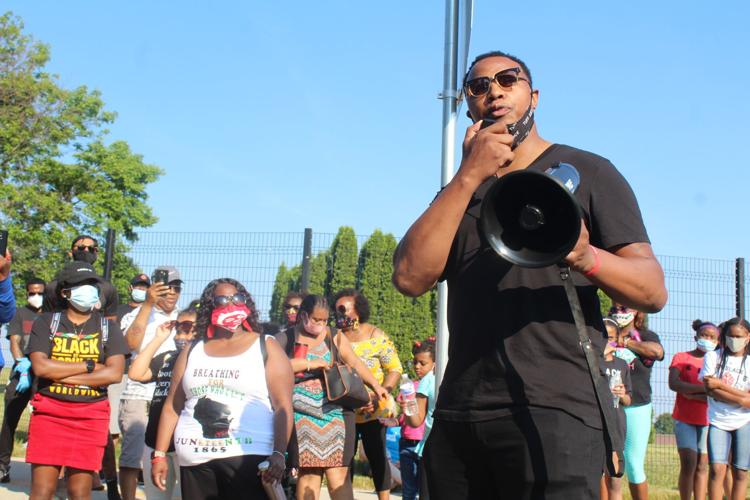 Alfonso Gardner, of Racine, shows off his "Make America Obama Again" hat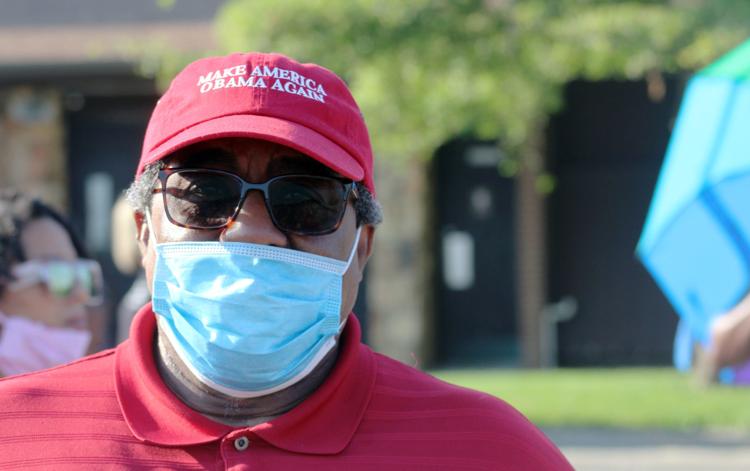 Sakinah Abdullah, of Racine, wears a shirt honoring her parents, the Sabirs, who helped bring Juneteenth to Racine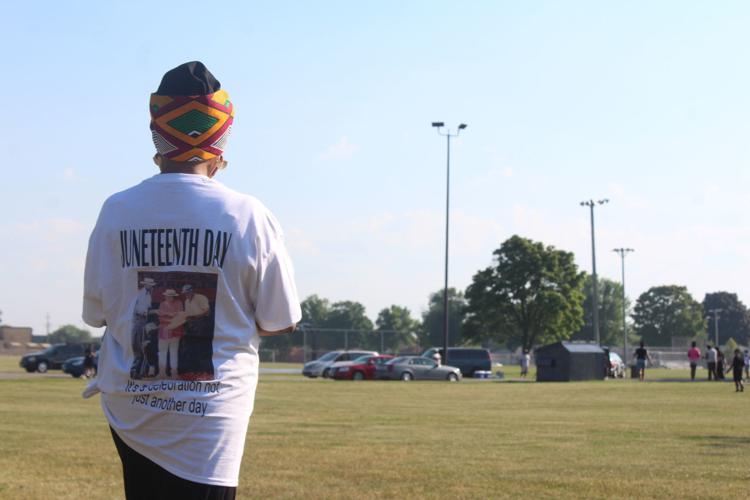 Fist up in a Darth Vader tee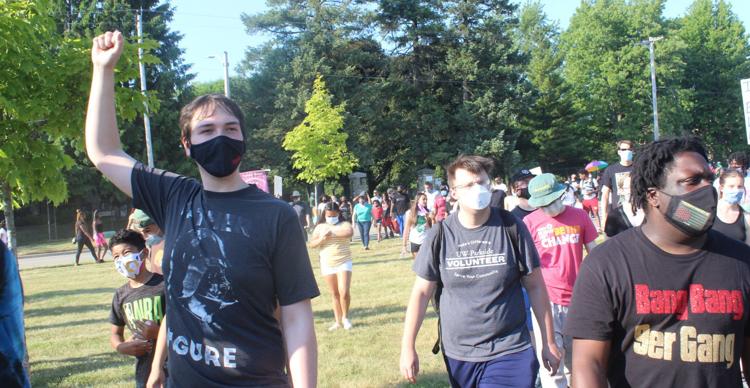 Kameron West passes out water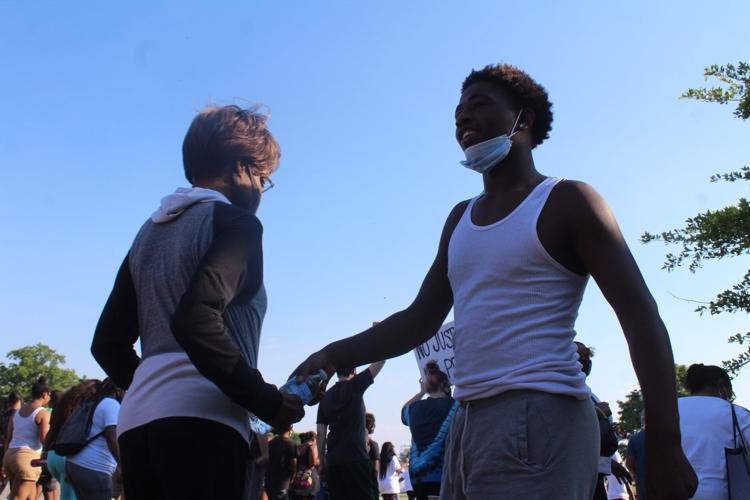 Fists up at Dr. John Bryant Community Center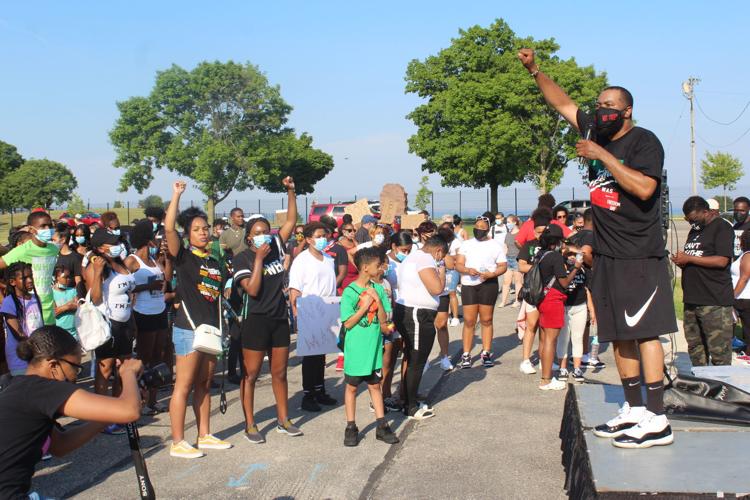 Fists up at Dr. John Bryant Community Center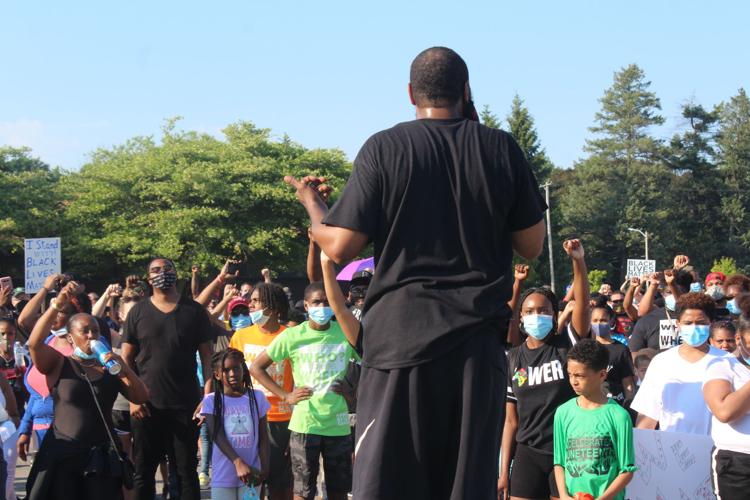 Fists up at Dr. John Bryant Community Center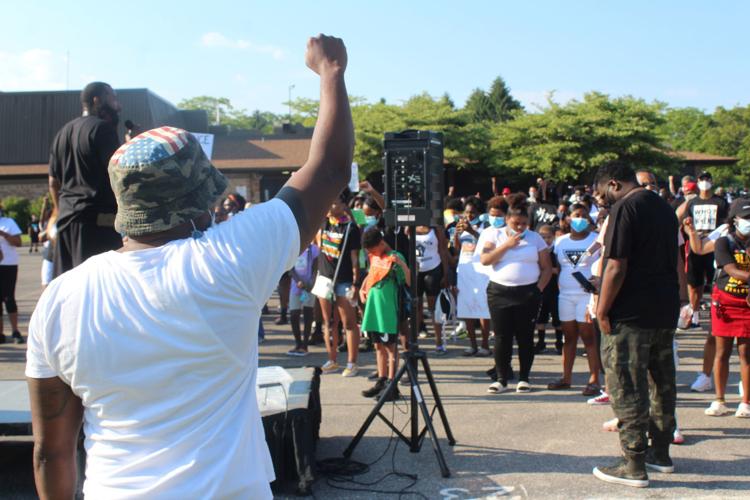 Juneteenth power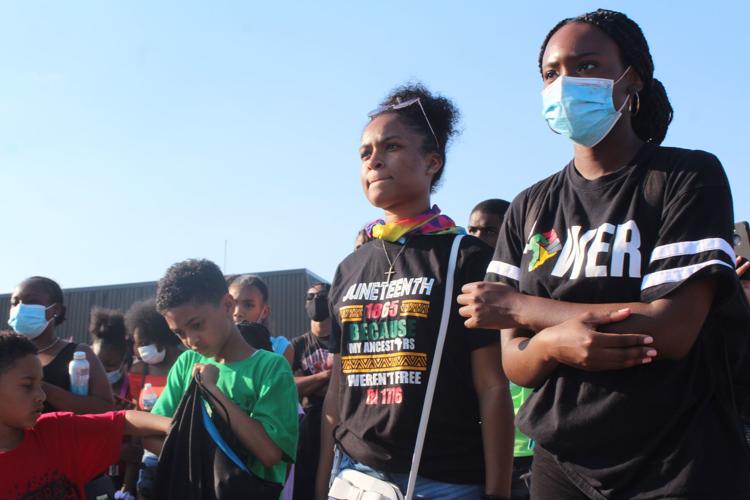 In the crowd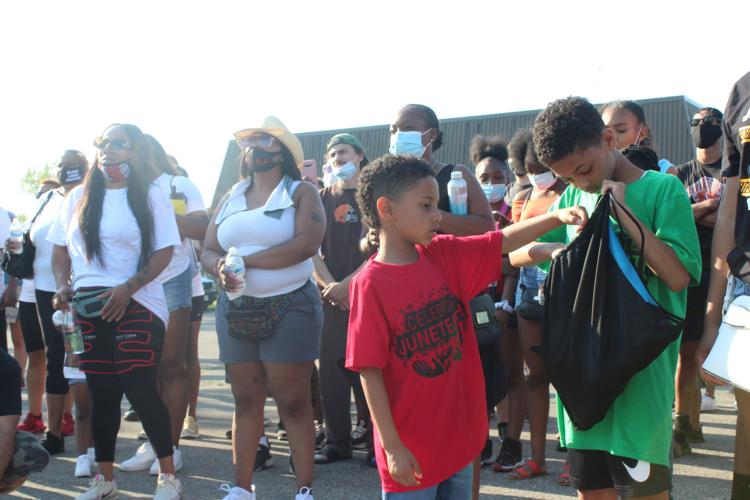 Tiwan Strong sings "A Change Is Gonna Come"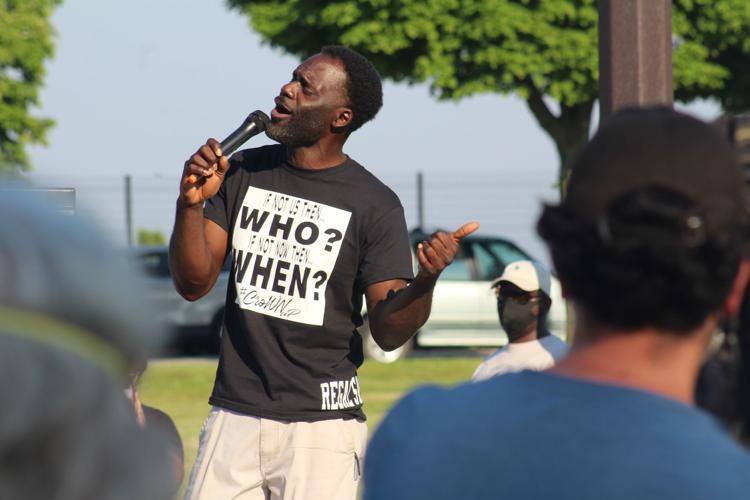 Tiwan Strong sings "A Change Is Gonna Come"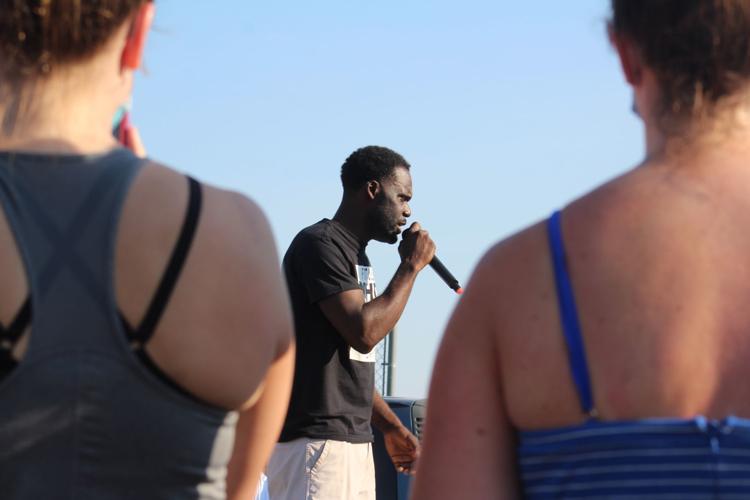 Boys in Black Lives Matter tees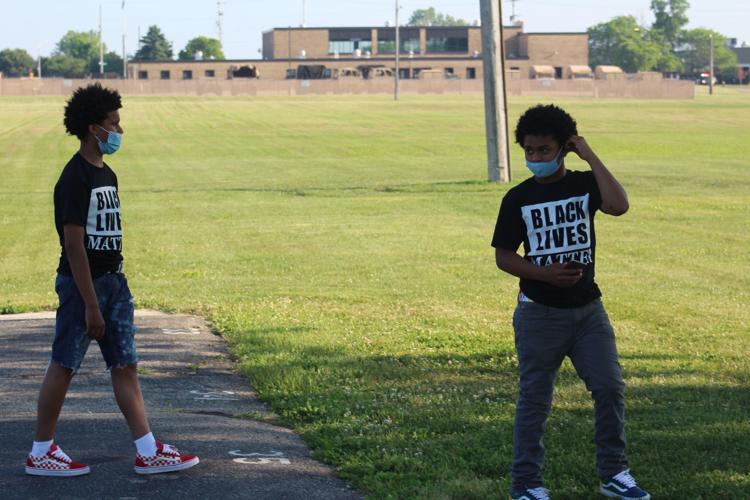 Posing after the rally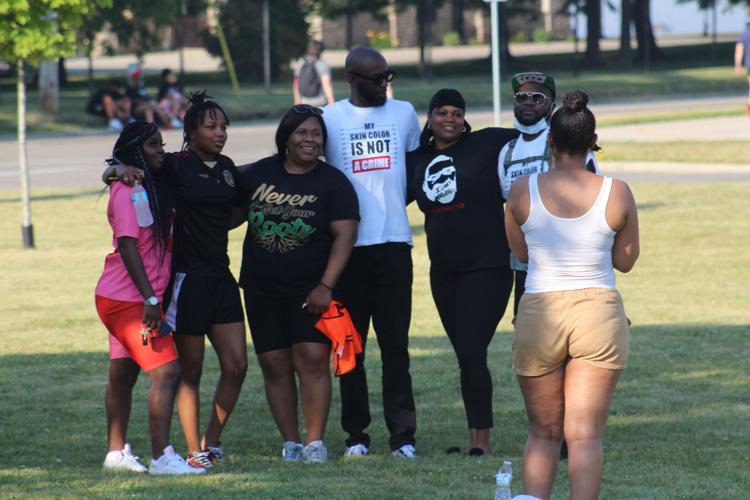 "When he (Thomas Jefferson) wrote the Declaration of Independence, he was not truthful." Dr. Kevin Brown, member of Black Employees Matter
"When he (Thomas Jefferson) wrote the Declaration of Independence, he was not truthful."

Dr. Kevin Brown, member of Black Employees Matter