RACINE — Students in the class of 2018 across the state graduated at higher rates than previous classes. Racine Unified rates fell slightly overall but increased at its three comprehensive high schools — Case, Horlick and Park — and for black and Hispanic students.
The statewide graduation rate increased one percentage point in 2018 from the previous year, to 89.6 percent, according to figures released last week by the Wisconsin Department of Public Instruction.
Comparatively, Unified's rate was 74.9 percent in 2018, down slightly from 76.1 percent in 2017, due to decreases in the still high graduation rates at Walden III and the REAL School.
Public high schools in western Racine County continue to have graduation rates exceeding the state average, all of them above 90 percent, with some nearing 100 percent.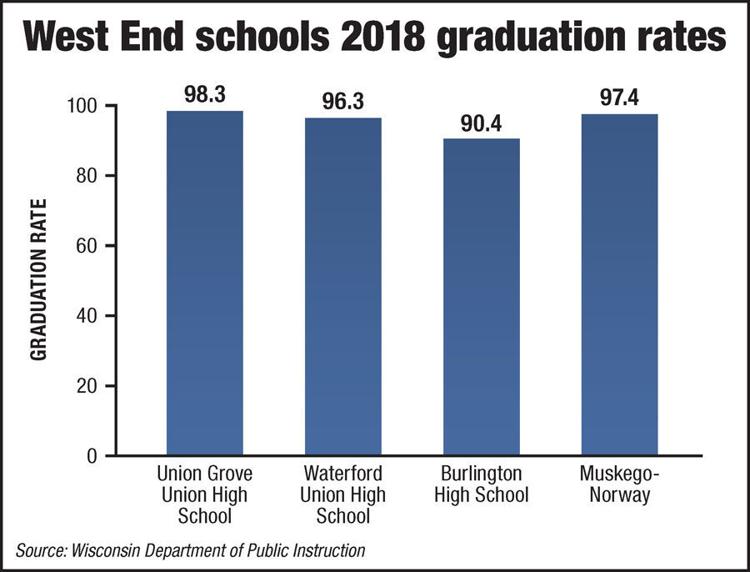 There were notable gap closures for some subgroups of students at the state level. The largest gap closure was 5.1 points between 2013-14 and 2017-18, closing the gap between students learning English and their peers who are English-proficient.
The DPI noted that the increase may be due to changes in criteria for exiting English learner identification. Across the states, English learners in the class of 2018 had a graduation rate of 70.1 percent compared to 90.2 percent for English proficient students.
English language learners also experienced a big graduation rate increase at Racine Unified, with a 2018 rate of 64 percent compared to 54.7 percent in 2017.
Unified English language learner 2018 graduation rate:
ELL: 64 percent
Not ELL: 75.8 percent
Graduation rates at Unified schools improved in 2018 for black and Hispanic students, although the rates are still lower than for other racial groups, as is the case across the state. The black graduation rate increased to 63.6 percent in 2018, up from 61.4 percent the previous year. The Hispanic rate went up to 71.5 percent in 2018, from 69.7 percent in 2017.
Statewide graduation rates increased 3.7 points for black or African American students, 3.6 points for Hispanic students, and 0.5 points for Asian students.
The information about Asian students at Racine Unified schools was redacted from the DPI website, which is typically done when there are so few members of one group in a school or district that individuals could be identified using the data.
The graduation rates for white and mixed race Unified students decreased in 2018 with 84.2 percent of white students graduating in 2018, down 1.2 percent from the previous year. Mixed race students graduated at a rate of 71.1 percent, down from 75 percent the previous year.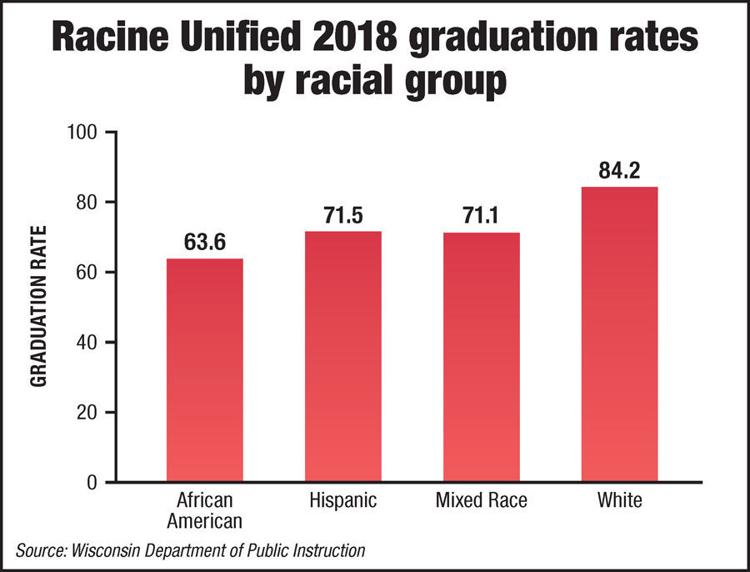 You have free articles remaining.
You're out of free articles
Sign in or create a FREE account to keep reading.
Out of Unified's three comprehensive high schools, Case had the highest graduation rate and saw the biggest increase, of 4.4 percent, and Horlick and Park also increased 3.3 and .5 percent, respectively.
"What we're really excited about is the increase at all three comprehensive high schools," said Unified spokeswoman Stacy Tapp. "We want that trajectory to continue."
Although the rates dropped at Unified's two choice high schools, the REAL School and Walden III, rates at those schools both remain higher than the state average and well over 90 percent. Walden dropped to 95.6 percent in 2018, down from 100 percent the previous year and the REAL School dropped to 93.5 percent from 97.5 in 2017.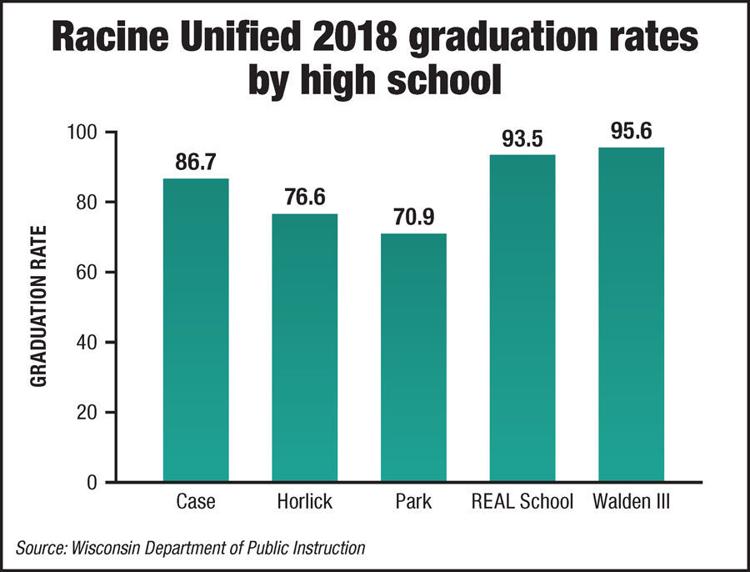 Tapp credited several of the schools' efforts as having an impact on the graduation rates, including the district's virtual learning program and a push for youth apprenticeships. The district is also working to better engage students, especially through its academy model, which asks students to pick a career pathway of choice their freshman year.
"If a student is engaged, they're more likely to graduate," Tapp said.
The first students to start in the academy model as freshmen will be seniors next school year.
Economically disadvantaged students continue to graduate at lower rates than their peers. Statewide, the graduation gap closed 1.6 points over five years for economically disadvantaged students. Economically disadvantaged students in the class of 2018 had a graduation rate of 80.2 percent compared to 94.5 percent for students who are not economically disadvantaged.
The graduation rate for economically disadvantaged students at Racine Unified increased to 65.9 percent in 2018, 1.5 percent above the previous year. The district's high school completion rate by those who are not economically disadvantaged is below the state average for that group, at 86.5 percent.
Racine Unified 2018 graduation rate
Economically disadvantaged: 65.9 percent
Not economically disadvantaged: 86.5 percent
At Racine Unified, as well as across the state, female students were more likely to graduate than male students, with a female rate of 77.3 percent at Racine Unified compared to 72.3 percent for males.
The four-year high school completion rate for Racine Unified students with disabilities was 50.2 percent in 2018, compared to 79 percent for students without disabilities. Statewide, students with disabilities have a graduation rate of 68.5 percent, compared to 92.3 percent for student without disabilities.
"What we're really excited about is the increase at all three comprehensive high schools. We want that trajectory to continue." Stacy Tapp, Racine Unified spokeswoman