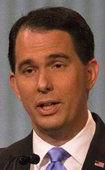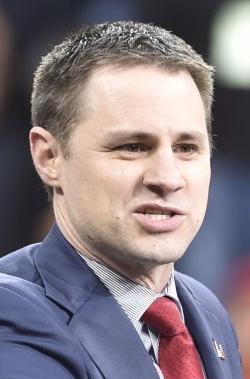 Former Gov. Scott Walker and Wisconsin GOP Chairman Andrew Hitt claimed that Joe Biden's Thursday visit to Kenosha was "a political stunt" but that President Donald Trump's Tuesday visit was "very helpful."
When asked why Trump's visit was beneficial during a phone call with reporters Thursday morning, Walker replied: "I thought the president's visit was extremely helpful. He thanked local law enforcement. He thanked people from the surrounding area. He thanked the state and federal agents. He thanked the men and women involved in the National Guard from Wisconsin and all the other departments of health.
"I think it was incredibly helpful for the president to be there and to hear from the business owners and employees around the area who had businesses that had either been burnt to the ground in the worst case or had their buildings in many cases boarded up."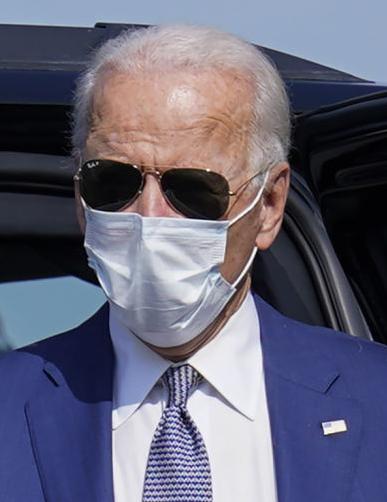 When the prominent Wisconsin Republicans were asked how they felt about Biden's promise to meet with the family of Jacob Blake, Walker said visiting with the family of the man shot in the back and likely paralyzed by a Kenosha Police offer was "premature" while the shooting investigation is still going on. He added that Biden "rushed to judgement" by saying that there was an excessive use of force in the shooting and that Officer Rusten Sheskey — the 7-year Kenosha Police veteran who shot Blake — should face criminal charges.
"Joe Biden's original statement about Kenosha jumped to the conclusion that the officers were automatically at fault," Walker said, while noting that Biden has since condemned the violence, property destruction and looting in Kenosha.
The president said the reason he did not meet with Blake's family was because the family wanted to have attorneys involved, which Trump said would have been "inappropriate."
Alleged Democrats' hypocrisy
Both Hitt and Walker said that leading Democrats were hypocritical in how they treated Biden's Thursday visit compared to how Tuesday's presidential visit was treated.
Gov. Tony Evers, Lt. Gov. Mandela Barnes and others called on Trump to not visit Kenosha, fearing the divisive president's presence would escalate tensions in the city and for further spreading COVID-19. Although there was little violence or destruction during the president's visit, scuffles and arguments broke out repeatedly between Trump supporters and Black Lives Matter demonstrators. At least one fight broke out in the late afternoon as the numbers of Trump supporters dwindled.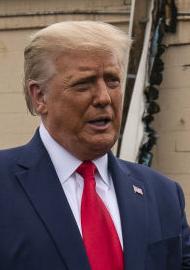 "The fact that Gov. Evers asked, and in some ways pleaded, for President Trump not to come to Wisconsin but is silent on Joe Biden really is a hypocrisy that Wisconsinites do not want in their public officials. It does not shine well on the governor," Hitt said.
Evers replied during a Thursday press conference, saying that he told the Biden campaign he would prefer the former vice president not visit Wisconsin due to coronavirus concerns, but Evers did not try to stop him. "It's a free country," Evers said.
Gov. Evers says "I would prefer that no one would be here" regarding Trump/Biden. The Governor didn't try to stop them and was louder about asking Trump not to come to Kenosha, although Evers is finally now clear (after Biden showed up) that he'd prefer neither leader to be here.

— Reporter Adam Rogan (@could_be_rogan) September 3, 2020
Another question raised by conservatives was why Biden was willing to come to Kenosha now while it was said it was too dangerous for him to visit Milwaukee last month during the Democratic National Convention to accept the Democratic nomination for president due to coronavirus concerns.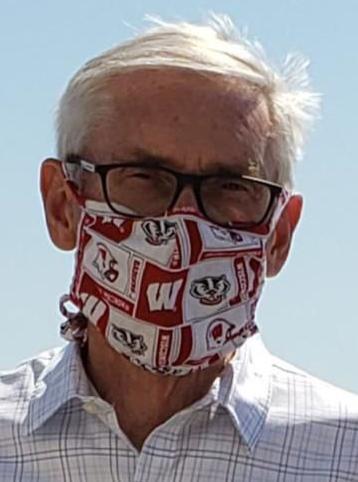 When Biden and his wife departed their plane in Milwaukee Thursday, both were wearing masks. While Trump toured Kenosha, the president was never seen wearing one. The president asked attendees of a roundtable to actually remove their masks during his Tuesday visit, less than two months after he had called mask-wearing "Patriotic."
Evers said Thursday that this ignoring of the statewide indoor mask order was concerning. "When you saw them (Trump and others) talking at the law and order summit, no one was wearing a mask ... That doesn't work toward keeping people healthy and keeping people resilient."
Election outlook
Supporters think that Trump's presence in Wisconsin, a state he has visited a handful of times in the past four years, will help him win the critical swing state come November while Biden's absence (until now) will hurt him.
"Hillary Clinton didn't come to Wisconsin during the (2016 election) cycle as well all know," Hitt pointed out, referring to how Clinton's lack of presence in Wisconsin four years ago has repeatedly been cited as a reason she lost the election. "This is a desperation trip from Joe Biden."
Get Government & Politics updates in your inbox!
Stay up-to-date on the latest in local and national government and political topics with our newsletter.