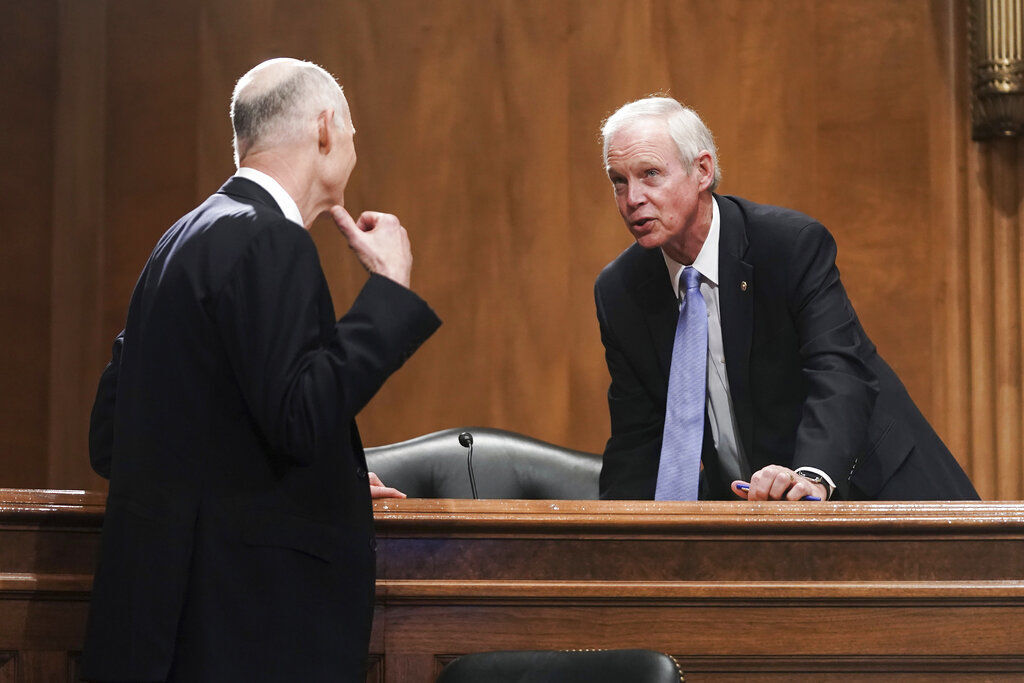 Should incumbent Republicans David Perdue and Kelly Loeffler win today's U.S. Senate runoff elections in Georgia, U.S. Sen Ron Johnson, R-Wis., will be empowered to continue his investigation into the Nov. 3 election regardless of who is in the White House.
Johnson chairs the Senate's Permanent Subcommittee on Investigations. If either Perdue or Loeffler win, or both of them do, then Republicans would continue to hold the majority in the Senate. As such, Johnson will likely hold onto his committee chairmanship and thus be able to lead the way on Senate investigations.
If Perdue and Loeffler lose, and Democrats Jon Ossoff and Raphael Warnock become senators, the Senate will have 50 Republicans, 48 Democrats and two independents, Bernie Sanders of Vermont and Angus King of Maine, who caucus with the Democrats. If that happens, Vice President-elect Kamala Harris, a Democrat, would hold the tiebreaking vote in the Senate, Johnson would likely no longer be head of that committee and thus unable to order investigations.
Both President-elect Joe Biden and President Donald Trump have made appearances in Georgia in recent days, campaigning for their respective party nominees as Trump vowed to "fight like hell" in the waning days of his presidency.
As Johnson continues his vocal support of the effort, led by U.S. Sen. Ted Cruz, R-Texas, to have Congress pause the counting of Electoral College votes to have a 10-day emergency investigation, Johnson has made multiple television appearances backing the campaign.
On Monday, in an appearance on Newsmax, he vowed "as chairman of the Permanent Subcommittee on Investigations, if we win these two Georgia Senate races, I am absolutely dedicated to getting to the bottom of this as long as it takes."
Johnson, a close ally of Trump's, has been among those at the forefront of saying allegations of election fraud must be investigated, despite election officials in every state saying they have found no evidence of widespread fraud.
"Take these efforts seriously," Johnson said in the Newsmax appearance, claiming that the reason "the mainstream press" has found no evidence of evidence is because they "have not looked," even though Johnson himself has yet to provide evidence to support Trump's claims of fraud.
"Let's organize this, let's lay it out for the American public," Johnson said of Cruz's plan for a 10-day investigation. "Now, I don't know what's going to happen on January 6," the day Congress is scheduled to count Electoral College ballots, usually a formality. "I have a hard time imagining any scenario where even one Democrat in the House would vote to eliminate or disapprove of any of Biden's electors. But we can at least raise these issues and move forward."
Republican rebukes
Paul Ryan, the former Speaker of the House and representative of Wisconsin's 1st Congressional District, and Senate Majority Leader Mitch McConnell have been among the most prominent Republicans to criticize the effort by Cruz and Johnson.
McConnell has urged his fellow Senate Republicans not to try to challenge the Electoral College result, after dozens of court rulings thwarted Trump's effort to overturn the election results. Ryan, who has largely stayed out of the public eye since leaving Congress, released a statement Sunday that said the effort to overturn the election was tantamount to abandoning the democratic principle of self-governance and that continuing to sow doubt in the electoral process would "strike at the foundation of our republic."
In Wisconsin, Mark Becker, the former chairman of the Brown County Republican Party, wrote a story published in The Bulwark (a nonprofit online news outlet) on Dec. 2 in which he said that he spoke with Johnson over the phone in mid-November; Becker said then that "Senator Johnson knows that Joe Biden won a free and fair election" but that Johnson believed it would be "political suicide" to oppose Trump's efforts.