RACINE — After several hours of discussion and debate the City Council decided to defer voting on the proposed health care changes for city employees.
More than 100 current and retired city employees listened to a three-hour debate regarding the proposed changes at Tuesday's meeting.
Alderman Mary Land of the 11th District, who made the motion to defer, said she hoped that over the next two weeks, City Hall staff and employee representatives could discuss amendments or alternatives to the proposed changes. Alderman Henry Perez from the 12th District added an amendment that more education be provided to city employees about the changes and their impact on their households.
The motion to defer passed 12-3. Aldermen Jeff Coe, Mollie Jones and Carrie Glenn voted in opposition. The motion was supported by Aldermen John Tate II, Tracey Larrin, Jennifer Levie, Sandy Weidner, Maurice Horton, Q.A. Shakoor II, Trevor Jung, Mary Land, Henry Perez, Natalie Taft, Jason Meekma and Melissa Lemke.
The council is expected to revisit the proposal at its next meeting, scheduled for Monday, Sept. 30.
Tension and frustration
During the public comment segment of the meeting, Justin Koepnick, a Racine Police Department sergeant, and Jose Carbajal from the Racine Firefighers Local 321 union stated they were not included in shaping the health care proposals.
Koepnick and Carbajal stated they had attended city benefits committee meetings on Aug. 5 and Aug. 12 where consultants from the Horton Group discussed the proposed changes. They were asked not to come to a subsequent meeting on Aug. 19.
Several employee and retiree representatives were disappointed that they were unable to provide input on the changes before they were presented to aldermen.
"I spent a lot of time researching (health savings accounts) and health care plans. I had ideas," said Koepnick. "Based on the city's immediate rush to pass this plan without hearing other options I think the council should vote no."
Alderman Maurice Horton of the 7th District stated that he wished more aldermen had been involved in the process. While it took months for consultants and city staff to draft the proposal, Horton stated that he had only become aware of the changes as of the last two weeks.
"I wish we had had these numbers before tonight because this is about people's livelihoods," said Horton. "I wish this had been a town hall so we could talk among ourselves but also so we could listen to the people out there as well."
Instead of a flat denial, the council decided to defer in part due to a presentation from Assistant Finance Director Kathleen Fischer, which went through hypothetical scenarios under the current plans and under the proposed 2020 plan.
Overall, the hypothetical situations showed that people who used little health care and people who have considerable health care needs would overall save money annually under the new plan. The catch would be the timing—if those health care costs accrued before they had a chance to put funds in their health savings accounts, it would create a substantial and immediate out-of-pocket burden.
During the discussion, Alderman Jason Meekma of the 15th District, was not in favor of deferral and defended the plan itself.
"This doesn't seem to be a terrible plan. Is this the best plan? No. Is this going to be the perfect solution for everyone? No. But it's not a terrible plan," Meekma said. "I have a lot of friends that work for the city. I hope at the end of this I don't lose those friends but we were elected to make hard decisions."
Alderman Jeff Coe of the 1st District grew frustrated with some of the feedback he had heard about the plan, particularly from people who wanted to keep their benefits at the cost of other people's jobs.
You have free articles remaining.
Coe, who has been alderman on and off since 2001, recalled when the council in 2005 had to cut 100 city workers.
"That sucked," he said. "Everybody's got to give a little bit here ... I've got people calling me up that are retirees that say, 'This could cost 26 people their jobs — screw them. We were promised this.'"
"Our biggest obligation is to the City of Racine taxpayers. Somehow or other that got forgotten along the way. Their taxes are going up every year," he added. "I have friends that work at the City of Racine and I appreciate what they do, but I'm so (expletive) tired of (hearing), 'Don't mess with my job.' 'Don't mess with me.' 'Screw everybody else.' At some point we have to get our head out of our ..."
At that point Mayor Cory Mason used his gavel and Coe apologized for his outburst.
Details of the plan
One of the biggest points of contention with the new plan is the change to a higher deductible.
Under the current plan in 2019, employees could choose between a couple different health plans.
For a 10% employee contribution plan, in-network deductibles were $400 for an individual or $800 for a family. Under that plan, the individual premium was $74.50 and the family plan was $196 per month.
With the 5% employee contribution plan, the deductible was $2,000 for the individual plan or $4,000 for the family plan. Under that plan, the individual premium was $35.59 per month and the family premium was $93.95.
For 2020, instead of having two options, there would only be one plan, under the proposal going before the City Council Tuesday. Employee contribution would be set at 7.5%, which would be $55 a month for an individual and $145 a month for a family. The in-network deductible would be set at $3,000 for the individual and $6,000 for the family plan. The maximum out-of-pocket costs would be $4,000 for an individual and $8,000 for a family.
After the deductible, the new plan requires a $200 emergency room copay, which would be waived if they're admitted, a $75 urgent care copay, a $49 telemedicine copay, a $30 primary care office visit copay and a $60 specialist office copay. At the City Wellness Clinic, they would have to pay a $4 copay. Any preventative treatment would be covered 100% without a deductible.
Another point of contention is the proposed changes to the prescription medication plan.
The 2019 prescription drug plan split the cost of the drugs so the employee paid 20% until they hit the prescription drug out-of-pocket maximum, which was $3,450 for an individual plan and $7,700 for a family plan.
The new plan lumps prescription drug payments into the overall deductible. Once the deductible is met, the copay is determined by what tier the medicine is set at: Tier 1 is $10, Tier 2 is $35, Tier 3 is $50 and Tier 4 is $150.
For current employees, some of the additional out-of-pocket costs would be mitigated by health savings accounts that would include a contribution from the city at the beginning of the year. But that would not be available to retirees.
For a family plan, employees would receive $1,500 for a health savings account if the employee lives within the city, $1,000 if they do not; an employee with an individual plan would receive $1,000 if the person lives within the city, $750 if they do not.
For retirees, the biggest concern voiced has been over changes to Medicare B reimbursement. The proposal would remove Medicare B reimbursements for spouses and cap Medicare Part B reimbursement for retirees at $135.50 a month.
SOLIDARITY
Marching outside of City Hall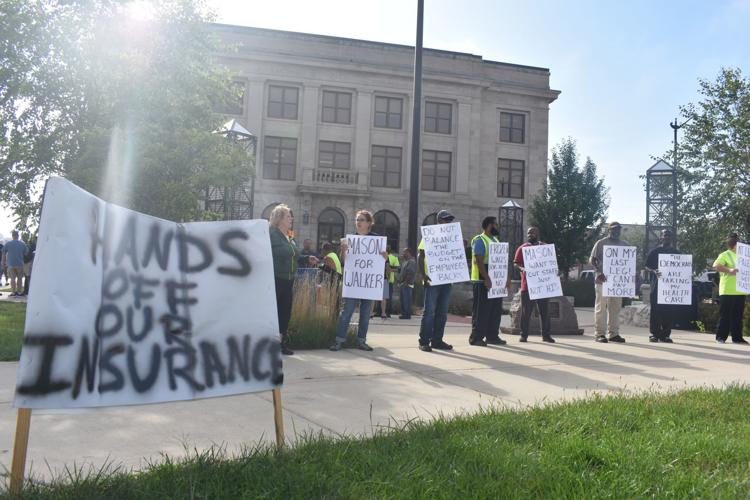 'Cut spending not jobs'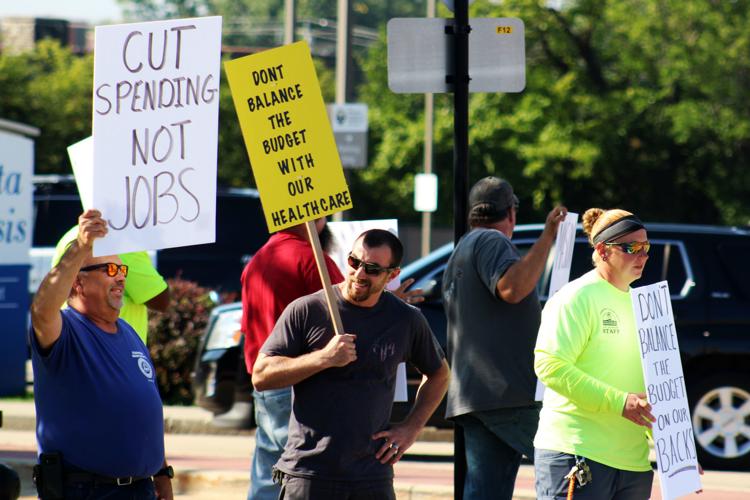 'At least Palenick will get a raise'
'Stop spending save my health care'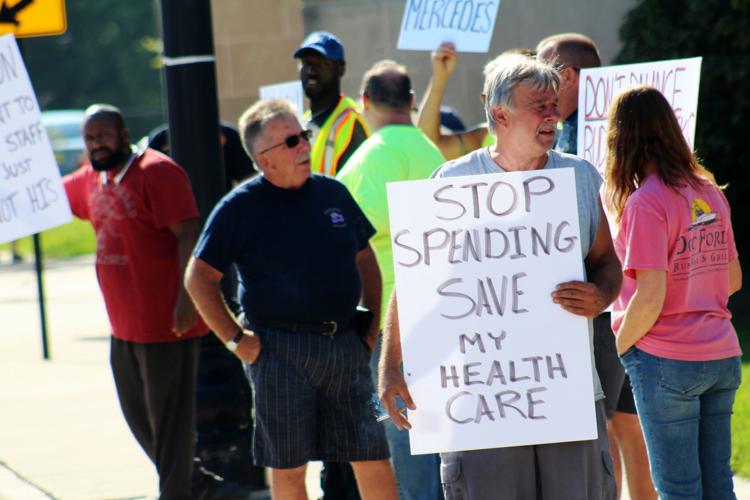 'Frozen wages now no insurance'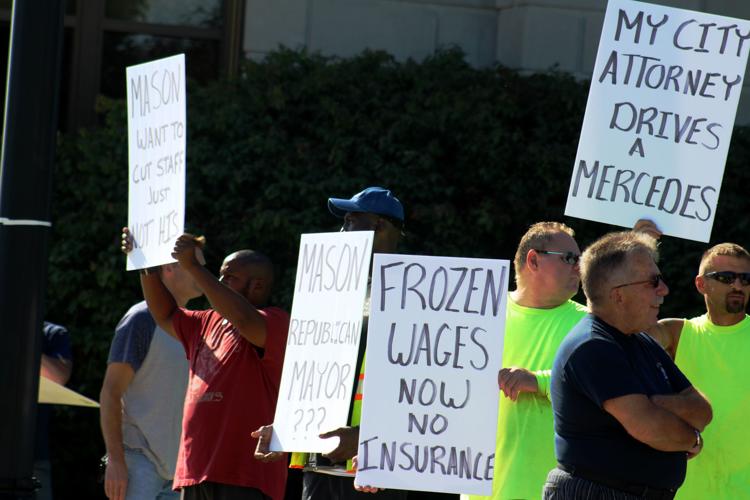 Calling out Mason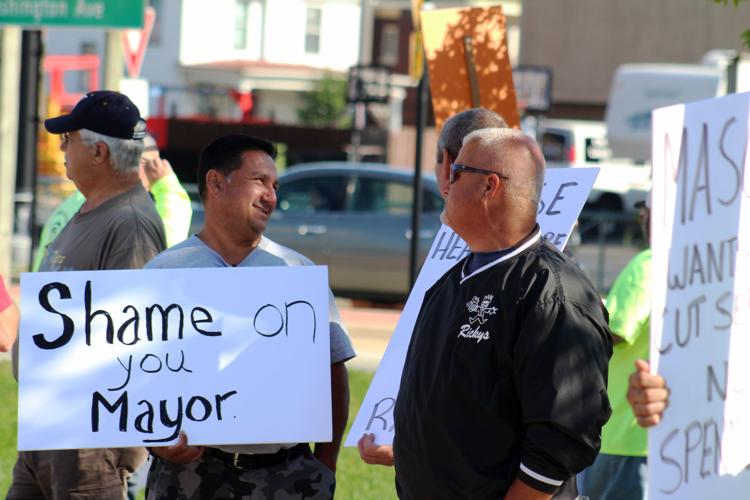 JaJuan Harris Sr.
Joe Burinda, Racine Police officer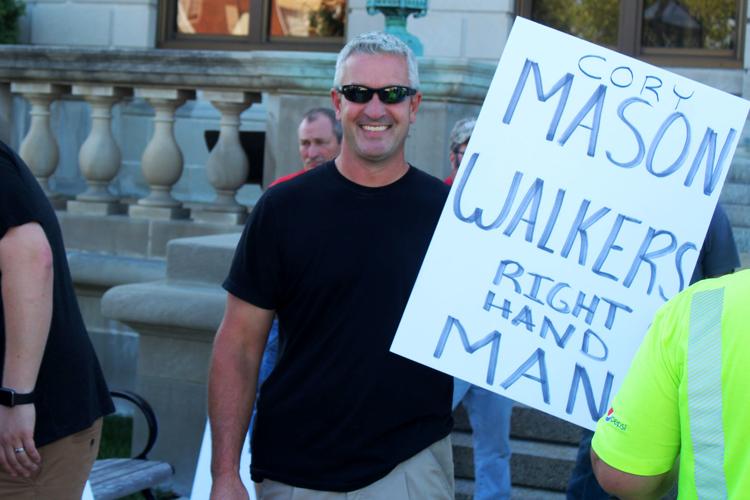 Firefighters show opposition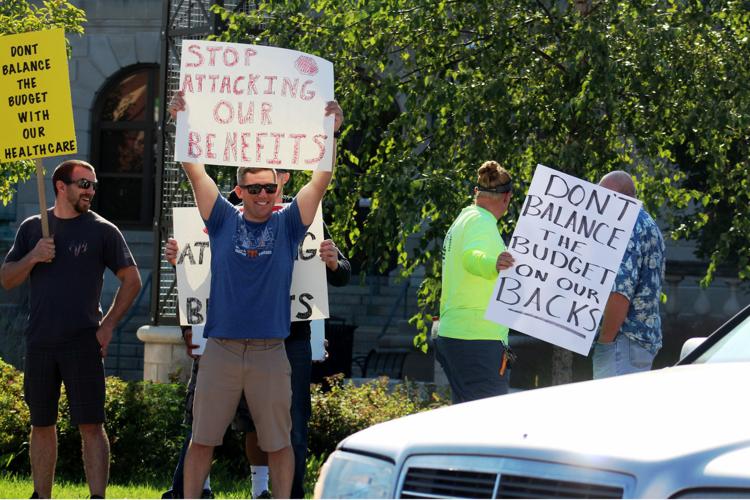 'Stop attacking our benefits'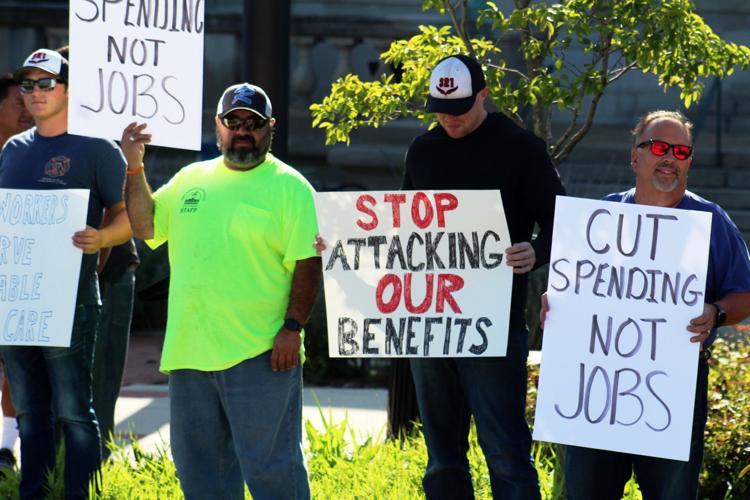 Protesting at the roundabout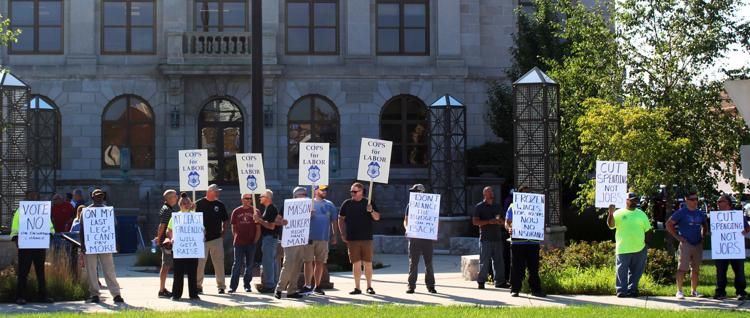 Side by side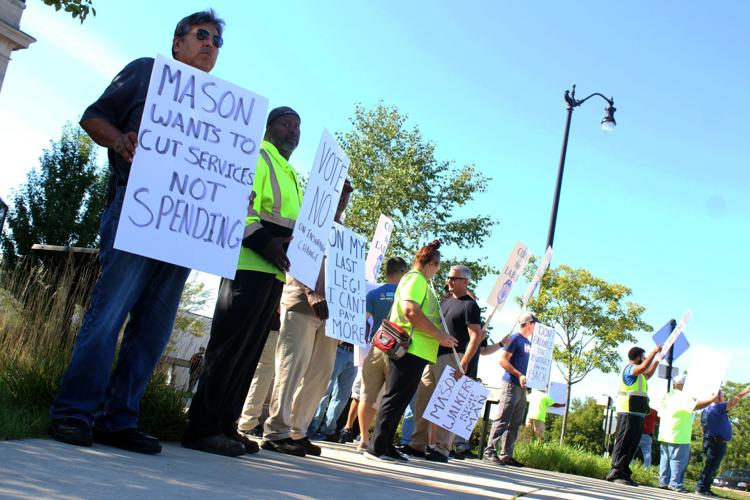 'Mason wants to cut services, not spending'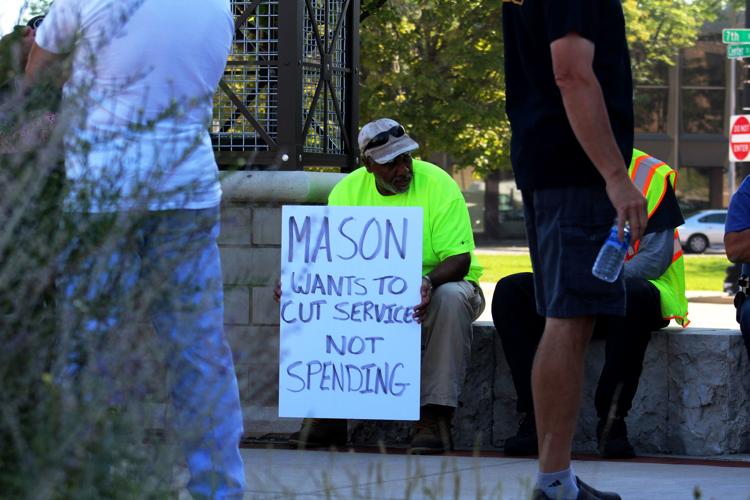 City employees organize on health care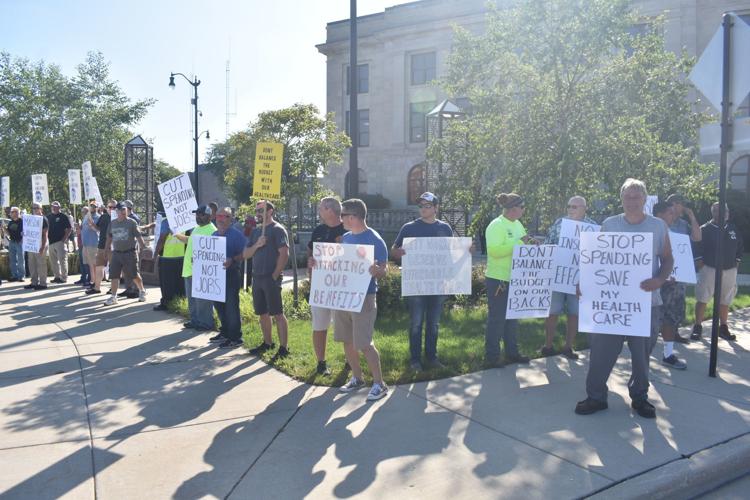 City employees outside City Hall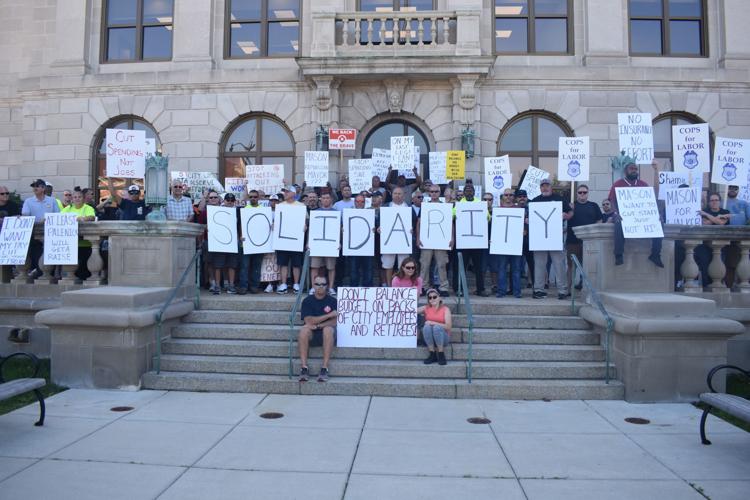 City employees march on health care issues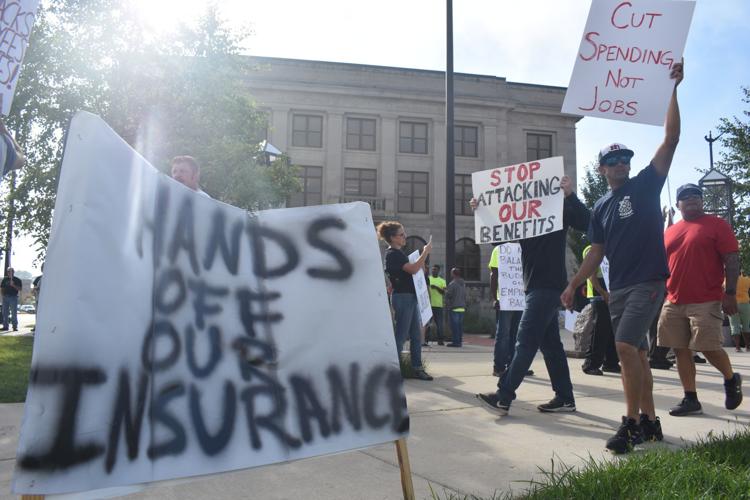 "Our biggest obligation is to the City of Racine taxpayers. Somehow or other that got forgotten along the way. Their taxes are going up every year." Alderman Jeff Coe, 1st District
"Our biggest obligation is to the City of Racine taxpayers. Somehow or other that got forgotten along the way. Their taxes are going up every year." 

Alderman Jeff Coe, 1st District