RACINE — After a recap of the presentation on how communities east of Interstate 94 could collaborate on emergency services and parks and recreation, many of the members of the Racine City Council expressed disappointment.
Two weeks ago, the study was presented to officials from each of the municipalities at the Racine Theatre Guild, 2519 Northwestern Ave., as part of the Resilient Communities event. Since June 2017, the Resilient Communities initiative brought together representatives from communities east of I-94 to start conversations about how they can cooperate.
While several aldermen thanked the Wisconsin Policy Forum for conducting the study, many questioned the study's priorities. A few spoke about its failure to address the biggest elephant in the region — that the area has been named the second-worst place for black people in the United States in term of disparities.
Alderman Jason Meekma of the 14th District was perhaps the most critical of the initiative and the results of the study.
"All I see is a pampering of the suburban communities and making sure they feel comfortable with the direction that we are going in," Meekma said. "While we have to sit here as the City of Racine and continue to — by ourselves — find ways to solve a problem that faces the entire county. That's disappointing."
Challenging the premise
When asked why the study zeroed in on EMS service and parks and recreation, Rob Henken from the Wisconsin Policy Forum said it seemed a good starting point for collaboration. Henken said that the thinking was that if those collaborations had some "wins" they could then expand to the more complicated issues, but he could understand why EMS and parks weren't high on the city's priorities list.
"I'm not going to argue with you if you say, 'Gee, it's hard to think about sharing fire services when yes we have these really pressing problems facing our African American community here,'" Henken said.
Alderman Trevor Jung of the 9th District early in the meeting expressed optimism that the work so far would lead to those harder and more complicated discussions, but he stressed that they need to happen.
"Having our suburban partners be engaged in the discussion around racial inequality in a metro region that was ranked the second-worst place in the country for African Americans is critical for us," Jung said. "I think that this study and engaging in conversation about how communities can work together to better deliver services and the Johnson Foundation bringing leaders together to have these discussions about how we can better work together to improve the quality of life is going to be crucial in terms of making sure we are off that list and a great place to live for everybody."
Others were more skeptical, including Alderman Natalia Taft of the 13th District.
You have free articles remaining.
"My concern is what happens too often is we start where people are comfortable and we never get to where people are uncomfortable," said Taft. "If we don't have racial equity issues and social equity issues at the beginning, at the forefront, then we're just never going to get there. I don't think that it can be stressed enough that that needs to be a priority for the region, not just for the city."
Taft listed several pressing issues the region could collaborate on that could address the area's racial disparities, such as housing, transportation, job training and public health.
"I appreciate all this work and I think there's some potential here but I have some real concerns about priorities," she said.
Meekma pointed out that the idea to consolidate EMS and fire service and parks and recreation, has been around for a long time.
"Those are solutions we already knew were realistic and something we could pursue," said Meekma. "That's not new news that's old news that we're reframing in a new way."
Alderman John Tate II from the 3rd District argued that instead of shying away from discussions about the region's inequities, he would like to think the issue would bring the municipalities together.
"If we're going to find some common ground, probably the easiest way to find common ground is having a significant portion of your population suffering," said Tate. "I would hope that Caledonia, Mount Pleasant and Sturtevant would all think, 'We don't like that we're the second-worst place for African Americans either.' I would think the crisis of being ranked number two would bring those communities together."
Mayor Cory Mason said that during the monthly resilient communities meetings he often brings up inequities and that he and City Administrator Jim Palenick plan to initiate some of the more challenging issues facing the region after the New Year.
Meekma continued to be skeptical.
"We cannot and we will not improve our resiliency until all our communities take responsibility for the greatest problem that we face," Meekma said. "But we're not having those conversations. Instead our ranking … keeps declining and we continue to face other issues in employment and equality and equity that continue to get worse. But by all means let's keep talking about combining our police and fire and park and recs departments."
Panoramic camera
PANORAMIC CAMERA: In 1896, Burlington's Peter Angsten invented a camera with a spring-propelled pivoting lens that captured 180-degree images. The Al-Vista camera was built at Angstens Multiscope and Film Co. in Burlington until 1908, when the Kodak Co. ceased making film for it. Angsten sold his interest in the camera for $3,400, and various forms of the camera have been made since.
Malted milk
MALTED MILK: Everyone knows the Horlick Malted Milk Co. developed the process to dehydrate milk, but did you know what William Horlick's motivation was for the product? No, it wasn't creamy milk shakes. It was to provide a food for babies and sick people that could be shipped without spoiling. The granulated infant food was patented in 1883 and later became the impetus for an entire soda fountain industry.
Automobile
AUTOMOBILE: According to the "Grassroots History of Racine County," the first automobile in the world — that's right, the world — was made in Racine. It was a steam-powered vehicle called The Spark. Dr. James W. Carhart built it and was driving it around the Belle City in 1873.
Carhart was invited to show his creation at a 1908 exhibition of automobiles in Paris, but the car had been dismantled and used for other purposes. At the exhibition, Carhart was addressed as the father of automobiles. The oldest car at the Paris show was 16 years old; Carhart's would have been 35.
The local auto heritage continued with cars made by the Mitchell Co. and the J.I. Case Co.
Blender
BLENDER: Think blender and the names Osterizer and Waring come to mind. While both products were first made here, the inventor was Steven J. Poplawski. In 1922, he came up with the idea of putting a spinning blade at the bottom of a cup to make soda fountain drinks. That idea was turned into a commercial success in the late 1930s by big band leader Fred Waring, who marketed the Waring Blendor, and Racine inventor Frederick Osius.
Universal motor
UNIVERSAL MOTOR: It's hard to imagine, but when electricity was in its infancy, there were battles over what type of current would become the standard in American homes. Racine inventor Chester Beach saw the sparks flying and invented the first motor that ran on both alternating and direct current. With Louis H. Hamilton, Beach developed a fractional horsepower motor that would eventually power just about every kitchen convenience product. Just after the turn of the century, Hamilton Beach's Home Motor was being attached to sewing machines. By 1919, several attachments turned the motor into a grinder, buffer, fan and mixer.
Blenders, sewing machines, mixers, vacuums, toasters and irons are just a few of the products Hamilton Beach made available to the world.

Manual and electric hair clippers
MANUAL & ELECTRIC HAIR CLIPPERS:In the early 1920s, Racine inventors must have been thinking a lot about grooming habits. Hometown entrepreneurs Mathew Andis and John Oster developed a hand-operated hair clipper to touch up the popular bobbed haircuts of the day. Soon barbers everywhere were clipping away with their sartorial device. Andis also developed an electric clipper that remains the industry standard. The Andis Co., 1800 Renaissance Blvd, Sturtevant, still makes clippers today.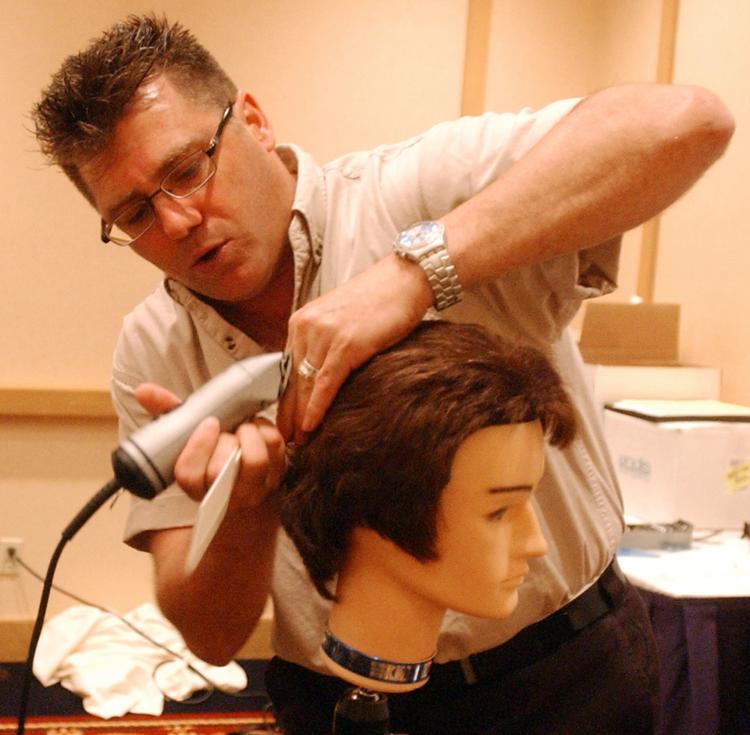 Portable vacuum cleaner
PORTABLE VACUUM CLEANER: Until Frederick Osius came along, vacuum cleaners were monstrous machines built into the basements of large buildings, using hoses to reach into individual rooms. Osius used a small electric motor being developed in Racine to make the first portable vacuum cleaner. He sold his business in 1910 for $300,000 to the McCrumb-Howell Co. and started the Hamilton Beach company. He went on to develop a name brand known around the world for home labor-saving devices. The national vacuum cleaner museum in the Pacific Northwest recognizes Racine as the home of the first easily portable vacuum cleaner.
Lollipop machine
LOLLIPOP MACHINE: When an East Coast candy maker wanted to find a way to put hard candy on a stick in 1908, the Racine Confectioners Machinery Co. answered the call. The local company invented a machine to automate the process of making suckers, fast becoming a favorite candy treat. The machine could make 40 lollypops a minute, and the candy company figured it could produce in a week all the suckers it could sell in a year.
Power mower
POWER MOWER: Albert J. Dremel's name is usually associated with small rotary grinding tools still sold under the Dremel name in Racine. But perhaps more significantly, the local inventor is credited with designing the first lawn mower integrated with a specific gas-powered motor. After designing the first wringer as chief engineer for the Maytag Co. in Iowa, Dremel moved to Racine in 1921 and created his mower.
He sold the concept for the reel-type mower to Jacobsen Manufacturing Co. and the 4-Acre mower was produced. Named because it could mow four acres of grass in a day, the machine sold for $275 and was used mainly on golf courses and large estates. Jacobsen went on to produce the first mower for the masses in 1939. Homeowners could buy the Lawn Queen for $87.50.
Garbage disposer
From his basement workshop, local architect John W. Hammes built his wife the worlds first kitchen garbage disposer in 1927. After spending 10 years perfecting his device, Hammes sold 52 handbuilt disposers during his first year of business in the late 1930s. From his invention grew the In-Sink-Erator Manufacturing Co. Half of the homes in America have a garbage disposer. Half of those disposers are In-Sink-Erators.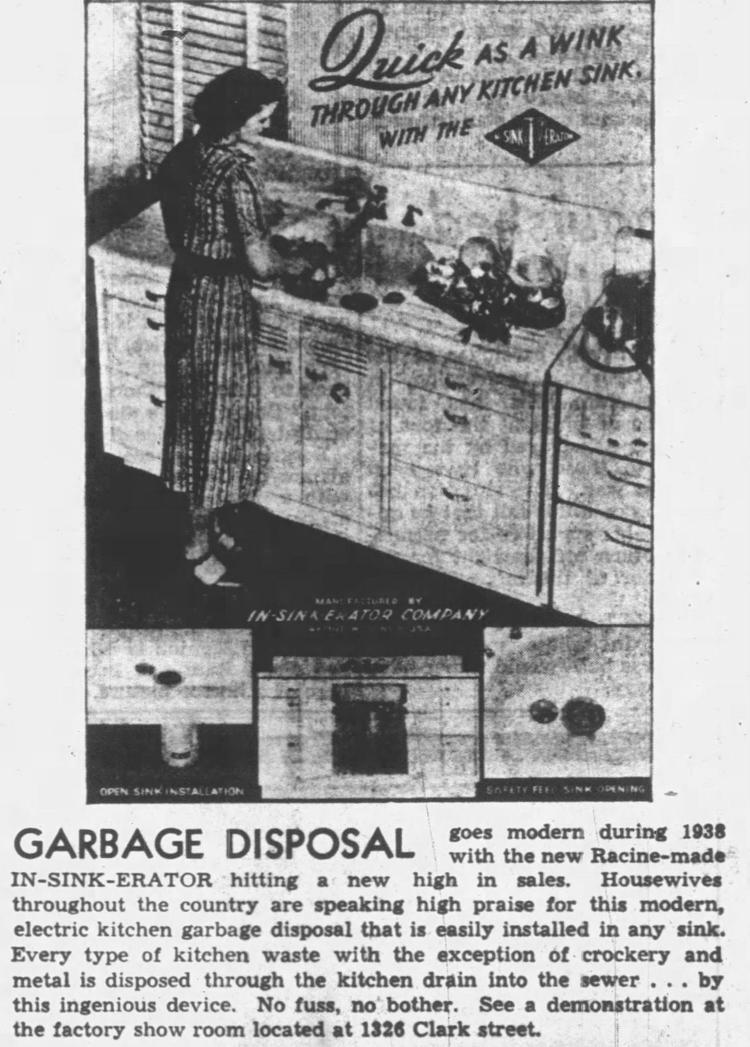 "All I see is a pampering of the suburban communities and making sure they feel comfortable with the direction that we are going in. While we have to sit here as the City of Racine and continue to — by ourselves — find ways to solve a problem that faces the entire county. That's disappointing." Jason Meekma, Racine alderman
"All I see is a pampering of the suburban communities and making sure they feel comfortable with the direction that we are going in. While we have to sit here as the City of Racine and continue to — by ourselves — find ways to solve a problem that faces the entire county. That's disappointing."

Jason Meekma, Racine alderman