MADISON — Republicans who control the Wisconsin Legislature unveiled a COVID-19 relief bill on Monday, the first day of the session, that Assembly Speaker Robin Vos said lawmakers will pass later in the week.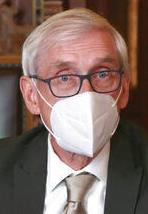 The development came after Democratic Gov. Tony Evers called on lawmakers to pass his coronavirus proposal before taking up any other legislation. What was included in the Republican bill, which Vos said had 44 provisions, was not immediately available Monday afternoon.
Republicans and Evers have been unable to agree on a COVID-19 bill. But Evers urged fast action.
Majority Republicans have shown little interest in accepting the Evers COVID-19 proposal, which he first floated two weeks ago and said includes only items that Republicans have agreed to. The Legislature has not voted on anything since April, when it passed the first COVID-19 response package early in the pandemic.
"It would be inexplicable after more than 260 days of inaction for any other issue or topic to be taken up by the legislature prior to passing a bill to address COVID-19," Evers wrote.
The bill Evers proposed made some concessions to Republicans, like extending hours at the state's unemployment call center, as well as measures the GOP opposes such as continuing the suspension of a one-week waiting period for unemployment benefits that began in July. Evers in November originally proposed a $541 million plan, which Republicans rejected as too costly.
The Evers proposal also does not include dozens of ideas put forward by Assembly Republicans that Democrats oppose, including cutting aid to schools that don't return to in-person classes. Democrats on Monday put forward their own measure, which includes everything in the Evers bill and more that Republicans oppose, like accepting the federal Medicaid expansion money and paid sick leave and hazard pay for health care workers.
Rep. Tip McGuire, D-Kenosha, whose district includes part of southeastern Racine County; and Greta Neubauer, D-Racine; both issued statements in favor of the Democrats' bill.
"The Wisconsin Legislature has been one of the least active state legislatures in addressing the global COVID-19 pandemic, but today, on the first day of the new legislative session, we have an opportunity for a fresh start: to take action on the most important issue facing our state, and protect the health, safety, and economic security of the people of Wisconsin," McGuire said in a statement before Vos announced Republicans would come forward with their own bill.
Neubauer said: "It is long past time for additional COVID-19 relief in our state. Wisconsinites have waited for action since April 2020, when the legislature last met to address this issue. This COVID Response Plan continues the work of helping workers, families, and local businesses in every corner of Wisconsin, so all of us can weather this storm."
Republicans have a 60-38 majority in the Assembly and a 20-12 advantage in the Senate. As such, if Republicans vote united, how Democrats in Madison vote will be irrelevant unless supermajorities are needed.
Masks not required
The new session kicked off Monday with Assembly Democrats skipping a swearing-in ceremony, citing the lack of a mask mandate for those on the Assembly floor. They were sworn in last week virtually. Republican lawmakers wore masks Monday, and stood at a distance, as they were sworn in by a mask-wearing Wisconsin Supreme Court Chief Justice Patience Roggensack.
However, they briefly took off their masks when posing for pictures while they each individually signed a book at the front of the chamber signifying the start of their terms. A few others were seen with masks off during a moment of silence honoring the 4,884 Wisconsinites who lost their lives to COVID-19. Those who spoke on microphone, including Speaker Robin Vos, removed their masks when talking.
Assembly Democrats are pushing Republicans for a mask mandate in the chamber and hearing rooms, as well as to allow for virtual participation in committee hearings and floor sessions when bills are debated and voted on.
"We shouldn't have to sacrifice our health and the health of our loved ones to do our jobs when we have alternatives available," Democratic Minority Leader Gordon Hintz said at a news conference.
If they must be present to vote on bills, Democrats will attend but will not be making "20-minute speeches" or being together any longer than necessary, said Rep. Mark Sprietzer, the caucus chairman.
In the Senate, most Republicans went without masks during Monday's swearing in ceremony while Democrats wore them. Some Democrats were present in the chamber while others connected remotely. No decision had been made about whether senators will be able to participate virtually going forward.
"Anybody in this body who is not wearing a mask does not care about my father" who is susceptible to serious complications from the virus, said Sen. Lena Taylor, D-Milwaukee.
The number of active positive COVID-19 cases in Wisconsin peaked in mid-November and has been declining since, but the seven-day average has been slowly increasing over the past week. To date, nearly 488,000 Wisconsin residents have tested positive and 4,884 have died.(tncms-asset)abffae14-4d2f-11eb-8c7f-00163ec2aa77[2](/tncms-asset)
249 people in Racine County lost their lives after catching COVID in 2020. Here are some of their stories
Beloved mothers. A barber who ran his shop like Floyd Lawson on "The Andy Griffith Show." A nurse/Marine/cop. A fisherman who "wasn't ready to go." Racine County lost nearly 250 people to COVID-19 last year. Here are some of their stories.
By the numbers
According to official data, Wisconsin reported 481,102 positive cases of COVID-19 in 2020. Since the first deaths were reported March 19, 4,859 deaths were attributed to COVID-19 in Wisconsin. In Racine County, 249 deaths were attributed to COVID-19 in 2020, with 17,628 confirmed cases; 90 of those deaths and 7,055 of the cases were reported in the City of Racine. Nationwide, more than 345,000 American deaths were attributed to COVID-19, with approximately 20 million testing positive throughout the year. As many as 1 in 5 of those who tested positive reported lingering symptoms, according to the World Health Organization. In December, 77,000 Americans died from COVID-19, an average of 2,483 per day, with more than 3,000 deaths being reported in one day several times; for perspective, there were 2,977 victims of the 9/11 attacks.