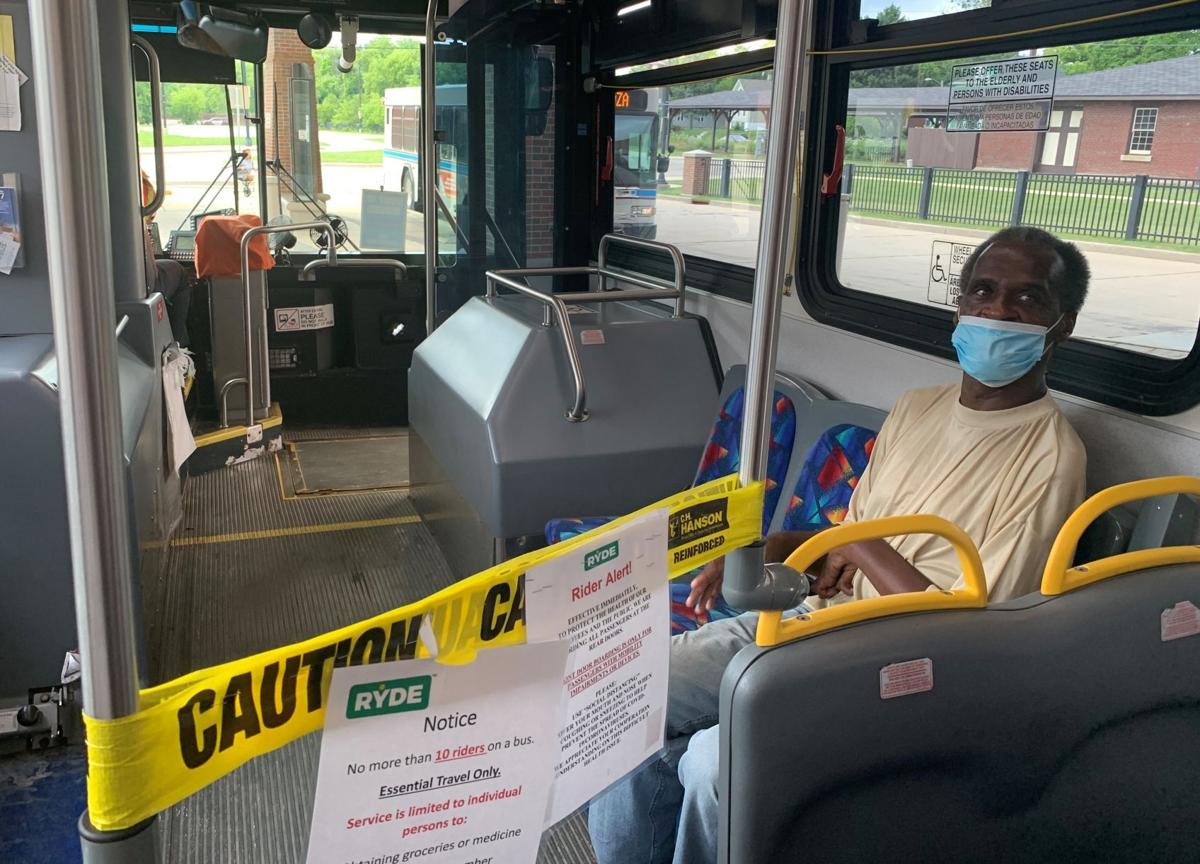 RACINE — Starting at 8 a.m. today, the City of Racine's ordinance requiring face coverings to be worn in public indoor and outdoor settings where social distancing is not possible is in effect.
Last week, the ordinance was introduced to the Executive Committee which sent it to the City Council that same evening. The City Council voted 8-7 to approve, with John Tate II, Jen Levie, Marcus West, Trevor Jung, Mary Land, Natalia Taft, Jason Meekma and Melissa Lemke voting in support and Jeff Coe, Mollie Jones, Edwin Santiago, Jeffrey Peterson, Maurice Horton, Carrie Glenn and Henry Perez voting in opposition.
The ordinance is scheduled to sunset on Dec. 31 unless discontinued or extended by the council. Tate, during the discussion, proposed setting a mid-point for Dottie-Kay Bowersox, the city's public health administrator, to give the council an update on COVID-19 cases in the city and for the council to re-evaluate the ordinance. The council agreed; that meeting is set for Oct. 20.
What, where, when
A face covering is defined as a "multilayer piece of cloth, fabric or other material that securely covers a person's nose and mouth and remains affixed in place without the use of one's hands." Some of the acceptable types of coverings listed are medical or cloth masks, bandannas and scarves as long as the nose and mouth are securely covered.
Racine Health Department Administrator Dottie-Kay Bowersox told The Journal Times that a shield would not count as a face covering because it offers eye protection but not respiratory protection.
The ordinance only applies to public spaces, both indoor and outdoor, that are open to either customers or public visitors. Private residences, private offices or workspaces do not fall under the ordinance.
During the City Council discussion, City Attorney Scott Letteney gave the example that when he is alone in his office, he would not need to wear a mask. The same could be said of people who are at their desks or workspaces that at are at least 6 feet from others.
However, if that person were to leave their desk or office and pass through shared spaces, such as hallways, cafeterias, or if they were to pass within 6 feet of another person's workspace, they would need to put on a mask. Employees who are not able to maintain 6 feet of distance at their desks or workspaces would need to wear a face covering.
Patrons at bars and restaurants would be exempt if they were in the midst of eating or drinking, though they must maintain a distance of 6 feet between themselves and anyone not from their household.
The ordinance also states an exemption for county and state-owned facilities that are closed to the public. Letteney explained to the council that that was because those facilities do not fall under city ordinance. On Thursday, County Executive Jonathon Delagrave instituted an immediate order that everyone in a county building must wear a mask.
With outdoor spaces, such as sidewalks, parks and beaches, it would depend on how many people are in the same area. If there's enough space that your household is able to stay 6 feet away from others, no masks are needed. If it's too crowded, face coverings would be required.
Individuals charged with violating the order would receive a municipal fine with a forfeiture of $25 for the first conviction, $50 for the second and $100 for any subsequent convictions.
Business owners or operators found in violation could be fined anywhere from $50 to $500 and could face revocation of their business license.
Exceptions
The ordinance includes a long list of reasons and individual could be excused from wearing a mask, including:
Children under the age of 4.
People whom the Centers for Disease Control and Prevention guidance says don't need to wear mask because of "a medical condition, mental health condition, developmental disability, or are otherwise covered under the Americans with Disabilities Act" and those who have chronic upper-respiratory conditions.
People who are hearing impaired and those who communicate with someone else who is hearing impaired "where the ability to view a person's mouth is essential for communication."
Those "whose religious beliefs prevent them from wearing a face covering."
Persons for whom wearing a face covering would create a risk to the person related to their work, as determined by workforce safety guidelines and regulations.
Persons obtaining a service related to the nose, mouth or face where temporary removal is necessary.
When law enforcement deems it necessary to verify a person's identity.
While exclusively with members of your family or household.
Where to get a mask
Starting today, both the Racine Police Department and Racine Fire Department will have masks available for the public.
The Racine Police Department will have masks available on Monday at five of the Community Oriented Policing houses from 8 a.m. to 11 a.m. and from 4 p.m. to 7 p.m. Officers and volunteers will meet residents and neighbors to provide community members and their families with masks.
Masks are available while supplies last. The COP houses are located at:
1750 Mead St.
1522 West Sixth St.
1140 Geneva St.
1900 16th St.
2437 Anthony Lane
The Racine Fire Department also will make masks available every weekday, Monday through Friday, until further notice and while supplies last from 5 p.m. to 8 p.m. at each of the city's fire stations. They are located at:
810 Eighth St.
2430 Northwestern Ave.
1107 Lombard Ave.
3829 Washington Ave.
2430 Blaine Ave.
2101 16th St.
For residents looking to purchase masks, the city has identified the following businesses which sell face coverings: Walgreens, CVS Pharmacy, Hometown Pharmacy, Lakeview Pharmacy, Save-A-Lot, Pick 'n Save, Piggly Wiggly, Dollar General, Dollar Tree, Walmart, Ross Dress for Less, Target, Kohl's, TJ Maxx, Menards, Home Depot, Harbor Freight, Lee's True Value, Kortendick Ace Hardware, and Douglas Hardware & Rental.
Additionally, the Downtown Racine Corp. has identified the following local businesses that sell masks: Northern Light Gallery, Cosmic Corner, Twin Dragon Games, RG Natural Babies, Lornacopia, Dimples Fine Imports, Racine Zoo Store, Uncorkt, Lakeview Pharmacy, Plush, Lighthouse Gallery and Gifts, SheaBrojaes Natural Expressions, and Root City 262.
Concerned about COVID-19?
Sign up now to get the most recent coronavirus headlines and other important local and national news sent to your email inbox daily.