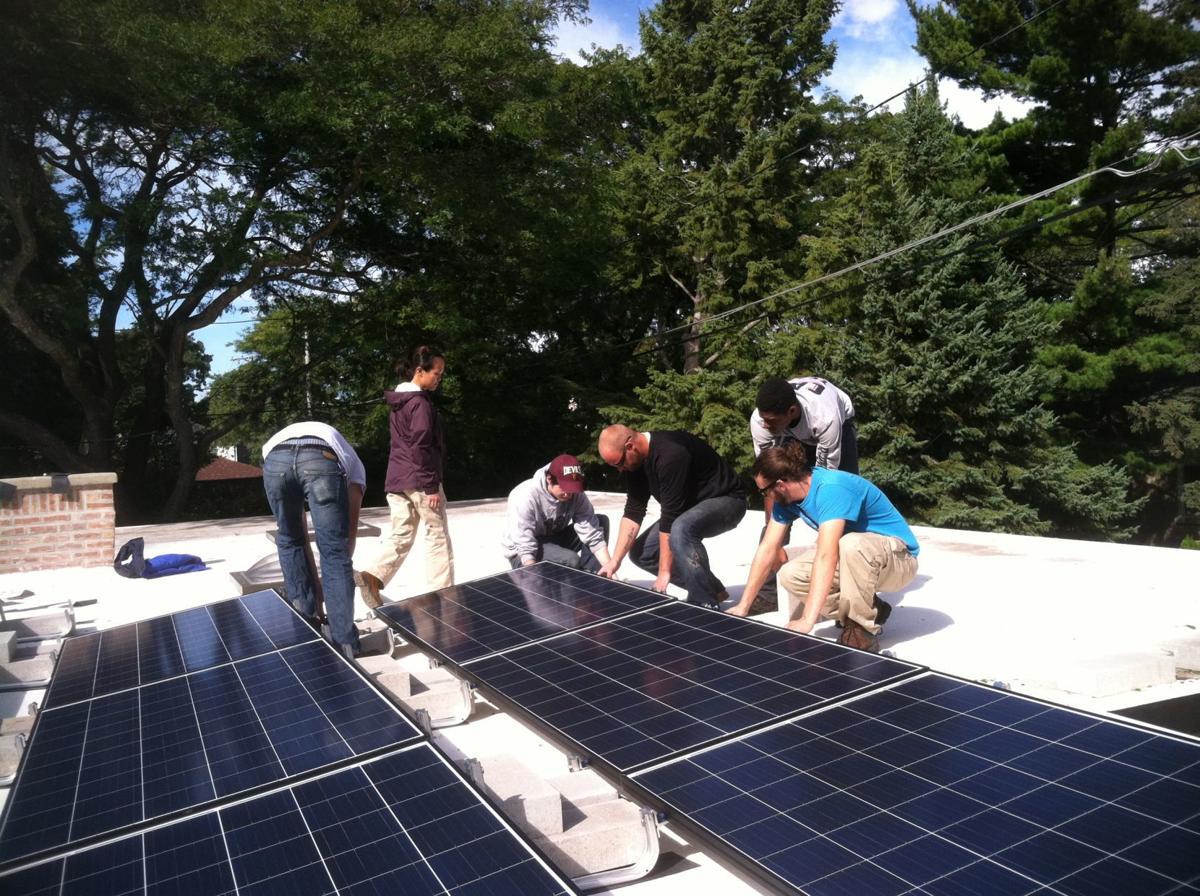 RACINE — The City of Racine is in the process of making its ordinances more friendly to solar energy.
The city is working with SolSmart, a national program that works pro bono with communities to cut red tape and streamline solar applications, so they will be "open for solar business." SolSmart's experts evaluate a community based on its:
Permitting
Planning, zoning and development regulations
Inspection
Construction codes
Solar rights
Utility engagement
Community engagement
Market development and finance.
Communities are awarded, in sequence, bronze, silver or gold status in recognition of how solar-friendly their ordinances are.
Getting smart about solar
Mayor Cory Mason first committed the city to reaching bronze status in January. At Wednesday's City Plan Commission meeting, Cara Pratt, the city's sustainability and conservation coordinator, gave the commissioners an update on the process in preparation for when she and SolSmart are ready to present a set of ordinance and zoning changes.
SolSmart's team has evaluated the city's ordinances and zoning codes and compiled a preliminary list of proposed changes.
Pratt said that over the next few months, she will coordinate with the City Development Department to work through ordinances and zoning for residential, business and industrial solar projects, as well as details for how solar panels would be regulated in particular cases — such as in historic districts. SolSmart also recommends adding references to solar farms and working through how those would be regulated as well.
Matthew Sadowski of the City Development Department said that while the city's codes may not explicitly mention solar, the city has recently processed about 16 applications for permits and is generally "very receptive" to solar projects.
"Solar is anticipated, encouraged and allowed," Sadowski told the commission.
Alderman Trevor Jung of the 9th District said the move is in line with the City Council's decision to sign on to the Paris Climate Accord in April 2018.
"We were committing to reducing our CO2 levels and using renewable resources to have energy for our community, so I'm excited to see that we're taking next steps to ensure we're honoring the goals of the Paris Climate Accord," said Jung.
The Plan Commission recommended city staff continue to work with SolSmart.
Other developments, challenges
In Kenosha County, a developer has submitted an engineering plan for a 200-megawatt solar farm with a 50-megawatt battery component, which is larger than any battery currently deployed on the grid. The proposed site would encompass 1,400 acres in the Town of Paris near the Racine County line.
But whether solar spreads throughout the City of Racine and Racine County is not solely based on municipal ordinances.
We Energies, along with the state's two other largest electric providers — Madison Gas & Electric and Alliant Energy, has successfully pushed for utility-controlled rooftop solar.
Last year the Wisconsin Public Service Commission allowed We Energies to install solar panels on customer rooftops in exchange for a monthly payment. At the same time, the utility has fought ratepayer-owned solar.
"We were committing to reducing our CO2 levels and using renewable resources to have energy for our community, so I'm excited to see that we're taking next steps to ensure we're honoring the goals of the Paris Climate Accord." Racine Alderman Trevor Jung
"We were committing to reducing our CO2 levels and using renewable resources to have energy for our community, so I'm excited to see that we're taking next steps to ensure we're honoring the goals of the Paris Climate Accord."

Racine Alderman Trevor Jung