RACINE — JaJuan Harris Sr. said he supported Cory Mason in Racine's last mayoral election, even encouraging others to vote for him, because he felt Mason "would look out for the little guy."
Now Harris, who has worked for the Department of Public Works for almost six years, says his faith in the mayor has been shaken.
Harris was one of about 100 city employees — a show of solidarity between firefighters, garbage collectors from the Department of Public Works, Parks and Recreation employees, office staff, police officers, and others — who protested a proposed change to city employees' health care plans Monday evening outside City Hall.
The proposed change is to go before the City Council during tonight's 7 p.m. meeting at City Hall, 730 Washington Ave., Room 205. 
Rock, hard place
It's no question that the city is strapped for cash, having sought out ways to trim budgeted spending over the past decade to keep passing budgets as Racine's population has dwindled.
But this proposed health care change has led to the loudest protests. And Mason himself is bearing the brunt of the criticism.
One sign held by a protester said: "Don't balance the budget with our health care."
Signs held by protesters — who stood and marched around City Hall from 3:30 until after 5 p.m. while drawing honks of approval from passing motorists — called into question Mason's allegiances.
They questioned why Mason, a Democrat, would consider making this change, considering his opposition to then-Republican Gov. Scott Walker's controversial Act 10, which took power away from unions, when Mason represented Racine in the state Legislature.
Some of the signs read: "Mason: Walker's right hand man," "Mason wants to cut services, not spending," and "Mason lied."
All other options worse
In a commentary Mason sent to The Journal Times, he said "all of the other options are worse."
"As you know, Racine is at a crossroads: for the first time in decades, we have incredible opportunities that we are all working diligently to seize, but we also have significant challenges that require tough decisions," Mason wrote.
"With a total operating budget of about $84 million, finding an additional $5 million to fill that hole is not an easy proposition. Choices made by previous City Administrations and by the state Legislature have left municipalities like Racine with very few options. The revenue we receive from the state is and has been flat. State-imposed levy limits mean we cannot raise property taxes even if we wanted to – which we do not."
Mason referenced cuts to city staffing that have occurred over the past decade, many of them a result of the Great Recession. Harris told The Journal Times he doesn't want to see staffing get cut, but he's afraid of the cost of higher health care premiums too.
The protesters plan to make their voices heard and signs seen before Tuesday's meeting, with another protest scheduled for 6:30 p.m. before the City Council convenes.
Details of the plan
One of the biggest points of contention with the new plan is the change to a higher deductible.
You have free articles remaining.
Under the current plan in 2019, employees could choose between a couple different health plans.
For a 10% employee contribution plan, in-network deductibles were $400 for an individual or $800 for a family. Under that plan, the individual premium was $74.50 and the family plan was $196 per month.
With the 5% employee contribution plan, the deductible was $2,000 for the individual plan or $4,000 for the family plan. Under that plan, the individual premium was $35.59 per month and the family premium was $93.95.
For 2020, instead of having two options, there would only be one plan, under the proposal going before the City Council Tuesday. Employee contribution would be set at 7.5%, which would be $55 a month for an individual and $145 a month for a family. The in-network deductible would be set at $3,000 for the individual and $6,000 for the family plan.
After the deductible, the new plan requires a $200 emergency room copay, which would be waived if they're admitted, a $75 urgent care copay, a $49 telemedicine copay, a $30 primary care office visit copay and a $60 specialist office copay. At the City Wellness Clinic, they would have to pay a $4 copay. Any preventative treatment would be covered 100% without a deductible.
Another point of contention is the proposed changes to the prescription medication plan — this is what Stafford was most worried about.
The 2019 prescription drug plan split the cost of the drugs so the employee paid 20% until they hit the prescription drug out-of-pocket maximum, which was $3,450 for an individual plan and $7,700 for a family plan.
The new plan lumps prescription drug payments into the overall deductible. Once the deductible is met, the copay is determined by what tier the medicine is set at: Tier 1 is $10, Tier 2 is $35, Tier 3 is $50 and Tier 4 is $150.
With the proposed new deductible of $6,000, Stafford said she would hit the deductible after six months of paying for her husband's medications alone.
For current employees, some of the additional out-of-pocket costs would be mitigated by health savings accounts that would include a contribution from the city at the beginning of the year. But that would not be available to retirees.
For a family plan, employees would receive $1,500 for a health savings account if the employee lives within the city, $1,000 if they do not; an employee with an individual plan would receive $1,000 if the person lives within the city, $750 if they do not.
For retirees, the biggest concern voiced has been over changes to Medicare B reimbursement. The proposal would remove Medicare B reimbursements for spouses and cap Medicare Part B reimbursement for retirees at $135.50 a month.
Remaining questions
During last week's Finance and Personnel Committee meeting, Alderman Sandy Weidner of the 6th District gave several questions that she wanted answered before the City Council voted on the proposed changes.
One was about the breakdown of city employees by salary. According to the city, out of the 665 employees budgeted for in 2020, 12 earn less than $45,000, 624 earn between $45,000 and $100,000 and 29 earn more than $100,000.
Whether employees could move back to their pre-Dettman pay and keep the same health insurance.
What other options could the council consider for the health care plan?
If the council decided not to move forward with the proposed changes, how many employees would need to be laid off? And how would that be handled?
Regarding Weidner's last question, City spokesperson Shannon Powell said that decision would need to be made by the council.
SOLIDARITY
Marching outside of City Hall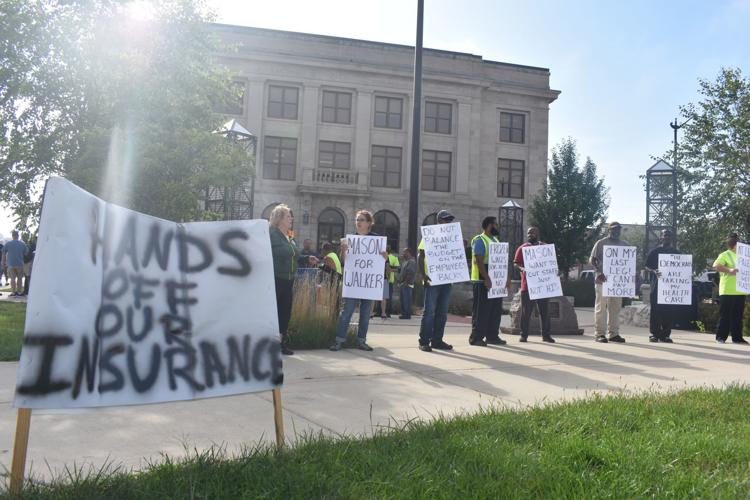 'Cut spending not jobs'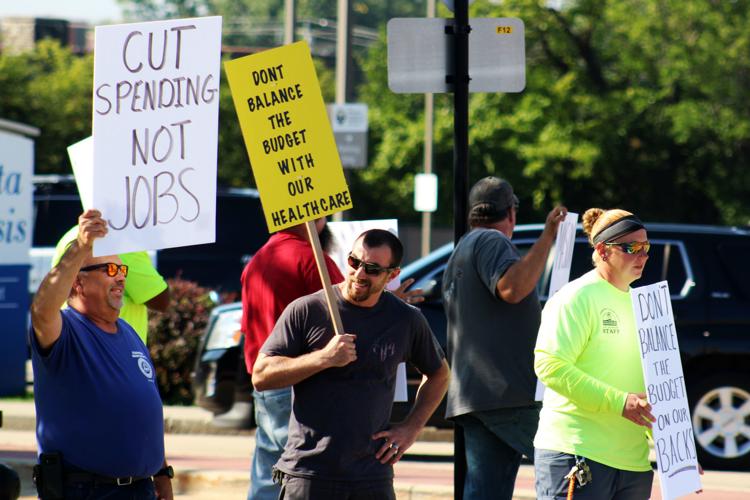 'At least Palenick will get a raise'
'Stop spending save my health care'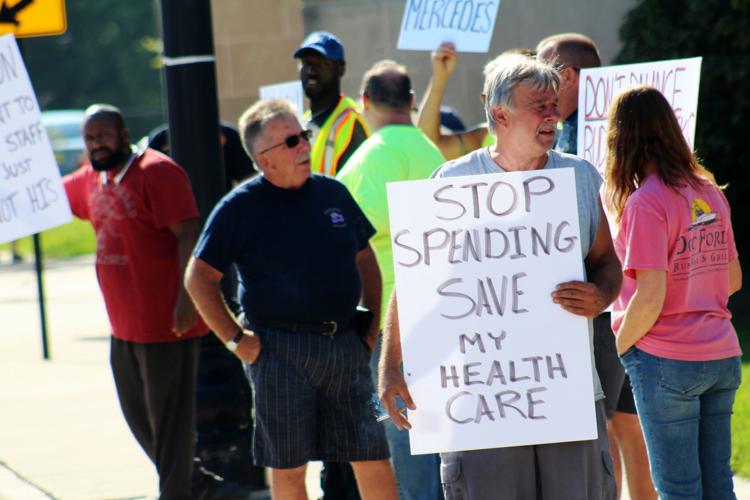 'Frozen wages now no insurance'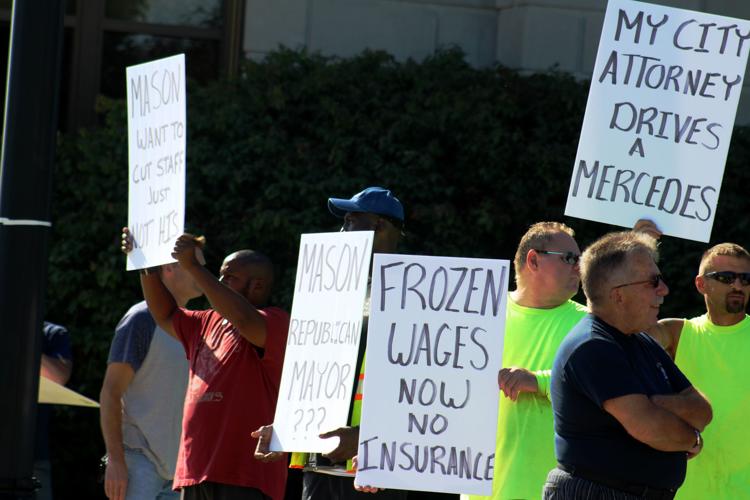 Calling out Mason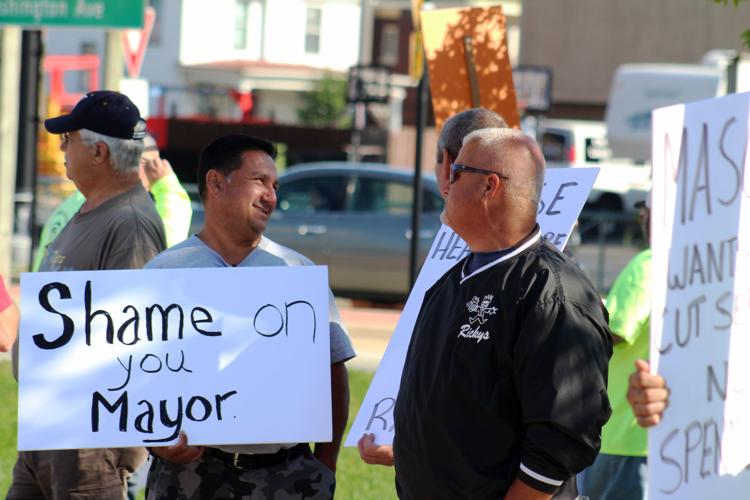 JaJuan Harris Sr.
Joe Burinda, Racine Police officer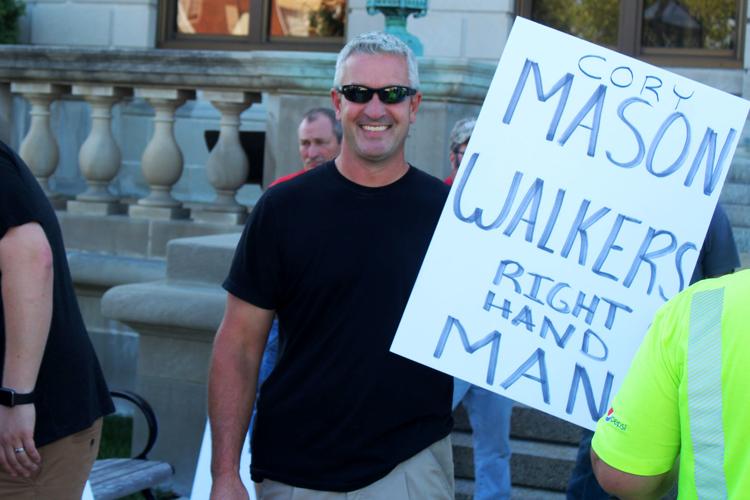 Firefighters show opposition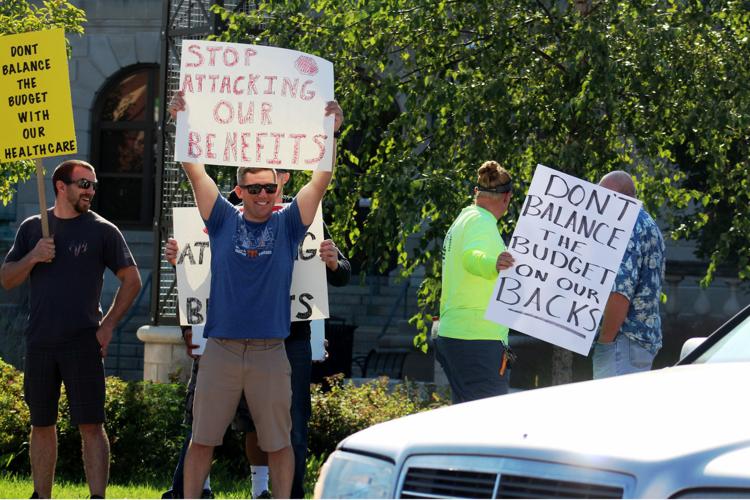 'Stop attacking our benefits'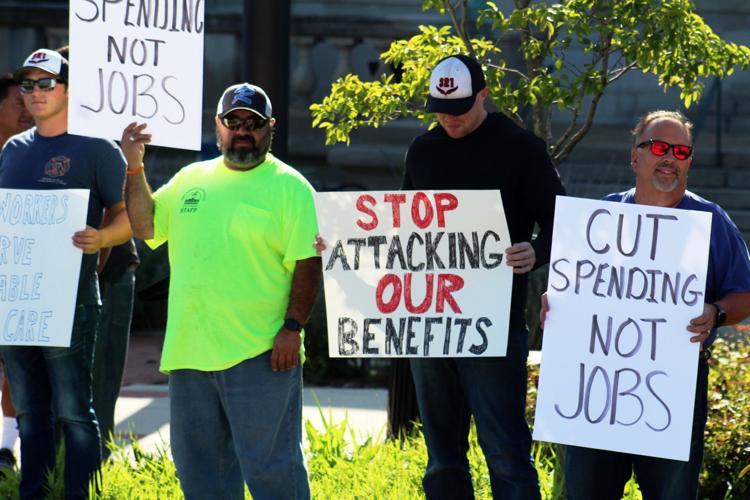 Protesting at the roundabout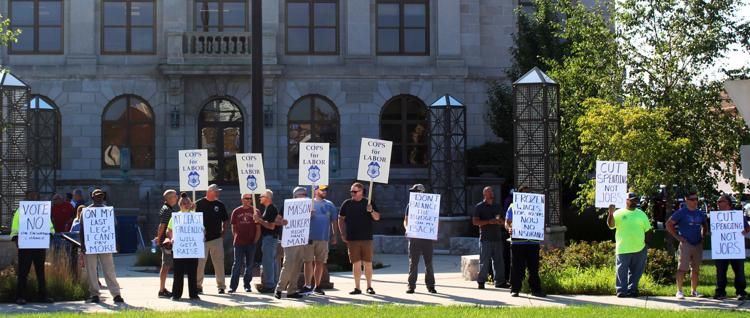 Side by side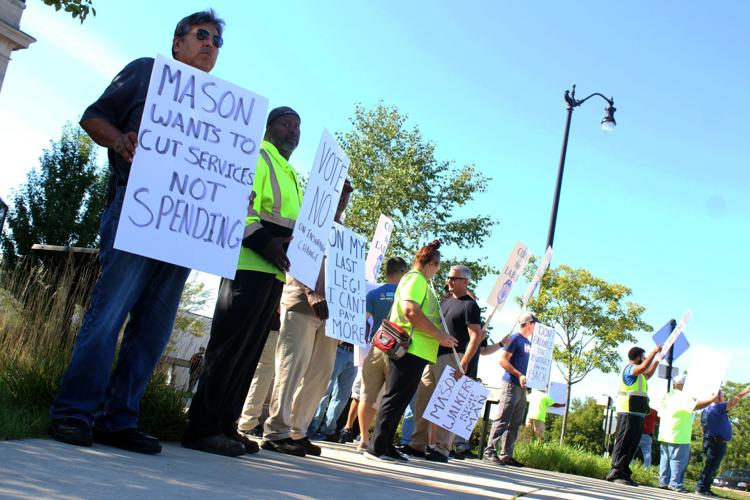 'Mason wants to cut services, not spending'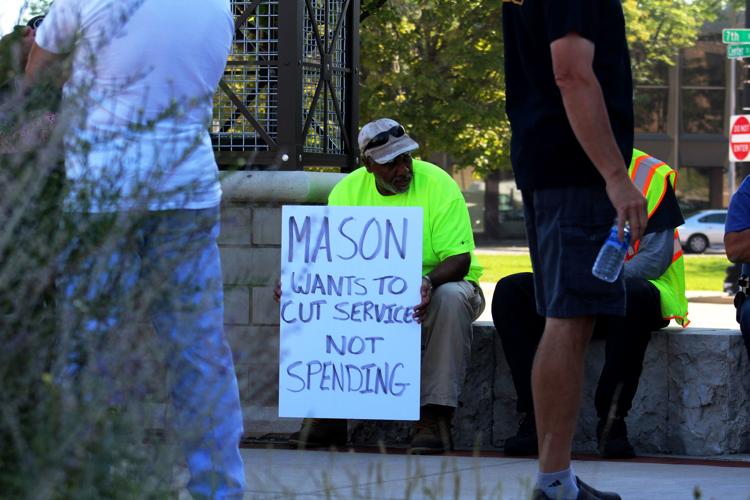 City employees organize on health care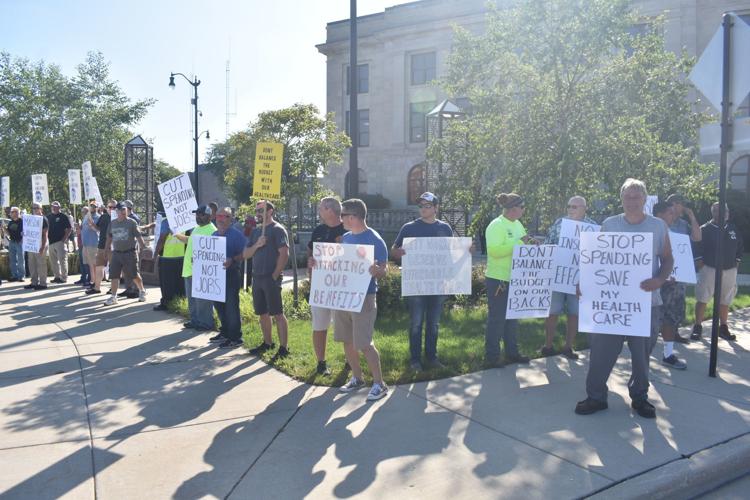 City employees outside City Hall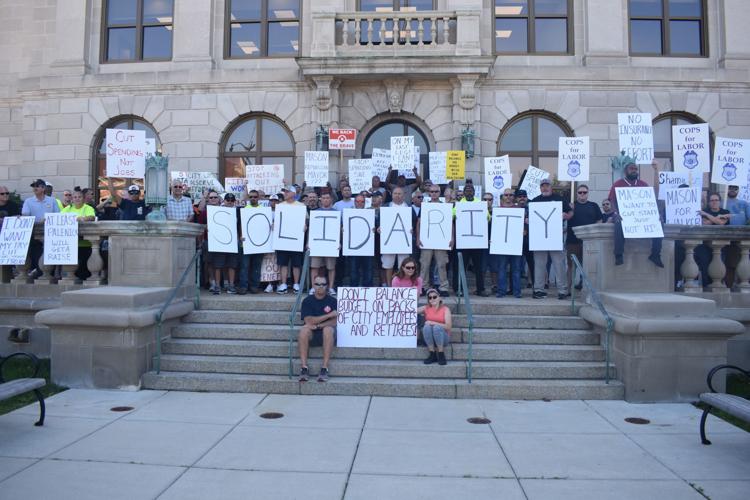 City employees march on health care issues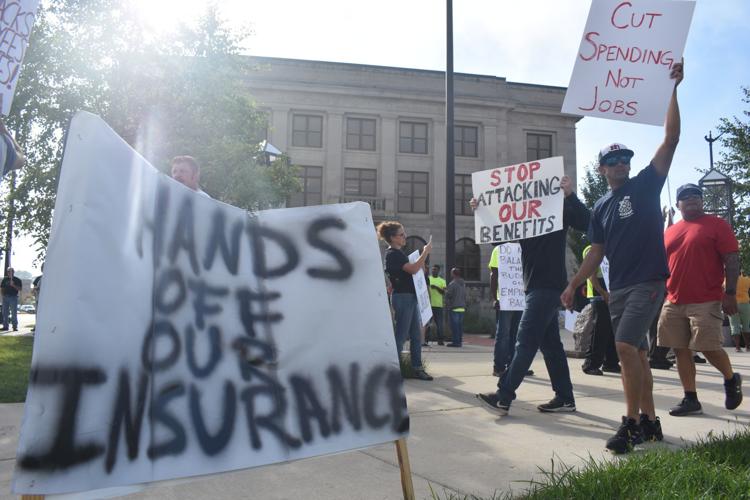 Ricardo Torres contributed to this report.