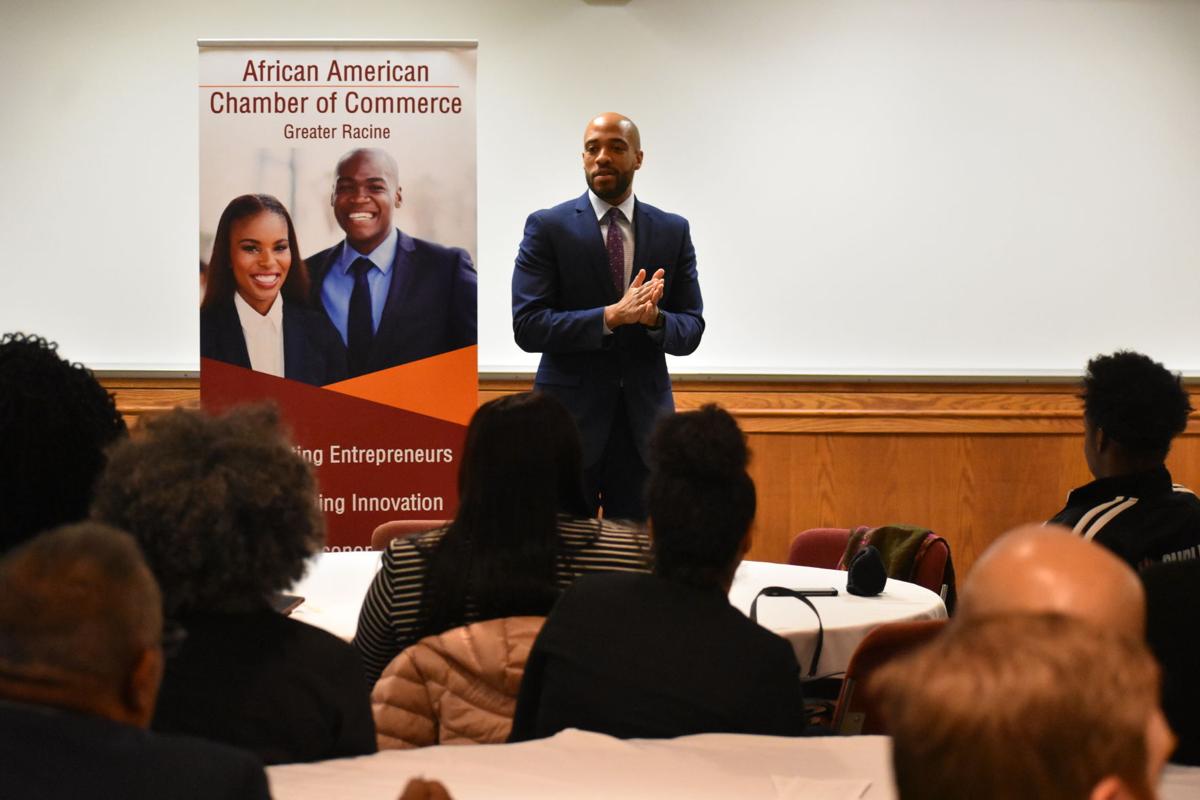 RACINE — Lt. Gov. Mandela Barnes, one of seven Democrats aiming to take the seat Oshkosh Republican Ron Johnson currently holds in the U.S. Senate, announced 13 endorsements he has received from Racine County elected officials.
Barnes represented part of Milwaukee's north side in the state Assembly from 2013-2017 before becoming Wisconsin's first-ever African-American lieutenant governor, the No. 2 position in state government behind only the governor, in 2019.
Johnson has continued to tiptoe around whether he wants to break his promise to be a two-term senator and seek a third term in November 2022. The Democratic primary is still 11 months away: Aug. 9, 2022.
In a Thursday morning announcement, the following endorsements of Barnes were announced:
Racine Unified School Board President Brian O'Connell
Racine Unified School Board Clerk Scott Coey
Alderman Maurice Horton
Alderman Mollie Jones
Alderman Melissa Lemke
Alderman Jason Meekma
Alderman Sam Peete
Alderman CJ Rouse
Alderman Natalia Taft
Alderman Marcus West
Alderman and County Supervisor Melissa Kaprelian
County Supervisor Nick Demske
County Supervisor Eric Hopkins
All three of the Racine County supervisors and both of the RUSD Board members who endorsed Barnes are City of Racine residents.
U.S. Rep. Gwen Moore, D-Wis., a Racine native who represents Milwaukee, earlier endorsed Barnes.
Front-runner
Barnes is, at the moment, the front-runner to receive the Democrats' nomination after the primary next August. He's currently competing against Outagamie County Executive Tom Nelson, State Treasurer Sarah Godlewski, Milwaukee Bucks executive Alex Lasry, Wausau radiologist Dr. Gillian Battino, Milwaukee Alderwoman Chantia Lewis (who is currently facing criminal charges for embezzling campaign funds) and Steven Olikara, founder of the nonprofit Millennial Action Project.
A poll Barnes' campaign commissioned and published Thursday indicates he has at least 29-point lead over each of the other six Democrats in the race. Nelson was in second, Godlewski in third.
In a statement, Barnes said: "Racine embodies the values that make Wisconsin great: hard work, toughness, innovation, and an ironclad commitment to do right by your neighbors and community. Those are the values that my union parents lived by and instilled in me. That's why I'm so proud to have all of these Racine leaders standing with me in the fight to beat Ron Johnson and do right by working families all across Wisconsin. Together, with their help, I know we can make health care accessible and affordable, create good-paying jobs for every Wisconsinite, and tackle the climate crisis that threatens communities in Racine and in every corner of our state."