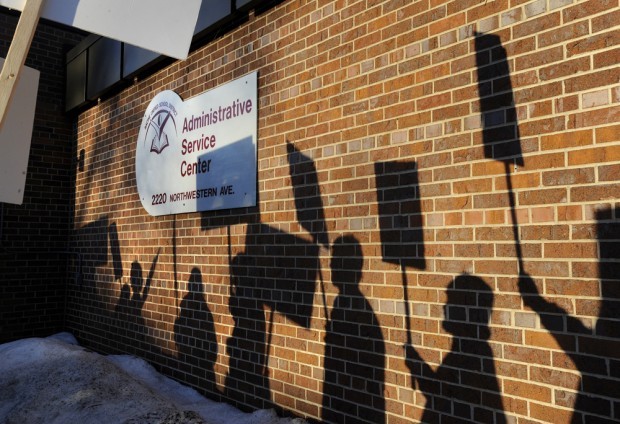 The bill proposed by Gov. Scott Walker to restrict collective bargaining for most public employees would likely drive workers from the public sector and the state, according to legal and economic experts.
Those experts said the bill would keep public employee wages down, create contentious and protest-filled union-employer relations and cause confusion about labor issues, all culminating in public employees eventually leaving for private sector jobs or work in other states.
"People will leave the public sector and as a whole the state of Wisconsin will be looked at as a place where there is less stability and, frankly, as a more backwards state," said Marianne Robbins, a Milwaukee-area lawyer specializing in public and private sector labor law. Robbins was one of several experts contacted at random Monday by The Journal Times. "Wisconsin would go, under this law, from one of the states which has recognized public sector employee rights parallel to private sector for one of the longest periods of time to one of the few (states) that is the most backward."
A representative from Walker's office disagreed, saying Monday the governor's bill, which he's asked the Legislature to accept this week, will actually save more than 1,500 public sector jobs that otherwise would have been lost in state and local layoffs.
"The modest concessions we are asking for are to ensure we are able to keep state employees in their jobs," said Cullen Werwie, the governor's spokesman.
Walker's bill, intended to help make up for a $3.6 billion deficit in the state budget, would require all public employees except safety personnel to contribute 5.8 percent of their salaries to their pensions - some employees do not currently contribute anything - and pay 12.6 percent of their health care premiums.
Walker's bill also would eliminate collective bargaining for everything but wages for all public employees except law enforcement and fire personnel; city and county workers as well as school teachers and employees of the University of Wisconsin System would be affected. Employee groups could bargain for wages but any wage increases would not be able to exceed the increase in the Consumer Price Index unless approved in a referendum.
That means there likely won't be decent-sized wage increases, if there are increases at all, said Robbins and Andrew Reschovsky, professor of public affairs and applied economics at the University of Wisconsin-Madison.
"So some (public workers) with options will think about taking jobs elsewhere," said Reschovsky, who is among the University of Wisconsin System staff that would be affected by Walker's bill. "Retirement will look better to some state workers. The most experienced will leave and there could be real costs in lost experience."
Departing workers might look outside Wisconsin, leaving the state with less experienced and lower quality workers, Reschovsky said, especially when it comes to new school teachers and UW System faculty who can take their research and business-growing efforts elsewhere.
Walker's bill would also lead to more contentious relationships between unions and employers, Robbins said. There will likely be confusion about what can be talked about and with whom because of restrictions on what can be negotiated, she added.
"Everyone will be completely distracted by all these issues instead of taking care of what public sector employees do: Clean the streets, teach the children, guard the prisons," she said.
Workers may also be distracted by continuing demonstrations against the bill, said Paul Secunda, associate law professor specializing in labor and education law at Marquette University 's Law School. He said time would also be spent by employees and unions challenging the bill on statutory and even constitutional grounds, in particular relating to language in the law that prohibits labor protests, Secunda said, explaining that could violate freedoms of speech, expression and association.
Such challenges to the bill as well as protests may even come from those who work outside the public sector, Secunda said.
"It's not just about the public sector," he said. "It's about all workers and their inability to have any say over wages, hours and terms and conditions of their employment."