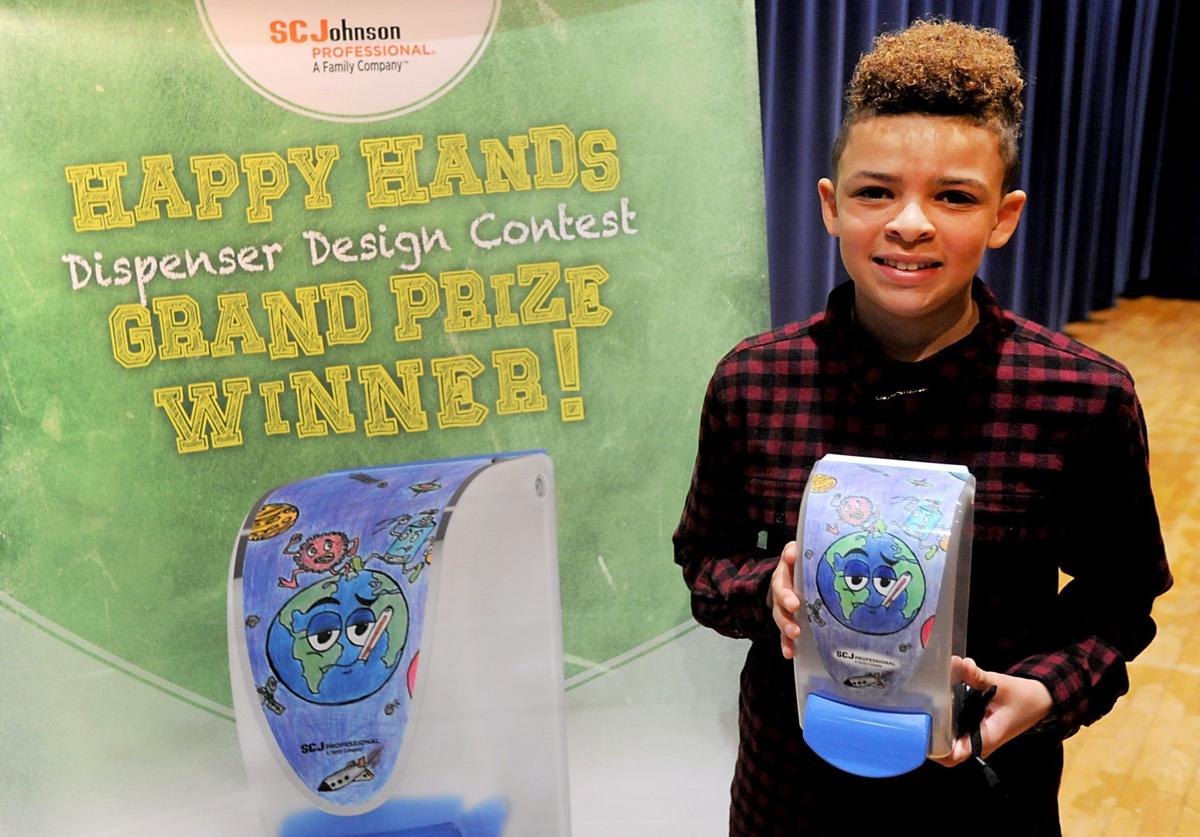 CALEDONIA — "We're here to celebrate something pretty cool today," Gifford School Principal Bret Olson announced to sixth graders. "We're here to celebrate Wilfred and his accomplishment of being selected as the grand prize winner …"
Principal Bret Olson speaks during a presentation to honor student Wilford Ortiz Tuesday morning. Ortiz was the grand prize winner in the SC J…
Wilfred Ortiz, a sixth grader at Gifford K-8, beat out other middle and high school students and took top prize in his category.
"All that hard work, dedication, really paid off," Olson said of Ortiz's efforts.
A young winner
Cheryl Dillner of SC Johnson Professional speaks as Gifford School student Wilford Ortiz is handed a check by Principal Bret Olson during a pr…
The winning design in each division received the top prize, which included a $1,000 donation for the two grand prize winners' schools, a $300 Visa gift card for each winning student, and up to 1,000 manual soap/sanitizer dispensers featuring the student's winning design. The dispensers will be placed in Gifford, in other Racine Unified School District schools and possibly in schools throughout the country. Ortiz additionally got to take a few dispensers home.
Ortiz was the youngest finalist in his division by several years, with the next-oldest student being a sophomore in high school.
Gifford School student Wilford Ortiz and members of his family listen to a presentation Tuesday morning about Ortiz's grand prize win in the S…
He's always been interested in art, but got into it even more this year since he had more free time due to COVID-19 restrictions and cancellations.
He started drawing stick figures and has progressed since then. Two pieces of his artwork, a painting and a drawing, were displayed at Wustum Museum last year.
For his winning sanitizer design, he drew a personified, frowning Earth with a thermometer inside its mouth, representing being sick. A personified bacteria runs on top of the Earth as a personified hand sanitizer bottle chases it. The only thing Ortiz traced on his drawing was a bowl, to make a perfect circle for the Earth, he said. He made around 10 drafts, until he was happy with his final picture.
Pictured is Wilfred Ortiz's winning design in the SC Johnson Professional Happy Hands dispenser design contest. Ortiz is a sixth grader at Gif…
"We got a big paper and we put it in my office. I put a buncha ideas on there and I figured out what I wanted to do," Ortiz said, explaining how he created his design.
The school voted for Ortiz in the mornings leading up to the final winner announcements.
The feeling of winning, Ortiz said, was "really good." He said he's considering using his prize money on something from Oculus, a company that sells virtual reality headsets, games and equipment.
'Something very cool for Wilfred'
More than 800 students from across the U.S. submitted entries to the contest, and the website received over 24,000 votes for finalists.
Olson said this competition tied in well with "the craziness that has been 2020 and 2021, and the pandemic. We've all learned a lot more about hand hygiene than I think we ever wanted to learn in the last year and a few months."
Olson said hand sanitizer is important and emphasized how much everyone has been using it lately: "We know that as we go in and out of class, we're hand-sanitizing. I know when I get in and out of my car I'm using it. When I'm going to the grocery store, I put a little squirt on my walk in there, happens all the time."
Olson said that although SC Johnson is down the street in Racine, it has nothing to do with the fact that someone local won the national contest.
"His (Ortiz's) artwork, his dedication to this project, and our community's pulling together … is what stood out and helped Wilfred rise to the top," Olson said. "This is a big deal. And it's something very cool for Wilfred. Congratulations."
SC Johnson staff enjoyed the fact that someone local won the contest as well.
"It's really exciting that we have a winner that is right in our hometown," said Cheryl Dillner, marketing communications manager for SC Johnson Professional. "We were really attracted to your design … it was a really great representation of what we're trying to get across and the importance of hand hygiene."