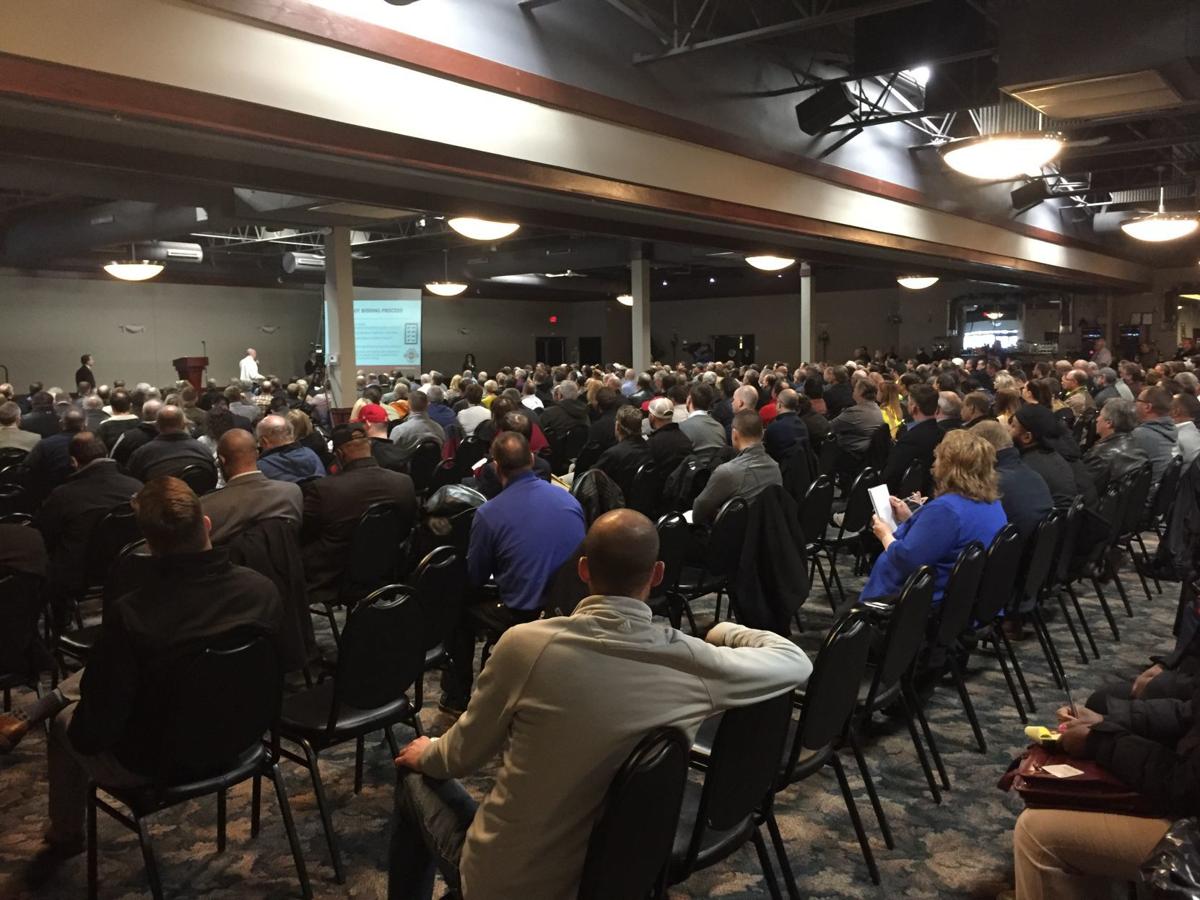 STURTEVANT — Nearly 500 companies were represented Tuesday afternoon at an information session for hopeful Foxconn Technology Group construction-phase subcontractors, vendors, suppliers and professional services providers.
Two weeks ago, Taiwan-based Foxconn announced that it had selected M+W Gilbane, CH2M and The Sigma Group to serve as the lead contractors and designers for the $10 billion Science and Technology Park it plans to build in the southwestern part of Mount Pleasant.
Tuesday's session, at Fountain Banquet Hall, 8505 Durand Ave., was led by Adam Jelen, senior vice president of Gilbane Building Co.'s Central Midwest Division; Allen Ware, vice president of M+W; and Matt Moroney, strategic economic initiatives director for the Wisconsin Department of Administration.
Foxconn has committed to spending about $1.4 billion with Wisconsin-based suppliers.
Jelen assured the audience that no contractors have been hired and said Foxconn also has committed to total transparency in how it will do business with other companies. "There's no inside ballgame here, folks," he said. "… No one's being shut out."
Jelen said Gilbane's most-recent project was construction of the new Northwestern Mutual headquarters tower in downtown Milwaukee.
He said of M+W Group, "They're one of the world's leading builders in advanced technologies but specifically clean rooms, and that's what the bulk of these facilities (will be)."
Together, Gilbane and M+W will assess all bids for Foxconn work, supplies and services, Jelen said, then make their recommendations to Foxconn, which will make final decisions. Following the process exactly will be critical to any company that wants a piece of the enormous pie.
Widely varied companies
The information session drew a wide array of company types. Cree, a manufacturer of LED lighting, sent a representative. Scherrer Construction of Burlington attended. Gleason Redi-Mix, a supplier of concrete, was there as was LiftPro, which does aerial lift rentals.
Steed Myles, a project manager for The Glass Company of New Berlin, also attended the session. That company installs glass and can supply it, Myles said.
Wendy Hakken from Keller-Heartt Oil of Oak Creek was there. "We would supply the oils for the heavy equipment during construction," she said, as well as supplying hydraulic fluids for manufacturing.
Rod Sayas of ARC Document Sales in Waukesha said his company provides blueprinting and software services for contractors, architects and "whoever is designing" the project. ARC already works with Gilbane in the eastern United States, he said.
Mark Oravetz of Century Security and Communications in Racine attended the session, although he said "it's a little early (in the process) for us." Century, which has 20 people, does much work in low-voltage situations including fiber optics, gate controls, card access systems and cameras to monitor manufacturing. Its clients include SC Johnson and Twin Disc.
Craig Klaus from RC Electronics in Salem was there to see how that company can provide security camera systems and two-way radio systems to Foxconn.
All hopeful companies were directed to seek their business with Foxconn through the website wisconvalley.wi.gov.
Get local news delivered to your inbox!
Subscribe to our Daily Headlines newsletter.