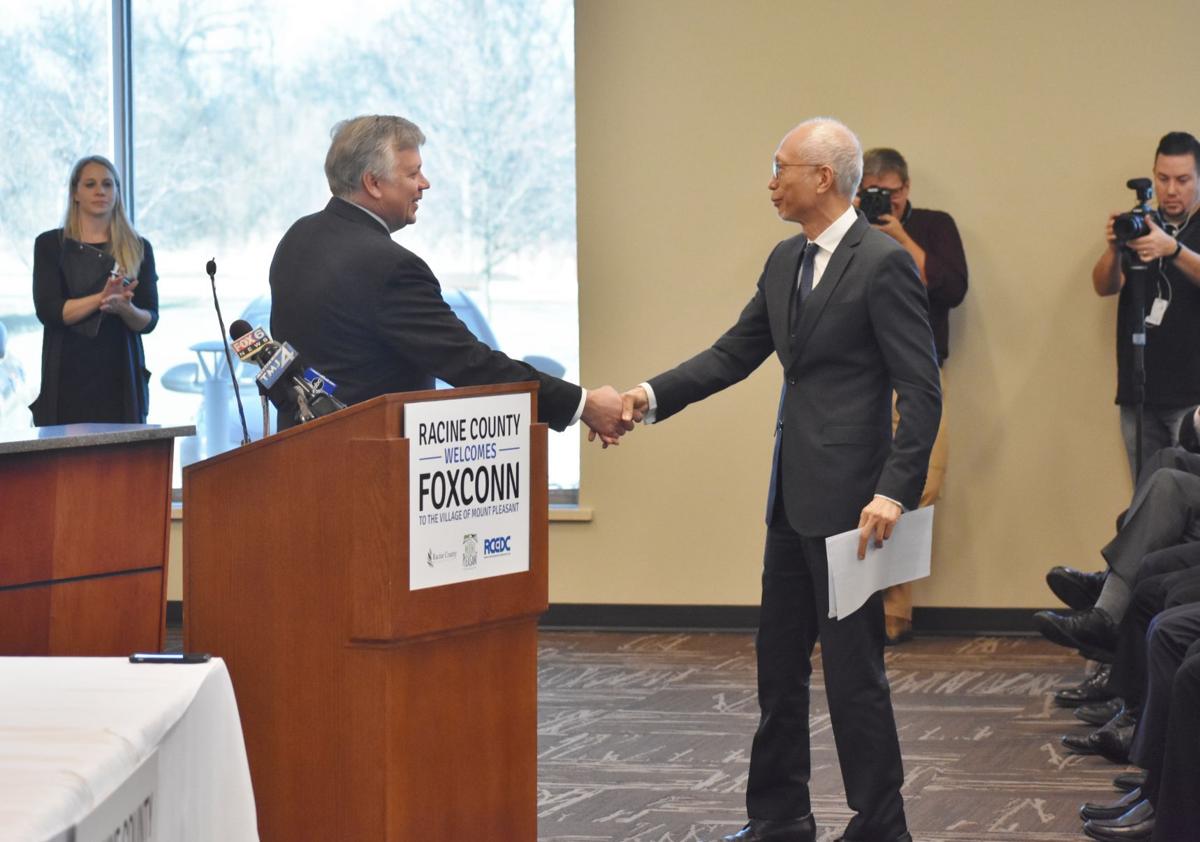 RACINE COUNTY — State and local contracts bringing Foxconn to Racine County have been signed. Now the work begins, and many want to ensure local minorities are among those benefiting.
Embedded in the development agreement is a Good Faith Hiring and Contracting Efforts clause, which states: "Developer agrees to exercise good faith in striving to hire, retain and contract, whenever reasonably possible, with qualified individuals and businesses residing and/or based in the County as well as veterans and minority-owned businesses."
County Executive Jonathan Delagrave said with Foxconn's arrival, the clause's inclusion was important because so many local entities have worked together to make the project a reality.
"It is vitally important Racine County residents receive precedence in terms of hiring practices," Delagrave said. "I can tell you, we are all in this together — city, county and all the municipalities. It is upon us to make sure we give those in particular who are really seeking employment that opportunity."
Racine Mayor Cory Mason said Foxconn will present the area with many advantages, and unemployment must be addressed. "We have an opportunity to target high unemployment areas," Mason said. "It will provide more opportunities across the board."
Program targets disadvantaged workers
Minority hiring is a critical part of easing unemployment in Racine County, and the county has come up with a plan to combat the issue, Delagrave said.
The county is implementing a new program called Uplift 900, which looks at the key drivers influencing discrepancies between the employment of people of color and others, and helps remove those barriers, according to Racine County Human Services Director Hope Otto.
"We recognize the additional barriers that people of color experience and that is part of the strategy of Uplift 900," Otto said. The program will have a grassroots focus, going into the community, linking existing organizations and county programs together to help address barriers to employment in disadvantaged individuals, Otto said.
Delagrave said: "We identified that if we employ 900 people from the City of Racine with sustainable family-supporting jobs, the city's rate will drop to the state's employment rate ... We are looking at producing 900 jobs to 900 people who are under-served through our support program."
Using the most recent data from the U.S. Census Bureau's American Community Survey, which considers the past five years, 10,000 people in the City of Racine have some college education but no degree, and 8,000 residents have no high school diploma or GED diploma.
"Using these two data points combined, roughly 1 in 4 City of Racine residents has an educational barrier that drives unemployment," said Travis Richardson, data manager for Racine County Human Services.
The program, which is in its implementation process, will launch sometime in the first quarter of next year, Otto said.
"Our goal is to specifically focus on those who are actively looking for employment or have a lot of significant barriers, including people of color, single-parent households and those working making $10 an hour," Delagrave said. "There are all kinds of different things we are focusing on."
Melvin Hargrove, a local pastor and former Racine Unified School Board president, believes Delagrave is sincere about helping minority workers. "I wholeheartedly believe they are moving in a good-faith effort to be inclusive ... we are having a conversation on the front end as opposed to the back end."
Construction jobs at Foxconn discussed
Al Gardner, a community activist, said he is unfamiliar with the specifics of the Uplift 900 program, but believes a proposed 20/20/20 policy, which focuses on employing minorities and women-owned businesses for Foxconn construction jobs, would help the city and county achieve its goal to employ 900 people.
The 20/20/20 proposal asks for 20 percent of the total construction cost to to go to minorities and women-owned business enterprises, 20 percent of the total work hours to be performed by minorities and female workers and 20 percent of total work hours performed by apprentices to be completed by minorities and women, Gardner said.
"If they were really sincere about looking at minority contractors and minority workers on the $10 billion construction site, they would pass the 20/20/20 policy we've been pushing," Gardner said.
Hargrove believes the Foxconn clause may ultimately come up short. "Where the problem comes in for me, especially as a pastor in the African-American community, is who is defining 'good faith?' " Hargrove said. "To what detail are they really looking for minorities who will be competent?"
Ola Baiyewu, program director of First Choice Pre-Apprenticeship program, which teaches Racine residents — many without high school diplomas — skills in the building and construction trades, said the Foxconn good-faith clause does not provide much of an impact for minority workers.
"At the end of the day, the contractor is going to come to them and say we made 'good faith' effort and we couldn't find people to fill these positions," Baiyewu said. "You cannot keep a group of people as a permanent underclass. When you do, you won't have a thriving or flourishing community — you won't."
Delagrave believes the 20/20/20 policy for Foxconn construction jobs would hinder the hiring process, particular in an area with a smaller population. "This is an unprecedented project, 12 times bigger than the Milwaukee Bucks (arena) project was," Delagrave said. "Our labor pool is smaller. I am not going to put Racine County citizens in a position to fail in the employment process."
Mason believes that Foxconn's arrival will provide an opportunity for many in the area, but agrees that providing jobs to disadvantaged workers is a priority.
"Clearly there is no issue that is more important in the City of Racine than rebuilding the middle class with good, family-sustaining jobs," Mason said. "We have an amazing opportunity in front of us ... we need everybody to make this work."
"Our goal is to specifically focus on those who are actively looking for employment or have a lot of significant barriers, including people of color, single-parent households and those working making $10 an hour. There are all kinds of different things we are focusing on."

Jonathan Delagrave, Racine County executive