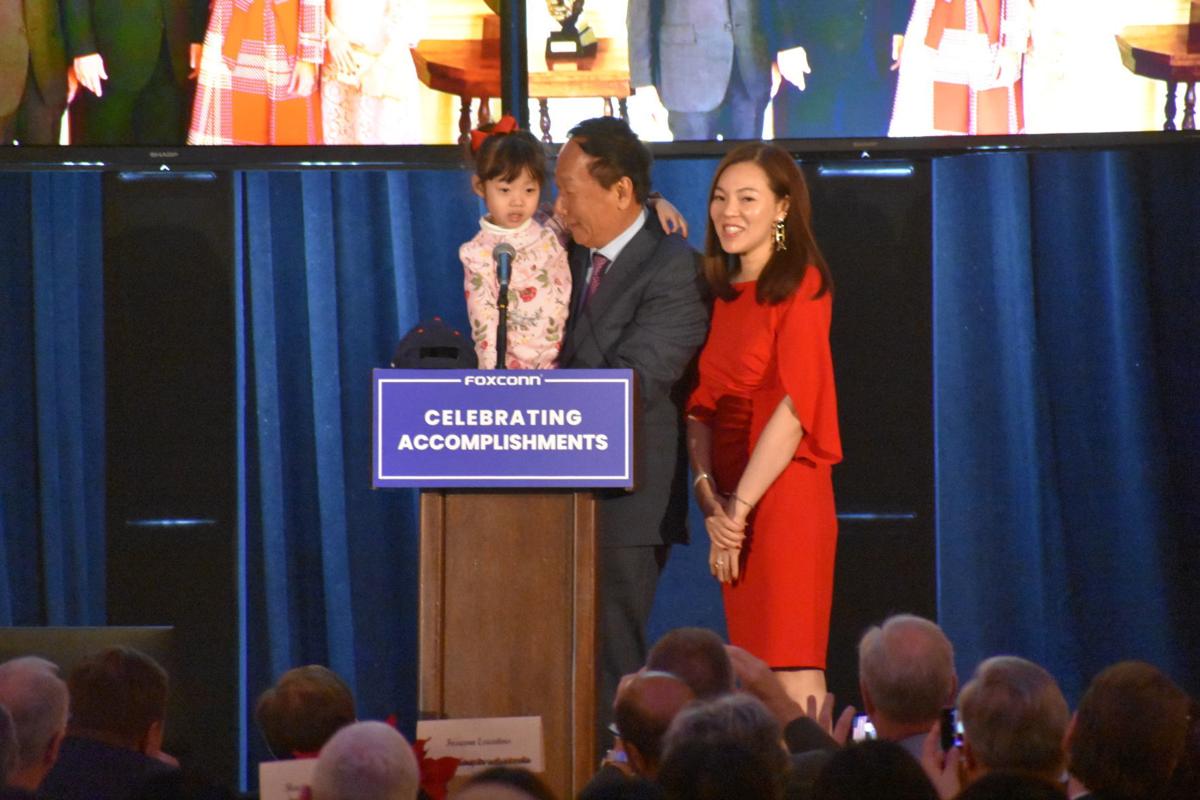 MILWAUKEE — Foxconn employees, and politicians from the federal level down to the Village of Mount Pleasant, ate and were merry at the Foxconn holiday celebration on Friday night.
The event took place at the Hilton Milwaukee City Center downtown. Guests included Foxconn Technology Group founder Terry Gou and his family; sitting at his table was U.S. Rep Bryan Steil, R-Wis., whose 1st Congressional District includes the Foxconn development in Mount Pleasant.
Gou thanked those present and said to the employees in the room: "In you I see the future of Foxconn."
Gou stepped down from the company in April to make a bid for the presidency in his native Taiwan which proved unsuccessful.
A video showing the work done in Mount Pleasant over the past two years was shown, with a question posed to those in attendance: How many of you are seeing the video for the first time?
An overwhelming majority of those present raised their hands.
They were then told the video was first shown the day before at the White House.
"I was at a working meeting at the White House," Gou said, adding he met with President Donald Trump and first lady Melania Trump.
"(Trump) was impressed with all of our success," Gou said. "Especially in Wisconsin."
Gou said Trump told him to "bring more jobs to the United States, bring more jobs to Wisconsin."
Gou and his wife took a photo with the president and first lady. Gou said the photo was taken by Trump's son-in-law, Jared Kushner.
Gou has reportedly had a direct line to the White House. Trump was in Mount Pleasant for the official groundbreaking of the project on June 28, 2018.
Foxconn has been a character in recent geopolitical theater as trade negotiations between the United States and China, where Foxconn manufactures many products, have become more intense.
You have free articles remaining.
'I'm committed to Wisconsin'
Foxconn has drawn criticism for scaling back its original plans to build a Generation 10 facility in Mount Pleasant. Foxconn says it is now building a Generation 6 facility to make liquid crystal display screens there.
From the beginning, the company promised 13,000 jobs in the state and $10 billion worth of investment.
"I'm committed to Wisconsin," Gou said Friday, adding he's also committed to Racine County.
Executives from several Foxconn subsidiaries — including from Foxconn Industrial Internet, which is building a data center in Mount Pleasant — spoke with enthusiasm about their involvement in the project.
Also present at the event were Mark Hogan, former Wisconsin Economic Development Corp. secretary, and members of the Racine County Board and Mount Pleasant Village Board.
Site inspection
Last week, Wisconsin Department of Safety and Professional Services Secretary-designee Dawn Crim toured the Mount Pleasant campus with agency staff "on a routine inspection of the fabrication facility."
According to a department news release, this is Crim's second inspection of the facility: She first visited the site in the summer and has also attended project planning meetings in Milwaukee.
"The Foxconn project is high-profile and under considerable public scrutiny," Crim said in a statement. "I am directly engaged in the agency's work, and site visits give me first-hand exposure to our team's role in the construction process.
"From everything I've seen and heard, things are moving along without hassle or delay, and our agency has been accessible and responsive to our customers and partners."
Department staff has been visiting the site "every two to three weeks to monitor progress and ensure building codes and standards are met," the release states.
"I realize that, to many people, Foxconn is not a typical project. To our agency, though, it is. We are going about our business as we should and as we always do, remembering that we are here to serve our customers and to be smart stewards of our resources in our efforts to promote safety and advance the economy," Crim said.
"This visit demonstrates to me that we are doing exactly that. There is evident progress since the summer, when I observed foundation work on the fabrication building. Everyone is putting their best foot forward, and everyone is working hard to make this a successful project for the region and state."